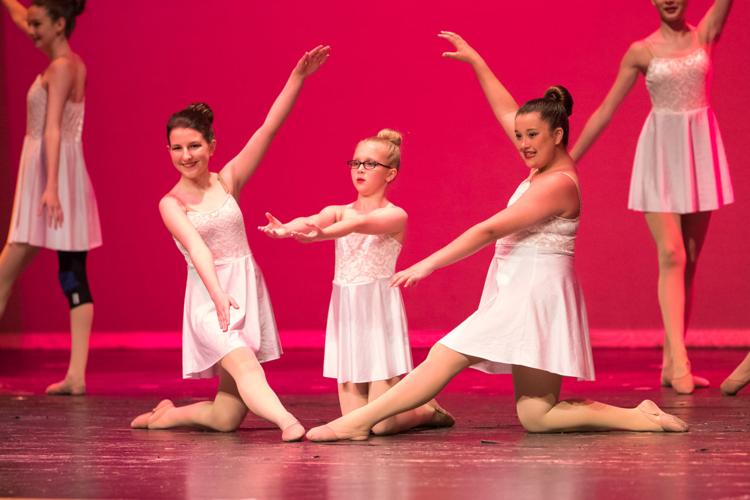 HERMITAGE — Instead of starting with a dance number, the Miss Elaineous Dance Studio's annual recital started a little differently.
A few girls in softball uniforms and coaches re-enacted a softball game while "Take Me Out to the Ballgame" played in the background.
Eventually the music picked up, and the girls gave a short performance to kick off the recital, which was called "Dear Julia" this year. However, these girls weren't the studios' dancers, they were the former Sharpsville Storm teammates of Julia Sarchet, who passed away unexpectedly at the age of 8 in December of 2016.
"Julia had been tugging at my heartstrings lately," said Elaine Adams, the dance studio's owner.
Julia started dancing with Jackie Lou Dance Studio in Sharpsville at the age of 3, before it became Miss Elaineous Dance Studio. Having Julia as an "acro" student who focused on gymnastics and acrobatics, Adams said Julia was a funny child who would "liven up the whole studio."
Wanting to honor her former student's memory, Adams approached Julia's parents, Brad and Jennifer Sarchet, about making Julia the theme for this year's recital — an idea the two approved of, which led to the recital Sunday afternoon at Hickory High School's auditorium.
"My parents lost two children, so it's not about just remembering that person's gone; it's about remembering who that person was, what they were like," Adams said.
Julia was described by her parents as enjoying softball and art, such as drawing. Even from a young age, the parents could tell their child was also passionate about dancing and music.
"She was always dancing or putting on shows for us around the house," Jennifer said.
Then on Tuesday, Dec. 13, 2016, Julia was sent home from school because the nurse thought she was sick, but Julia later passed out at home. She was taken to UPMC Children's Hospital in Pittsburgh, where doctors determined that Julia was born with AVM, or arteriovenous malformation, which was located near her brain stem.
It is possible to detect early on with testing such as an MRI, but it's a condition that has to be looked for specifically. For many people like Julia, they aren't even aware they have AVM until symptoms arise. Unfortunately in Julia's case, her symptoms didn't manifest until that final day in school, and she later passed away at the hospital, Brad said.
"She passed out at home, and she never even woke up," Brad said.
Because of how quickly AVM took Julia's life, her parents had little time to react or process what was happening. However, they decided to handle their grief by "keeping her (Julia) involved," Brad said.
"We try to share what she was like, we'll tell her story, we'll try to work her into conversations," Brad said. "We try to keep her memory alive as much as possible."
One of those initiatives are scholarships at Sharpsville Area High School, with scholarships for seniors on the high school's softball team and the other for seniors who want to pursue art after high school.
Though Julia was still young when she passed away, her parents have some idea what she might have done if she were still alive.
"She never really talked about it, but she used to play school a lot when she was at home, so I wouldn't be surprised if she had ended up a teacher," Brad said.
At the end of the recital, it was announced that a portion of the proceeds from the ticket sales and T-shirts would go toward funding the scholarships, while the whole cast gathered on stage one final time for a performance to the song "Country Fried."
"That was always her favorite song," Jennifer said.
Like David L. Dye on Facebook or email him at ddye@sharonherald.com.