HERMITAGE — Snarled in a traffic jam Tuesday, Debbie Shaulis said she didn't mind the waiting.
She was among hundreds of people in dozens of cars waiting outside the Shenango Valley Mall for a free box of food distributed by the Community Food Warehouse of Mercer County.
"It sure will help me,'' said Shaulis, of Mercer.
The line snaked around much of the mall parking lot and was more than one-third of a mile long, said Hermitage fire Chief John Flynn, who was on hand to help direct traffic.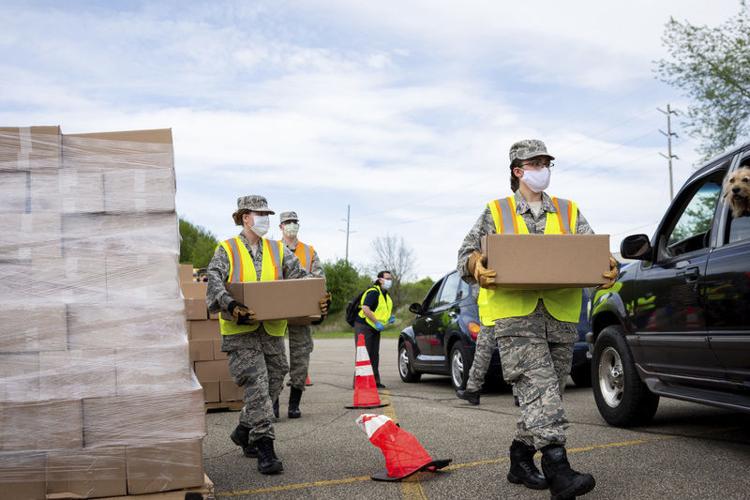 "We had cars spilling out onto Route 18,'' Flynn said.
But the queue was a peaceful one. And a grateful one.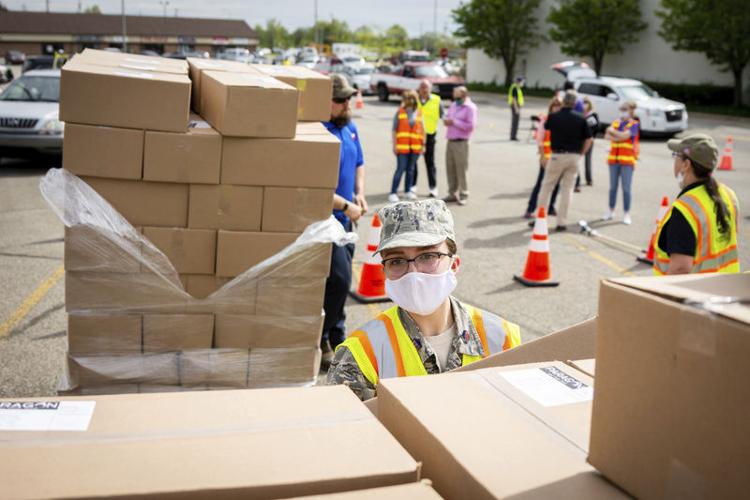 "A lot of people have been thanking all of us and how much they appreciated this,'' Flynn added.
Others from the Hermitage police and fire departments and the Mercer County sheriff's office helped direct traffic. Volunteers from the Civil Air Patrol's Mercer County Composite Squadron 122 did the heavy lifting by placing food boxes into car trunks.
The team effort distributed 500 food boxes, which contained a variety of goods such as bread, produce, fruit and eggs. Daffin's Candies of Sharon donated chocolate eggs, said Lori Weston, executive director of Community Food Warehouse of Mercer County.
Tuesday's food distribution was an effort funded by the federal government to help both American farmers and Americans who needed food. Under the Coronavirus Aid, Relief, and Economic Security Act, the food provision funds food purchases from farmers. Food banks then distribute the food to those in need.
Distribution was scheduled to begin at 4 p.m. – but that changed. The volunteers began handing out food a half-hour before the scheduled start.

"We had people waiting here 11:30 in the morning,'' Weston said.
There were no requirements for the free food, and the line included some newer cars.
But Weston said she wasn't making any judgements.
"Just because they have a nice car doesn't mean they aren't hurting,'' she said. "A lot of people lost their jobs.''
Two more food giveaways are in the works for June.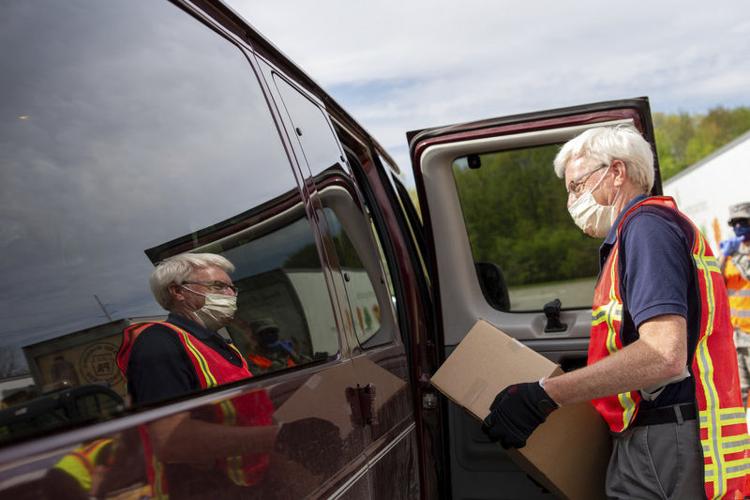 The wait varied from 30 to 90 minutes, drivers said. Some people — including Shaulis — said this was the first time they had sought aid from a food bank or any other local charity.
Shaulis said she receives supplemental Social Security, and was retired for a while but more recently worked at a grocery store.
When COVID-19 hit in March, she began to worry. At 62, she is in a risk group for COVID-19 and for mortality if she contracts the virus.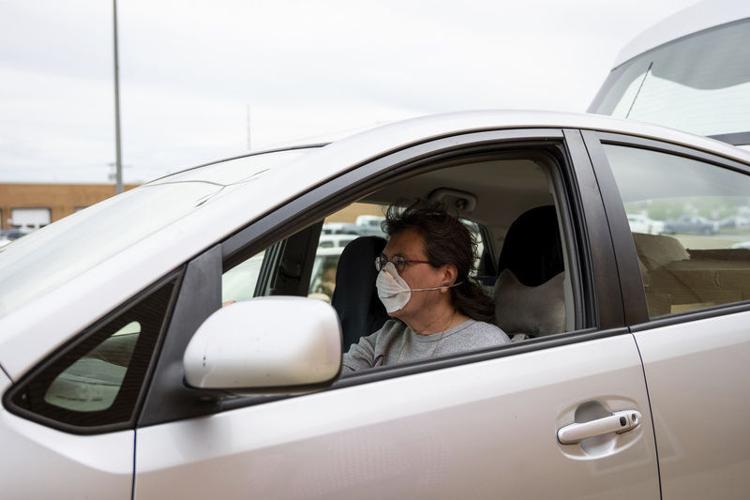 "And I have health problems like heart issues, lung issues, arthritis and I have a low immune system,'' she said.
Shaulis said she quit her job to reduce the risk of contracting the virus. Since then, she has received the maximum $1,200 CARES Act stimulus.
"They also increased the amount of food stamps you can get, and both of those helped,'' Shaulis said.
Her next goal is to sell her house and move to Ohio, where she has a sister and other family members.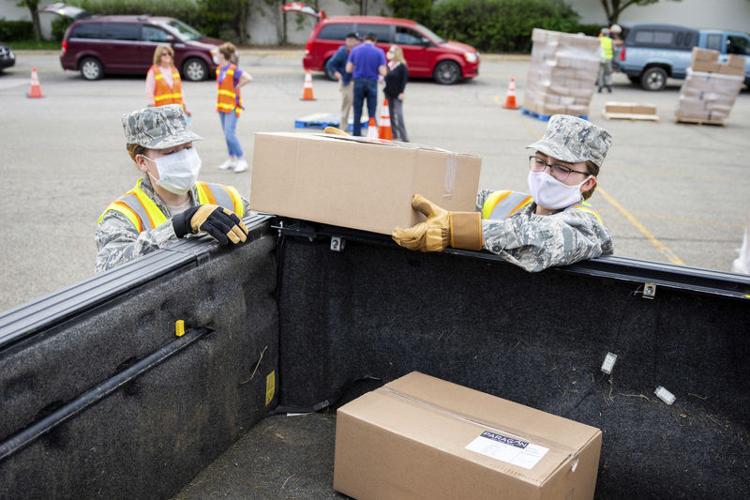 "I wanted to have my house sold by now, but you weren't allowed to have real estate people inside until last week because of the virus,'' Shaulis said.
But she has faced — and faced down — adversity before. As a child, she suffered from severe arthritis, which often left her incapacitated.
"There were times when I couldn't walk for two weeks and the pain was so awful,'' Shaulis said. "I never thought I would live this long. I feel lucky.''
But she wasn't lucky Tuesday.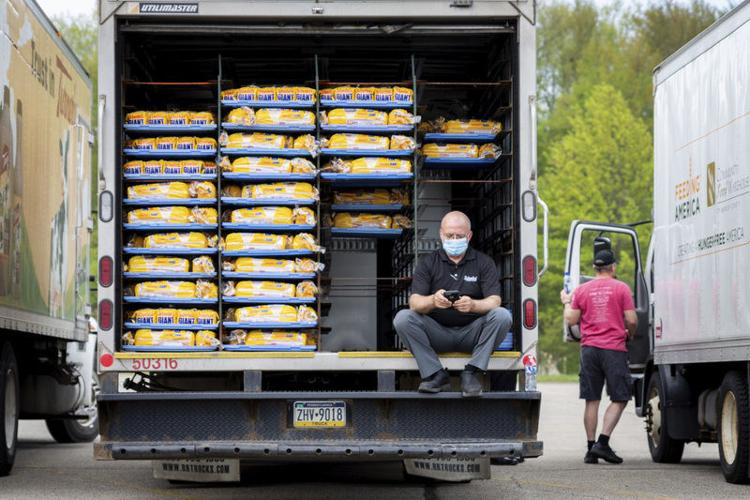 After a wait of about 30 minutes, organizers directed Shaulis and those behind her exit the parking lot. The food boxes ran out about a dozen cars ahead of her.
GALLERY: Cars wrap around mall for drive-through food distribution