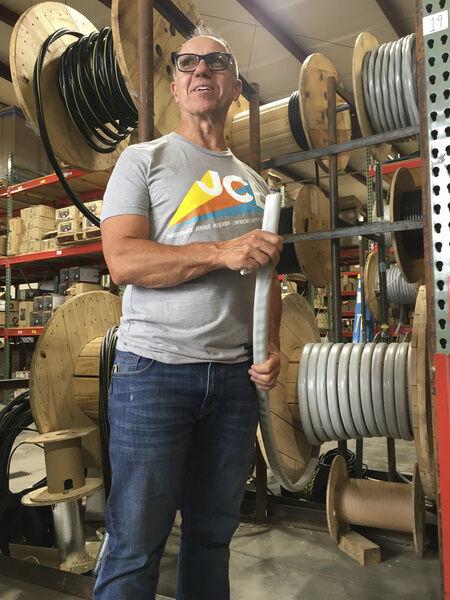 SHARON – JCL Energy finally got to unveil itself at a long-planned open house on Friday.
After opening a year ago, owner Jim Landino said the public event for his electrical supply business had to wait.
"I didn't want to do something like this when COVID-19 was getting bad,'' he said.
The company is housed at a 16,000-square-foot building at 892 S. Dock St. in Sharon. The building, near the Sharon-Farrell line in front of NLMK Pennsylvania, previously used by Laurel Technical Institute, which moved to a bigger structure down the road in Hermitage. It originally was Precision Manufacturing Institute.
Landino is the former CEO of Sunbelt Transformers, which also has operations nearby along South Dock Street.
Once pondering a career in broadcast journalism, he eventually found himself selling transformers and wound up as CEO of Sunbelt. He sold that business more than five years ago. Since then he bought Carine & Co., a Sharon electric supply business, and turned it into JCL Energy.
"We've greatly expanded what they offered,'' he said.
Landino is best known for his JCL Development company, which is redeveloping downtown Sharon buildings. Among his projects include the opening of LuLu Beans Cafe & Coffee House and Gifted at Applegate, both run by his wife, Jenn Krezeczowski.
He's converting a long-vacant North Sharpsville Avenue building into a home for Derailed Distillery, which expects to open Aug. 1.
On this day, Landino talked about his electric supply operations. The company sells and rents a wide range of transformers used in industry and commercial businesses. But it also sells products such as electric lines and conduit.
JCL Energy also rents equipment such as fork lifts and boom lifts.
"Anybody can come here and do business with us,'' he said.