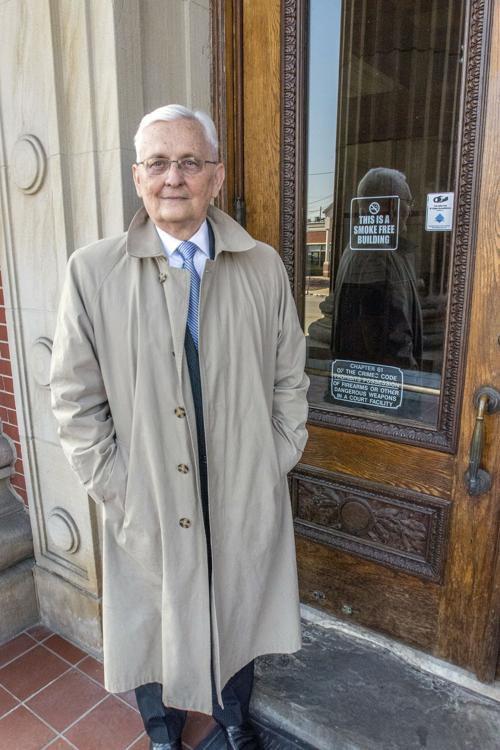 MERCER — Prosecutors say his actions were a deliberate miscarriage of justice. His defense attorney says it was harmless bad judgment. But the jurors will decide today whether Mercer County District Attorney Miles K. Karson Jr. is guilty.
Karson has been charged by the office of the state Attorney General with 13 counts of obstruction of justice and official oppression.
If Karson is convicted on even one count, under Pennsylvania Act 130 of 1955, the position of district attorney will become vacant.
Jurors heard closing arguments from defense attorney Alexander J. Lindsay and Deputy Attorney General Evan T. Lowry Thursday.
T-O-N-Y-A are the letters that Lowry used to outline his last statement to the jury, spelling out the reason for Karson's allegedly questionable actions: Tonya Bulboff.
"Miles Karson has two systems of justice," Lowry said. "Tonya Bulboff justice and citizens of Mercer County justice. This causes an erosion of public trust."
At the crux of Lindsay's argument for the defense was that Karson told the truth, but if his testimony differs from the witnesses called by the prosecution, it doesn't mean anyone is lying.
"Neither Miles Karson or the witnesses lied," Lindsay said. "All these little slices happened a long time ago."
He said most of the witnesses had to have their memories recalled by reading their grand jury testimony.
Lyndsay also said that the prosecution could not prove that by his actions, Karson intended to harm anyone, adding that there were no bad outcomes in any of the situations.
"Nothing happened. Nothing could have happened," Lindsay said. "These are all very minor matters."
Lindsay told the jury a war story about a pilot who was going to ram another airplane because he was out of ammunition.
He compared the pilot's actions to Karson.
"Stupid, but very brave," he said.
Lindsay said that Karson has been fighting the allegations because of his value system.
"He's fighting for his job. He's fighting for his freedom," Lindsay said. "He wants to continue to give back. He's saying, 'I want to do this job and I want to fight for this job.'"
A character witness for the defense, Francis H. Grolemund Jr., chief county detective for 15 years, testified on Wednesday to Karson's reputation, Lindsay pointed out.
"He's honest, honorable and ethical," Grolemund testified, adding that he has known the district attorney for 45 years. "That's what people say about him. I would say he's rudely honest. He's always honest and that's his reputation."
Lindsay said police officers, assistant district attorneys and the law enforcement community love Karson.
"All my friends in law enforcement, they all think highly of him and so do I," Lindsay said. 
On the flip side, Lowry used Assistant District Attorney David Wenger's praise of Karson against his boss.
"(Wenger) said Miles Karson is tougher on crime than the previous administration," Lowry said. "David Wenger said he emulates Miles Karson ... but the defendant was not tougher on Tonya Bulboff crime."
Lowry went through every witness' testimony.
"It's an unusual occurrence in their life, that's why they remember it," Lowry said.
He said that Karson admitted that he had never taken actions like he had concerning Tonya Bulboff ever in his career. 
And most of the witnesses said that they had never experienced such actions from a district attorney in their entire careers except in Karson's case.
Lowry said Karson breached his official duties and that he did so intentionally.
"We're not required to prove that the defendant's attempts worked," Lowry said. "It's enough that he attempted."
Presiding Senior Judge H. William White will instruct the jurors on the charges at 9 a.m. before they go into deliberations.
Follow Melissa Klaric on Twitter and Facebook @HeraldKlaric, email: mklaric@sharonherald.com.