Some women describe breast cancer as a journey or a battle, but Kristi Barwell uses a different, more upbeat, word.
"The whole thing's been an adventure," the 42-year-old Sharpsville woman said.
Accompanying her on that adventure is her 5-year-old son, Zane, who makes her laugh, smile and appreciate small steps.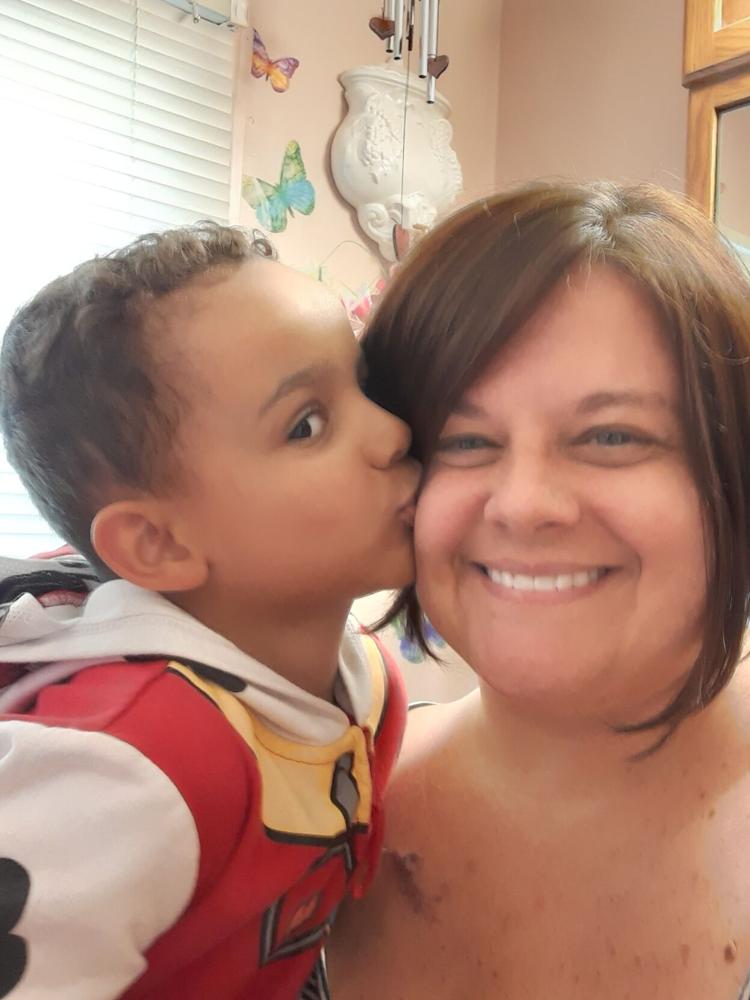 "He's my strength," said Barwell, a graduate of Penn State Shenango who grew up in Sharon and Rutherfordton, N.C.
Barwell said she has to be positive for Zane, which hasn't been difficult because her experience has taught her focus on the positive.
Loved ones have reached out, and mother and son have grown even closer since her diagnosis on June 11.
Barwell's aunt and great-grandmother had breast cancer, and she's always been diligent about self-exams, though she never gave much thought to her family history of the disease.
She found "something weird" toward the end of March. Even so, she put off going to the doctor because things were busier than usual for her after Zane's day care center shut down because of the COVID-19 pandemic.
After his day care reopened in mid-May, she returned to work at First National Bank and made the delayed doctor's appointment.
The mammogram, ultrasound and biopsy revealed invasive ductal carcinoma in her right breast. Her lymph nodes also tested positive for cancer.
She had five rounds of chemotherapy at Sharon Regional Regional Cancer Care Center in Hermitage, where she worked with a team that included oncologist Dr. Mukhtar Hassan and Dr. Maryann Payne, breast surgeon.
Barwell said she was grateful for their care and anticipated her treatment as an educational experience.
"I looked at it as a science project. I love science," Barwell said.
One of the biggest challenges was concealing the effects of chemotherapy. He did see her vomit once, and said he had no problem holding her hair back as she threw up because she had already shaved her head.
Zane was the perfect sidekick — he remained by her side, and provided backrubs, snacks and, when necessary, climate control by adjusting the air conditioner.
"We do everything together," Barwell said, noting their love of cooking, baking, dancing, singing, car rides, reading, and their dogs Casper and Rufus.
That made things a bit more tolerable for Barwell, who was still working through her chemo treatments in order to keep her health insurance.
Things got more complicated when she had an allergic reaction one of her chemotherapy drugs. The illness came in her fifth round of treatment, when doctors added Taxol to her therapy.
Barwell said allergic reactions are rare.
In the days following that Sept. 16 treatment, she developed severe pain in her legs, abdomen and chest, and was very weak and tired. At first, she wrote it off as normal side effects of chemo.
During a lab session Sept. 23, Barwell told doctors about her symptoms. They immediately sent her to the hospital and she was initially treated for pneumonia.
The medical team determined that her illness stemmed from an allergic reaction, in the form of a mild heart attack and lung inflammation.
Barwell felt much better after that hospital stay, but could no longer receive chemotherapy because of the allergic reaction. Her treatment options were limited to two — a lumpectomy or a bilateral mastectomy.
She is planning for the mastectomy, which she hopes will relieve chronic back pain from having a large chest.
The reconstructive surgery will be performed using tissue from her own body, with one strictly decorative touch — sunflower tattoos — after she recovers.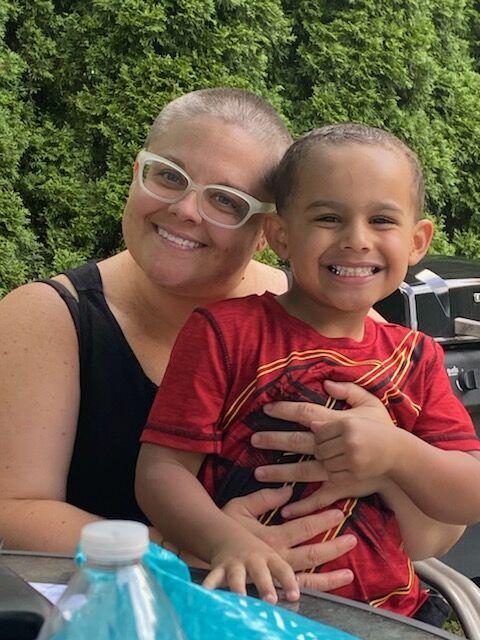 "They reach for the sun. They're happy," she said, pointing out sunflowers that she and Zane had recently picked at Gibson's Produce and Pumpkin Patch in Hermitage.
Even though she didn't finish chemo, her tumor has shrunk by 50 percent, and she's confident that the surgery will rid her of cancer.
The surgery will be done in Pittsburgh at a date to be determined, and she could need radiation treatment afterward.
During Breast Cancer Awareness Month, Barwell encourages both men and women to keep up with self-breast exams, and she hopes that people take care of each other.
"I keep pushing through and I put myself out there for everyone. I'd like to be able to help other people," she said of being open about her experience.
She'll continue to take things day by day with Zane — who is helping his mother through her difficulties as she did for him not too long ago.
In 2018, Zane had open heart surgery on a congenital heart defect, and Barwell said he's been doing great.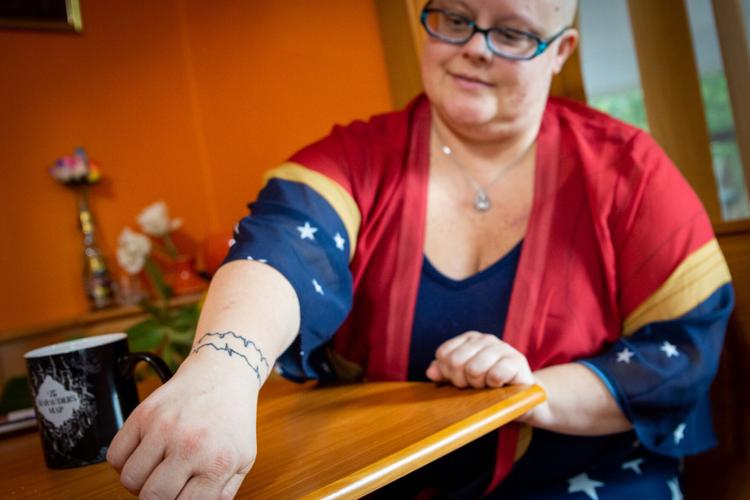 The sunflowers won't be Barwell's first. She has two on her wrist – one for Zane's heartbeat before surgery, and the other for his heartbeat after surgery.
In addition to Zane, Barwell said she's been getting a lot of help from friends and family, including mother Terri Sharo, sister Britney Barwell, friend Laura Harkabus, the American Heart Association, co-workers and bosses at FNB and South Pymatuning Community Church.
Barwell — whose favorite Bible verse is Psalm 118:24, "This is the day that the Lord has made; let us rejoice and be glad in it" — said her church family has been dropping off toys and treats for she and Zane.
"Every day I think about that because He's given me another day," she said.
She also thinks a lot about her father, Robert Barwell, who passed away in 2005 from cancer.
Barwell often turns to a paper she wrote for an English class in 2006. It's called "Live Strong" and describes a special memory – a trip with her dad to the Blue Ridge Mountains.
"I think he would be very proud of me," she said.