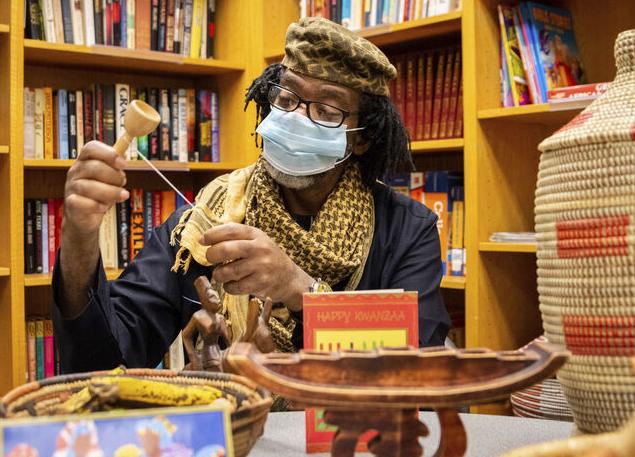 A year ago, a police officer pulled over Roland Barksdale-Hall and his wife, just three blocks from their home. The couple didn't know the vehicle's tail light had broken.
The police officer asked Barksdale-Hall and his wife to produce their driver's licenses – then asked if the address was correct.
"I told him I lived there my whole life,'' said Barksdale-Hall.
But then, he said, the officer started yelling: "I didn't ask you that. A simple yes would have been enough."
Barksdale-Hall strained to keep cool. "If I had said something, then it starts escalating,'' he said. "That's how people get killed.''
A local author and historian, Barksdale-Hall credits his knowledge of the principles of Kwanzaa for helping keep the incident under control.
The week-long celebration of African American culture ends New Year's Day. Kwanzaa is a cultural holiday with spiritual underpinnings that people of all religious faiths can participate in and learn from. "Kwanzaa is not a religious holiday,'' Barksdale-Hall said. The focus on African culture and history provides perspective.
This year's Kwanzaa has a heightened focus. In May, George Floyd, a Black man, died after a white Minneapolis police officer kneeled on his neck for several minutes. Floyd pleaded that he couldn't breathe but the officer, who was since charged with murder, ignored his pleas.
With the COVID-19 pandemic forcing people to remain in their homes, they had more time to watch daily TV news and see, repeatedly, the events that unfolded in Minneapolis, Barksdale-Hall said.
"They were watching someone being killed,'' he said at the Mercer County Housing Authority's Quinby Resource Center in Sharon.
Floyd's death helped fuel the Black Lives Matter movement and created an awakening in mainstream America, he said.
"And so, I would say that with this Kwanzaa, I do celebrate the reawakening in America,'' he said. "And with the reawakening, you have to do something. It's not enough to say, 'I'm not racist.'"
People celebrating Kwanzaa are encouraged to display African artwork, enjoy music dedicated to the holiday, and wear clothing rooted in African culture.
Among Kwanzaa's seven principles, named in Swahili, are Umoja (Unity), Ujima (collective work and responsibility), Ujamaa (cooperative economics), Nia (purpose), and Imani (faith).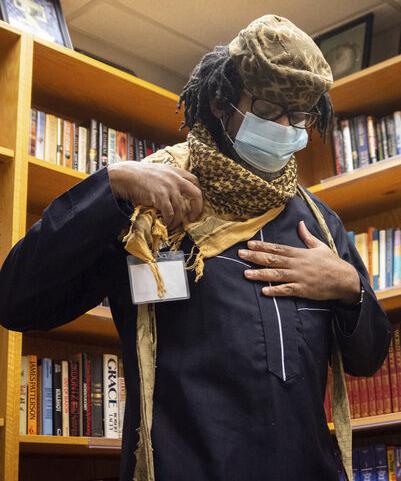 The author of several books on African-American culture and history, Barksdale-Hall, 60, has championed Kwanzaa celebrations for decades. The celebration involves each day focusing on a particular principle, such as creating unity among families and the community.
"The whole idea is teaching young people and old people how to work together,'' he said.
Kwanzaa, comes from a phrase taken from the African Swahili language, "Matunda Ya Kwanza,'' which translates as "First Fruits of the Harvest."
Celebrated Dec. 26 to Jan. 1, the observance was first promoted in the United States in 1966 by Dr. Maulana Karenga, a professor and chairman of Black studies at California State University, Long Beach. Born in Maryland, Karenga graduated from high school in York, Pa.
The ongoing struggle to better the community remains central to Kwanzaa. When Barksdale-Hall's daughter's school denied her a chemistry textbook, resulting in her failing the course, he reminded her their past family members overcame far greater obstacles.
"Our ancestors survived chattel slavery,'' he said.
Kwanzaa isn't a celebration just for the black community, Barksdale-Hall said. It offers ideals for all.
"You can actually teach Kwanzaa to anyone,'' he said. "The principles it has transcends ethnicity.''
ROLAND BARKSDALE-HALL is the author of several books, including "African American Family's Guide to Tracing Our Roots: Healing, Understanding and Restoring Our Families''; "Farrell, Images of America: Pennsylvania Series''; "African Americans in Mercer County Images of America: Pennsylvania Series''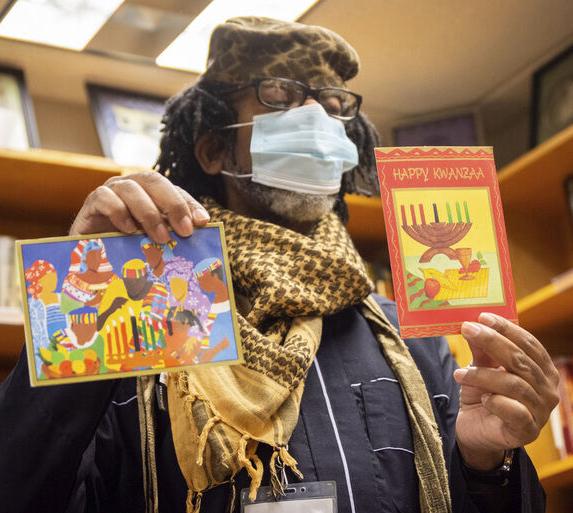 Kwanzaa's terms and symbols
The celebration of Kwanzaa honors seven principles, called Nguzu Saba. Each day of Kwanzaa focuses on an individual principle, with a candle-lighting ceremony where participants discuss the principle and its meaning. The principles, with the first word in Swahili, are:  
Umoja (Unity), Kujichagulia (Self-Determination), Ujima (Collective Work and Responsibility), Ujamaa (Cooperative Economics), Nia (Purpose), Kuumba (Creativity), Imani (Faith).
The symbols of Kwanzaa:
• Mazao (Crops) symbolizing African harvesting celebrations.
• Mkeka (Mat), which represents African culture and heritage.
• Kinara (Candle holder) representing African roots.
• Muhindi (Corn) symbolizing children and the future, which belongs to the young.
• Mishumaa Saba (Seven Candles) represents Nguzo Saba, the seven principles of Kwanzaa and the values of the greater African culture.
• Kikombe cha Umoja (Unity Cup) for the practice of unity.
• Zawadi (Gifts), which represent parental labor and love, and parents' commitment to their children.
• Bendera (Flag): The colors of the Kwanzaa flag are black, red, and green, representing, respectively, black for the people; red, for courage and overcoming difficulties; and green, for hope in the future.
SOURCE: ThoughtCo.