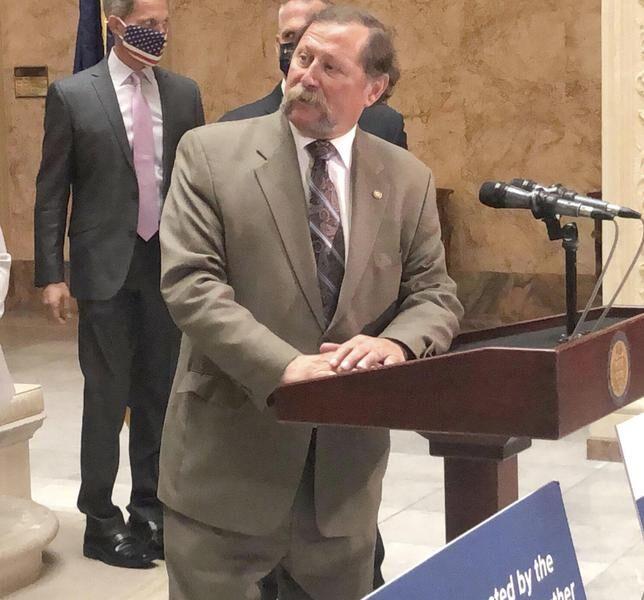 HARRISBURG — State lawmakers on Wednesday urged Gov. Tom Wolf to sign a bill that would let school districts determine how many spectators can attend scholastic sporting events.
Wolf has said he plans to veto the bill.
Two Democrats in the state House — Rep. Bill Kortz and Rep. Joe Petrarca, both from Allegheny County — joined about 20 Republican lawmakers at the press conference at the Capitol to call for Wolf to sign House Bill 2787.
Kortz said the state's crowd-size limits are "arbitrary" and that local school officials should be allowed to determine how many people attend sporting events because every school district has different sized facilities.
Local school officials "know the capacities of their stadiums, the capacities of their gymnasiums They best know how many spectators can attend safely," Kortz said. "Let them do their job."
The legislation awaits Wolf's signature, at the same time the administration prepares to appeal a federal court decision that found that crowd-size limits are unconstitutional.
In a brief filed late Wednesday afternoon, state Attorney General Josh Shapiro asked the court to issue an order keeping the crowd-size limits in place while the administration appeals U.S. District Court Judge Williams Stickman's decision.
"Eliminating the commonwealth's ability to limit large gatherings will inescapably increase the prevalence of superspreader events, leading to a larger number of people dying from this disease than otherwise would occur," Shapiro said in the court document. "As far as our medical science has come, death remains irrevocable. Because a lack of a stay will have grave consequences, the defendants implore this court to grant that stay."
Wolf's crowd size limits followed recommendations from the U.S. Centers for Disease Control and Prevention and serve as a clear standard for the public and local officials to follow.
"If all congregate limits are abandoned, the virus will be free to spread like wildfire throughout the commonwealth, resulting in an increased rate of infection and increased death. This harm cannot be undone," Shapiro said in the court filing.
Shapiro also argued that the court should grant a stay to keep the governor's orders in place pending appeal because there is a reasonable chance that the appeal will be successful. To support that view, they note that a judge in a separate federal lawsuit rejected a bid to have Wolf's business closures declared unconstitutional. The state Supreme Court also rejected an attempt to get Wolf's orders halted over their alleged violation of the First Amendment.
Kortz said he thinks other Democrats will break ranks with the governor and vote to override the veto if it comes to that.
"This isn't a partisan issue," he said. "This is about helping kids and their parents."
House Bill 2787 passed the Senate 39-11 and the House of Representatives 155-47, which would be enough votes in each chamber to override a veto.
The state had barred events with more than 25 people indoors and more than 250 people outdoors, but Judge Stickman ruled that those limits violate the First Amendment of the U.S. Constitution.
House Bill 2787 was authored by state Rep. Mike Reese, R-Westmoreland County.
Because of the 25-person crowd size limits, some schools have had their volleyball teams tell their bench players to wait in the hall or outside until they are summoned to play, Reese said.
"Of course, then they all ride on the bus together," Reese said. "It doesn't make a lot of sense."
The governor has until Monday to veto House Bill 2787, sign it into law, or allow it to become law without his signature. Republicans who hold the majorities in both chambers, have pledged that they will try to override a veto if Wolf follows through on that threat.
Wolf said the Department of Education should be releasing updated guidance for schools on how to handle crowd sizes on Monday.
House Majority Leader Kerry Benninghoff, R-Centre County, said it makes no sense that the state is allowing school districts to determine whether to reopen for in-person instruction or offer classes online, but the Wolf administration is insisting that all schools follow the same crowd size limits.
"Pennsylvanians want to return to normal, and that is not a 'new normal.'"
Whether the courts issue a stay to keep the crowd-size limits in place or not, Wolf said he hopes schools don't allow crowds to pack the stands.
If the General Assembly tries to override Wolf's veto, it will be the second time in a month that the chamber has sought to undo a veto by Wolf. An effort to override Wolf's veto of a legislative resolution that would have ended Wolf's emergency declaration failed to get the two-thirds supermajority needed.
The last time the General Assembly successfully voted to override a governor's veto was in 2011 on the last day of session at the end of former Gov. Ed Rendell's term in office.
Kortz said that even among Democrats in the General Assembly there is some discontent with the governor's handling of the pandemic mitigation efforts.
He said that angst began to develop as early as April when lawmakers began lobbying Wolf to make changes to the state's initial list of life-sustaining businesses allowed to remain open during the statewide shutdown.
"Number one, the governor has not done some due diligence" to consult with lawmakers on either side of the aisle, Kortz said.
Kortz pointed to an episode in April when he and 12 other Democrats asked Wolf to allow golf courses to reopen.
The governor responded with an "8-10 minute speech" about why the state shouldn't let golf courses reopen and then later the same day put out a press release announcing that golf courses, campgrounds and marinas would be allowed to reopen.
That "got me with a burr in my saddle," Kortz said.