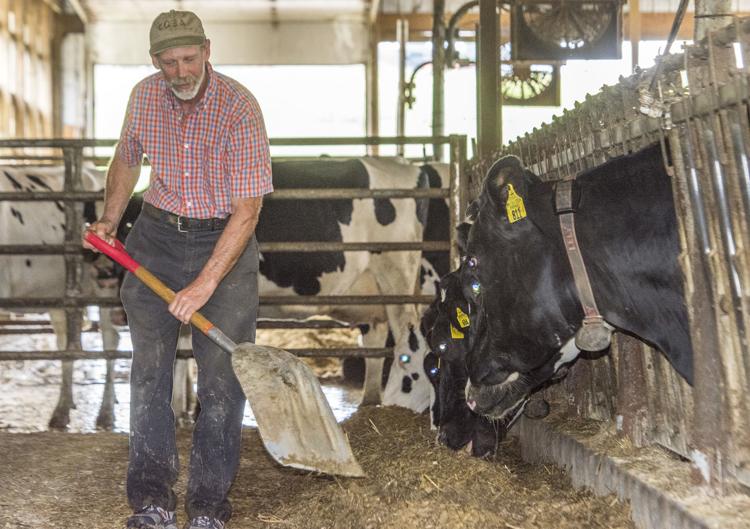 MERCER COUNTY – Milk consumption is declining, and Mark Canon said a federal requirement mandating that schools serve only skim milk is to blame.
"Only skim milk can be served in schools now,'' said Canon, whose family owns the 300-acre Canon Dairy Farm in Shenango Township. "Skim milk doesn't taste as good as whole milk so kids don't drink it.''
Skim milk's taste also has a lingering effect, he added.
"If you don't drink milk when you're young then you're not likely to drink it later on in life,'' Canon said.
He isn't the only local dairyman with those thoughts.
"Skim milk doesn't taste that good,'' Daniel Witmer, whose family has a Sandy Creek Township dairy farm said. "You want children to enjoy milk better.''
Dairy farmers throughout Pennsylvania, and especially in Mercer County, are being buffeted figuratively by low demand and low sales prices, and literally by foul weather that has plagued the region this summer.
The decline in milk drinkers at schools is coming at an already bad time for the dairy industry. Dairy farmers like Canon and Witmer have seen historically low milk prices in the past several years, which has cut deeply into their pockets.
"Prices have gotten a little better this year,'' he said. "But it's still hard for many dairy farms.''
There is proposed legislation afoot to help the situation. U.S. Sen. Pat Toomey, R-Pa., has introduced legislation called the MILK Act – Milk in Lunches for Kids.
Toomey's proposal would put whole milk and 2 percent milk back into school lunches.
If enacted, it would overturn a policy enacted in 2010 by the Obama administration that was supposed to promote healthy school lunches. Current regulations prohibit whole milk and 2 percent milk from being served in schools. 
While dairy farmers and their supporters blame the Obama regulations for cutting into consumption, USDA data indicate that milk's decline predates the current rules by decades.
According to the federal agency, per capita milk consumption has fallen from 247 pounds in 1975 to 149 pounds in 2017, a decrease of almost 40 percent.
But Canon and Witmer, and regional advocates hope a policy change will turn that trend around. Toomey's measure is backed by both farmers and the Pennsylvania Farm Bureau and the Pennsylvania Dairymen's Association.
"If we can get people to drink milk that would help us,'' Witmer said. "If demand goes up, then prices go up.''
But dairy prices are only part of the problems confronting Mercer County dairy farmers. Both men said the constant rain this year is making it very difficult to raise feed crops. As a result, the prices for these crops has risen, biting into already minuscule dairy profits.
Canon, for one, said he might seek assistance through federal programs available to dairy farmers. 
The U.S. Department of Agriculture offers two programs — Dairy Revenue Protection and Dairy Margin Coverage. 
The revenue protection provision is in insurance-based program that can cover farmers for lost income. The margin coverage program provides assistance in the face of high feed costs.
"You have to look at what other farmers are doing,'' he said. "If they benefit from the insurance that you didn't sign up for, that puts you at a disadvantage.''