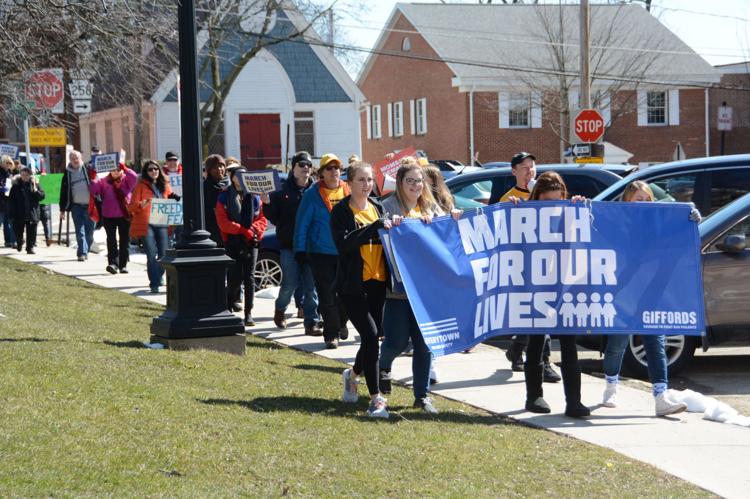 MERCER— Addy Birkes, 17, is going against the grain of her community and her school, but if she's nervous, you wouldn't know it.
Birkes spoke with several other gun safety advocates at the Mercer County Courthouse Saturday in solidarity with the student-led marches all over the country as part of March for Our Lives. Mercer's march was organized by Indivisible Mercer County, Democrat Women of Mercer County and the Slippery Rock Huddle with students taking the lead as two of the six speakers.
It can be difficult to speak up in an area that heavily supports guns, Birkes said. Even her school is highly "polarized" and 90 percent of her classmates at Slippery Rock High School disagree with her stance, Birkes said.
There is a risk of losing friends and becoming alienated, she said, but it's worth the risk.
"You may lose friends, but you'll get better ones," Birkes said. "You have to stand up for what you believe in. You can't stand behind neutral viewpoints."
Almost two weeks ago, Birkes led a school walk out at Slippery Rock High. Most classmates ridiculed and scrutinized Birkes and peers who support stricter gun laws. She wasn't sure how many people would walk with her, but she was surprised and pleased to find 73 others by her side that day.
At the rally in Mercer, about 70 people gathered to support Birkes and other students who want change.
"Protect your kids, not your guns," people chanted around the courthouse. "No more silence, end gun violence."
Several people said that they own guns and enjoy hunting and shooting, but they still want stricter gun control that keeps automatic assault weapons out of classrooms.
Abigail Averitt, of Waterford, originally of Sharon, is a hunter and a mom of two. With her oldest entering kindergarten next year, she is scared for her daughter's safety, she said.
Her daughter, Grace, who is 5, doesn't yet understand what is going on around her.
"I told her it's to make her safe when she goes to kindergarten," Averitt said.
Laura Glawe, a sophomore at Slippery Rock University, is an early childhood education major, and in two years she will be entering what has now become a battle ground.
"I should be thinking about how I should arrange my classroom, not how I should protect my students from bullets," Glawe said.
Tracy Travaglio has watched school safety change in the 10 years she has been a teacher at Butler Intermediary High School.
Her job as a teacher, is now to lay down her life for her students, she said.
She teaches her students how to survive.
She has conversations with her students about school safety after every shooting. She teaches them what classroom objects they could use to throw at an intruder and how to blockade the door with furniture. She keeps a belt by her classroom door to lock it shut.
It didn't used to be like this.
Most high school students only know gun violence and school shootings, but this is not normal, she said.
From these tragedies, students are gaining their voices.
"I have always thought that students have a voice, and it's important that we listen to that voice," Travaglio said.
Travaglio will not get in the way of what students have to say; she will only ensure their voices are made even louder.
"I would be willing to bet that every person here would be willing to help you find your voice," Travaglio said to the group of marchers, addressing students specifically.
For Birkes, this is the first political cause she has fought for and the first time she has tested her voice. Regardless if she finds a career in politics or remains an activist, she will continue to fight for what she believes, she said, even if it's an unpopular opinion.
"I really hope I am doing something to bring about change in something I believe in," she said.
Follow Natalie Eastwood on Facebook and Twitter @natalie_herald. Email her at neastwood@gmail.com.