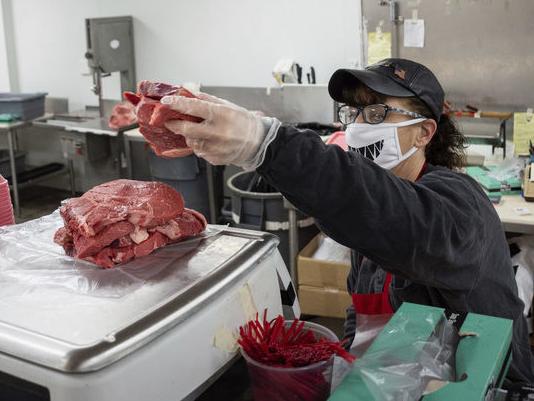 After crossing the state line from Hubbard to Palumbo's Meat Market in Shenango Township, John Stubrich casually watched a customer exit the store and waited for his turn to go inside.
"They only allow so many people in at the same time,'' Stubrich said of Palumbo's .
From the parking lot, a voice calls over the loudspeaker for number 132 – the next customer who can enter the shop along Route 318. Stubrich holds number 147.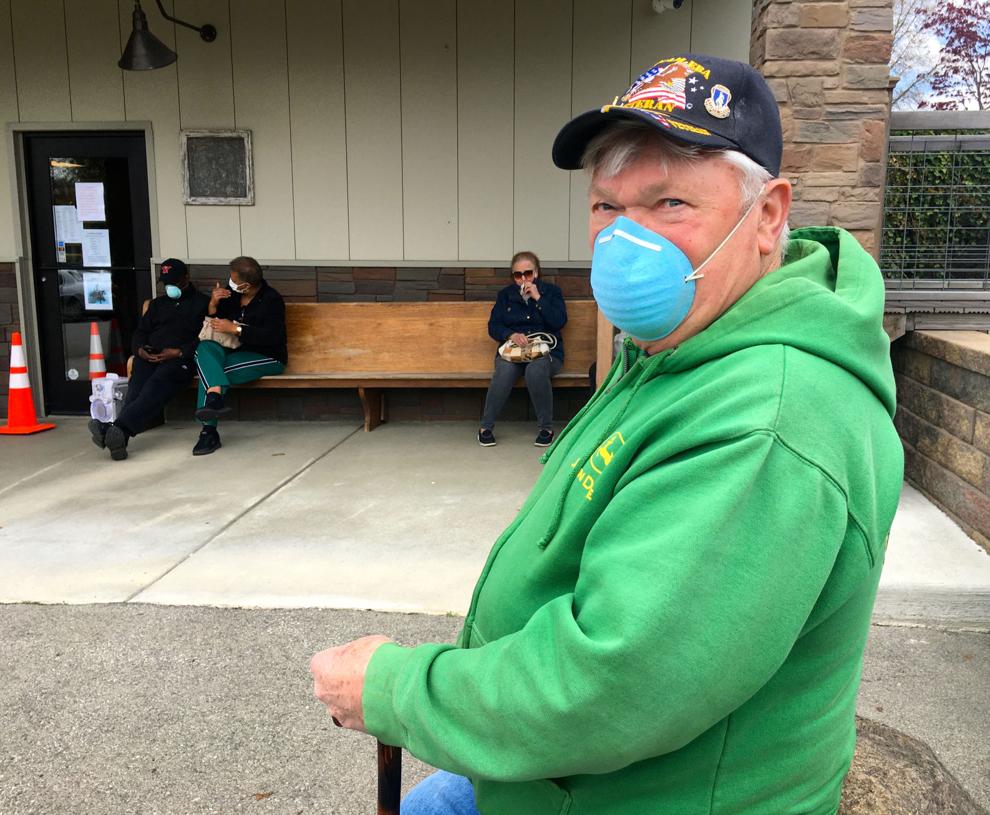 "Looks like I'll be here a little while longer,'' the 74-year-old retiree said. "I don't mind waiting. I've been coming here for years because they have really good meat.''
With the COVID-19 pandemic ravaging supply chains, grocers and shop owners have witnessed a run on meat.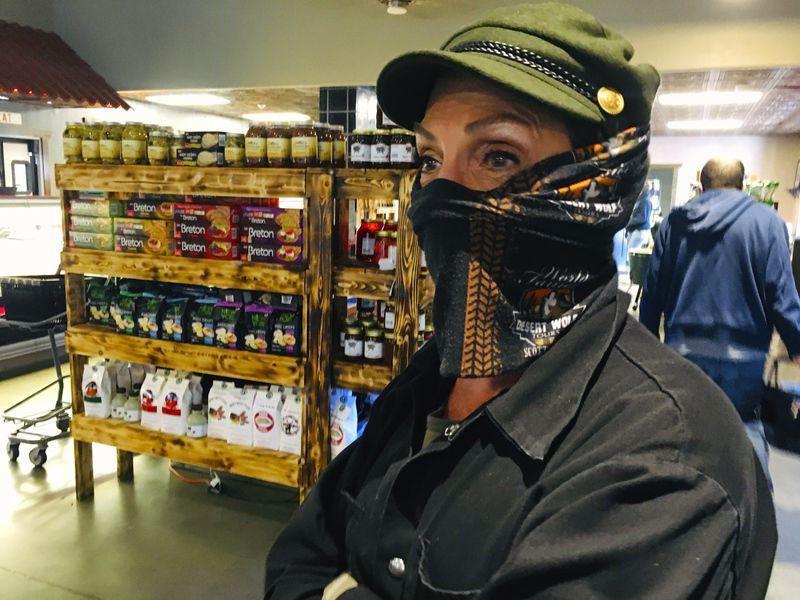 Shenango Valley Meat and Poultry consistently had a line of people running out the doors of its shop on East State Street in Sharon. But customers have shown they're willing to wait for that plump roast or choice rack of spare ribs.
But the store, which had been closed for a few weeks last month in response to COVID-19-related restrictions, will be closed again this week. This closure, though, is not a direct response to the pandemic.
On Friday afternoon, the meat shop ran out of meat, forcing it to close again. This time, it's going to stay closed for a while, said co-owner Shawn Nakich.
"I'm betting it's going to take two or three weeks before we'll be able to get any more meat in,'' Nakich said.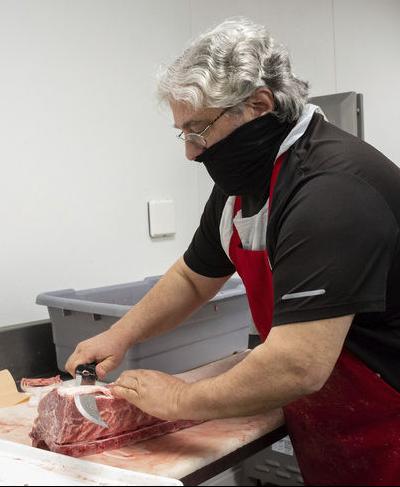 Jonathan Campbell, associate professor at Penn State University and a Cooperative Extension meat specialist, said the shortage isn't a straightforward tale of supply and demand.
"There's meat in cold storage now that's filled to capacity,'' Campbell said. What we have now are food distribution issues.''
As COVID-19 struck the nation, major meat-packing operations were caught in the crosshairs, he said. Some of the United States' biggest plants were forced to shut down after hundreds of employees tested positive for the illness.
Taking those kinds of plants out of production hurts supply and also scared consumers into buying up big, Campbell said.
"But what's happening is the news media is reporting about the plants that shut down. They're not reporting about the plants that are reopening,'' he said.
Even at the processing plants that have remained open or are reopening, the virus is still affecting supplies. Campbell said 60 percent of the meat products produced at some plants are designated for the restaurant industry.
Most restaurants have either closed or are operating at a limited capacity. Processing plants are having a difficult time shifting from restaurants, where demand has fallen, to grocery stores, which are booming.
The grocery store butcher shops and places like Shenango Valley Meats rely on meat suppliers who buy from large outfits with access to huge meat packing operations that store products in massive refrigerated warehouses.
As meat plants closed due to the pandemic, inventory tightened. Major buyers like large grocery store chains have contracts in place and get first dibs on products remaining in warehouses.
Smaller buyers like Shenango Valley Meats received an allocation. Once that was gone — which happened about 4 p.m. Friday afternoon — there was nothing available in the pipeline.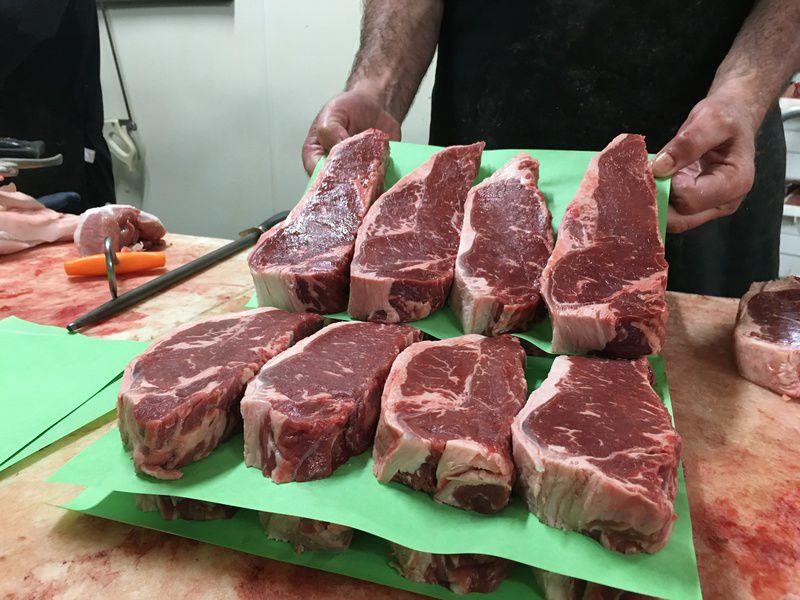 By contrast, the refrigerated shelves at Palumbo's Meat Market are filled to capacity with beef, chicken and pork because they control their supply chain.
"And we have lots more available,'' said Debbie Palumbo, who owns and runs the store with her husband Keith and their son Jode.
The Palumbo family owns a farm near DuBois, where they raise cattle and hogs. They order from themselves, slaughter the animals and deliver the carcasses to their Shenango Township shop for final final butchering. They buy chicken and fish elsewhere.
As supplies dwindled at other commercial shops, the Palumbos kicked their operation into high gear. They boosted their slaughterhouse supply and it's been almost nonstop butchering since then.
"People only see us behind the counter and think that's all we do,'' Palumbo said. "My husband is here 6 a.m. every morning grinding meat. We're literally grinding a ton of meat every day – and I mean 2,000 pounds every day.''
They log extra hours cutting to ensure products are available for their display cases. With bountiful supplies, the store has attracted new customers from well outside Mercer County.
"We open at 11 a.m. but there are people at our door two hours before,'' she said. "And they're coming from all over, Boardman, the Pittsburgh area and Cleveland.''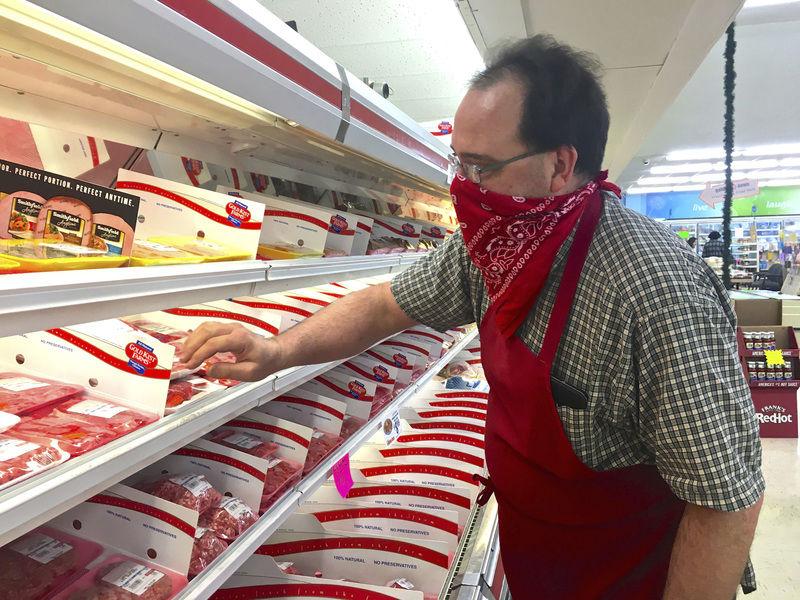 Like Palumbo's, the Golden Dawn supermarket in Farrell is well-stocked, but for a different reason.
Golden Dawn staff was prepared for the meat shortage. Its refrigerated shelves were piled high Wednesday, with more in storage.
"We've been doing this for a long time,'' said Larry Lavan, Golden Dawn's meat manager. "We have four suppliers and we ordered a lot from all of them.''
But like everyone else, Lavan said the store has to pay the going wholesale price for meat.
"Beef has doubled in price from weeks ago,'' he said.
On the other hand, chicken prices have been steady with pork rising just a bit.
"We've been told pork is going to be a little harder to come by,'' Lavan said.
Word has slowly gotten out the store has bountiful supplies of meat.
"We're getting people from all over coming in,'' he said. "It's just been insane keeping up."
Penn State's Campbell said the meat shortage is only temporary. But he hesitated to say when meat supplies would return to normal.
However, even if people become personally overstocked, the problem is easily solved.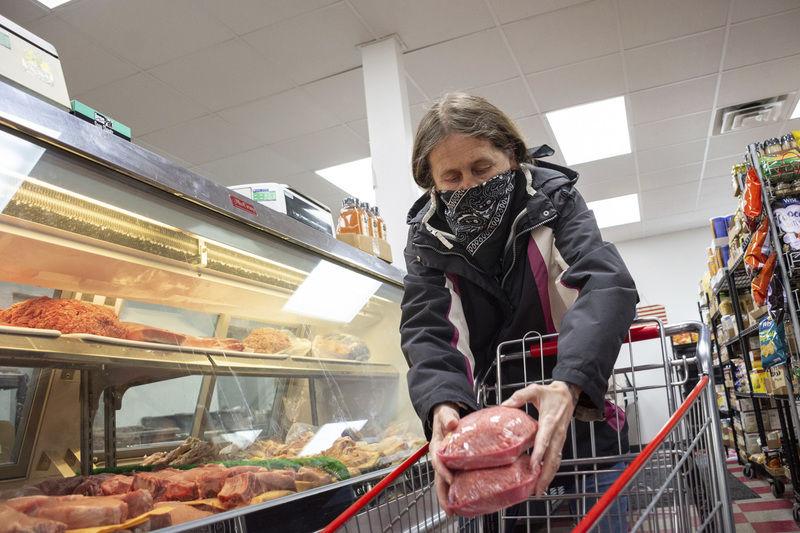 "If you vacuum-seal the meat and put it in a freezer, it can last more than a year and still taste good,'' he said.