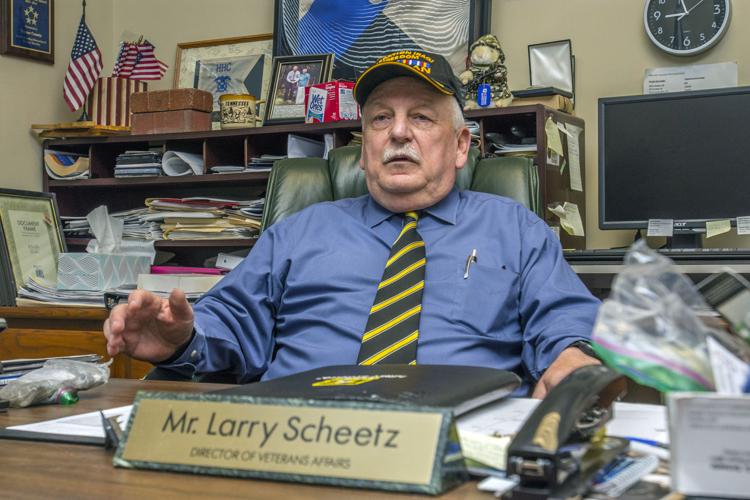 MERCER –  Lt. Col. Larry Scheetz is retiring from his post as director of Mercer County Veterans Affairs in August.
Scheetz, 64, of Sharon said this job has been the most rewarding one he has ever had.
"You find out you can help so many veterans," he said.
As director for the last seven years, Scheetz has assisted veterans with their various needs, including housing and utilities.
"There's always a way to come up with money," he said. 
He said many veterans are too proud or humble to seek help, so it was his job to convince them to accept that aid. Scheetz sets up those who are homeless in motel rooms.
Scheetz explained that when someone experiences a traumatic event, such as a divorce or losing a job, that causes a downward spiral.
"I call it the step ladder of life," he said.
Scheetz said he's glad to have been able to obtain the federal funds available for Mercer veterans.
"Millions of dollars to put back into their pockets," he said.
Scheetz said spouses of veterans who die also need assistance because they receive only half of the veteran's Social Security income and pension.
"When that person is gone, what do you do?" he asked. "A lot of them don't have life insurance."
Scheetz's office provides an alternative for spouses who don't want their loved ones buried in a military cemetery, which is a distance away.
"I have a desk drawer full of funeral plots," he said. 
Scheetz said the only fee charged for burying the veteran in local cemeteries is opening and closing the ground. He knows there are 133 out of 172 cemeteries in the county that have 23,452 veterans spread among them because his office oversees the flags placed each spring at their gravesites.
"It's like commanding an army," he said about coordinating such efforts.
He enjoys hearing veterans tell their combat tales.
"You relive these history stories," Scheetz said.
He recalled talking to a World War II who was on a tugboat in the Bikini Atoll in the Pacific Ocean watching the mushroom cloud form from an atomic blast.
Scheetz said those he helps appreciate being able to talk with another veteran.
"The camaraderie is just unbelievable," he said.
Scheetz's military career began when he was a teenager in West Virginia.
"I started my military career when I was 17," he said. "I was a high school dropout."
Scheetz moved up the ladder.
"I worked my way through the ranks," he said. 
By the time of Desert Storm, Scheetz commanded a base in Iraq. He oversaw a fire department, police force and even Ugandan fighters.
He brought in seven tons of humanitarian aid supplies for the Iraqis, who were lacking utilities such as water and electricity as well as basic items such as shoes. His wife, Dawnle, who also served in the military, was on the other end of the supply chain.
Scheetz designed a unique way to ensure his base perimeter was safe from invaders. While distributing stuffed animals to children, he used that opportunity to ask them what strangers they might have seen lurking about.
"I was gathering intelligence," he said.
Scheetz brought back something from Iraq – a piece of shrapnel that almost struck him.
"It zipped right past my head," he said.
Scheetz later received recognition from President George W. Bush in the White House. 
He eventually came to Mercer County.
"They offered me a job," Scheetz said. "I was still in the military then."
Mercer County Commissioner Matt McConnell, board chairman, expressed his gratitude for Scheetz's efforts.
"Mercer County has a tradition of having a great veterans office to assist those who have served our country through the military," McConnell said. "Not only is it the veterans, but their families as well that can utilize the veterans office as a guide through the numerous and, sometimes, cumbersome programs. I would like to thank Lt. Col. Scheetz for continuing this tradition and appreciate his commitment."
Commissioner Tim McGonigle agreed Scheetz deserves recognition, citing Scheetz's knowledge of the veterans locally, his honesty, integrity and honor.
"His shoes are going to be hard to fill," McGonigle said. "We're sad to see him go."
Although Scheetz's work for the county veterans affairs will be done this summer, his efforts on behalf of veterans will not.
"I won't stop," he said. "I can't stop."
Scheetz has been named the service officer for Veterans of Foreign Wars Pennsylvania District 28, which stretches from Erie downward in Western Pennsylvania.
"We're all in this together," he said. "We help each other out."
Scheetz also wants to resume the Armed Forces Day event at Buhl Park in Hermitage.
As his departure approaches, Scheetz said his successor needs to possess one quality above all others.
"You need to have a heart," he said.