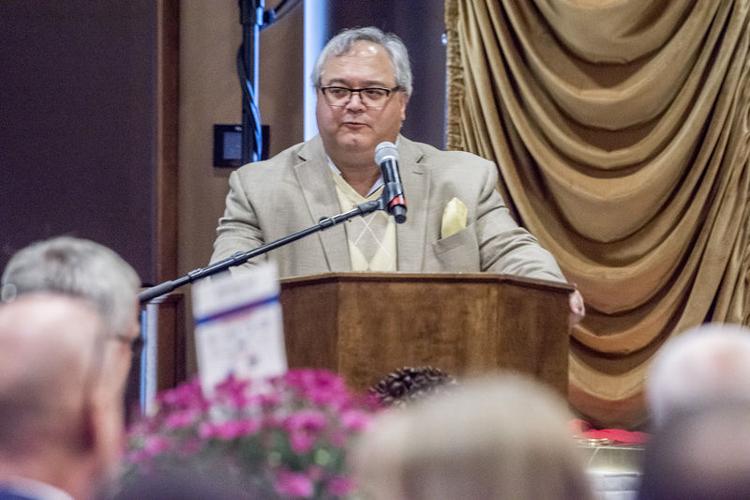 HERMITAGE – Officials unveiled a long-speculated project for property along Interstate 80 in East Lackawannock Township at the Penn-Northwest Development Corp. annual meeting and awards dinner.
The $80 million project could employ up to 1,000 full-time workers. Scott Caplan, senior vice president of Clayco Realty Group, talked about the project Thursday evening at Penn-Northwest's event in the Avalon at Buhl Park.
CRG is the development arm of Clayco Inc., which is based in Chicago.
The company is looking at building a million-square-foot warehouse on the property and possibly another building, Caplan said. Potentially, the site could house up to 2.4 million square feet for warehousing or sorting operations.
The realty group has not yet lined up an occupant for the warehouse. But it could be one of the world's biggest online retailers.
"We're one of the largest (warehouse) builders for Amazon,'' Caplan said.
He said a million-square-foot warehouse typically needs about 150 workers. Internet businesses, such as Amazon, need "fulfillment centers'' that employ more than 1,000.
Among the things CRG looks for in a site is good utilities, easy access to transportation and tax abatements, Caplan said,
In May, CRG reached a tentative agreement with the Mercer County Commissioners to buy 206 acres the county owned at the Mercer exit of I-80. The deal was valued at about $10,000 an acre, or around $2 million.
After the meeting Randy Seitz, Penn-Northwest's CEO, said CRG has been talking to tenants of its other warehouses to attract them to the site.
"They've been talking to companies like Amazon, Target and Bed, Bath & Beyond,'' Seitz said.
It's the potential tenant that will determine how many jobs could be be created locally, he said.
"If it's a pure retailer, then you would be looking at 300 jobs,'' Seitz said. "If it's e-commerce or a fulfillment center for someone like Amazon or Target, it could be 1,000 jobs.''
A fulfillment center is overseen by a third-party that receives, processes and fills orders.
CRG has warehouses operating at near-capacity in the Columbus and Cincinnati areas, Seitz said.
"At some point you won't have any space left there. And at some point and time somebody is going to find our location," he said. "And (CRG doesn't) want that to happen, they don't want to see somebody else coming in.''
CRG executives have talked about buying more land here for future projects, he sad.
"They are looking at creating warehouses on I-80 and I-79 all over Mercer County,'' Seitz said. "They have a vision here. I feel confident something is going to happen here."
After the Penn-Northwest meeting, Mercer County Commissioner Matt McConnell cautioned that CRG's project isn't a done deal.
Under the agreement, CRG is given time to study the site. McConnell said the company wants to take a hard look at the area's labor pool.
"This is like buying a house,'' McConnell said. "You may have an agreement on the price, but it's conditioned on other things like passing a home inspection.''
A labor study conducted by CRG has been completed, he said.
"The labor study that came back to us was fantastic,'' he said. "Our labor pool just doesn't include Mercer County, but all the surrounding counties as well. (CRG) told us our labor area was as attractive in other places they've done business in, like Columbus.''
McConnell said officials from Mercer County and Mercer Area School District have discussed approving tax abatements, McConnell said.
CRG is undergoing a marketing blitz to attract businesses to the project.
"Whether we get to the finish line or not depends on demand and the economy,'' he said.
CRG said construction of the warehouse could be done in 12 to 16 months, McConnell said. Still, he said lots of work remains to make the project a reality.
"We're not at the starting block, we're half-way around the track,'' he said.