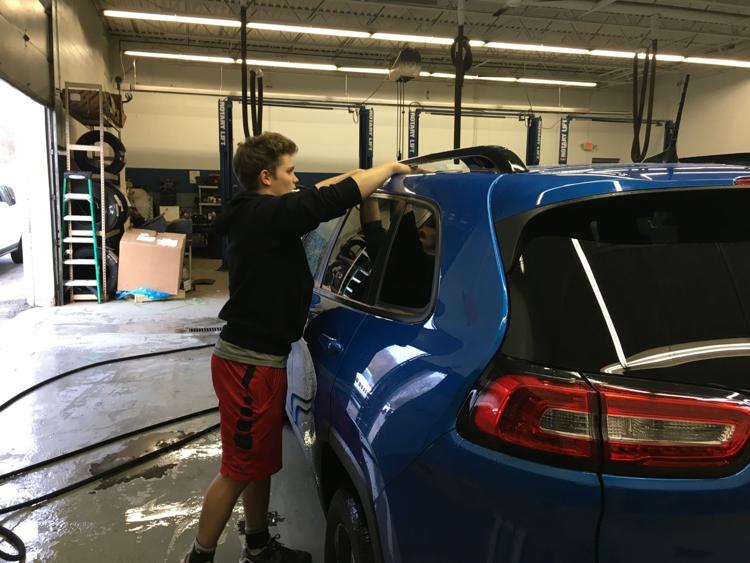 HERMITAGE – Scheidemantle Motors refuses to pay minimum wage – because it's too low.
"You can't hire anybody for minimum wage and expect to get someone that's good,'' said Bryan Scheidemantle, owner of the Hermitage car dealership. "I can't even remember a time in the past 10 years when I started somebody out at minimum wage.''
This is part of the reason there's serious ongoing discussions about raising Pennsylvania's minimum wage. Standing at $7.25 an hour, the state's minimum wage, which is tied to the federal minimum wage, hasn't changed since 2009.
Surroundings states have higher minimum wage levels. West Virginia is at $8.75 and Ohio at $8.85 for businesses with annual sales greater than $300,000.  
Two teens working part time on Scheidemantle's payroll are getting paid above minimum wage. Hickory High School sophomore Tacoma Pumphrey has been earning $10 an hour at the business since he began working there two years ago. His classmate Damien Warrick started four months ago and is getting a little below that figure.
Both have family members working at the dealership. Their duties include washing cars and odd jobs in the dealership's service department.
"We help out where we're needed,'' Pumphrey said. 
For Warrick, getting the job was formal.
"They made me fill out an application,'' he said. "But I think they made me do it as a joke.''
Neither teen wants to remain in their current job for long. Pumphrey is looking to apply part of his pay for college, while Warrick is thinking he might use his money to buy a car and then attend a technician school to become a mechanic.  
They realize how well they're being treated by Scheidemantle.
"That's why I like working here,'' Pumphrey said.
Local legislators are divided on whether the state should raise its minimum wage and, if so, by how much.
"Its been over 10 years since the minimum wage has been increased, and the economy has recovered since then,'' said state Rep. Mark Longietti, D-7th District, Hermitage. "It's time to raise the minimum wage.''
Earlier this year Gov. Tom Wolf proposed raising the rate to $12 this summer, then incrementally to $15 in 2027. But that idea isn't generating many political fans.
"I don't think it's feasible to raise the minimum wage to $12 in one jump,'' Longietti said. "A sudden increase like that would have a lot of implications for businesses.''
State Rep. Tedd Nesbit, R-8th District, opposes a minimum wage hike.
"But I think based on the circumstances it may end up being part of an overall budget agreement,'' the Grove City legislator said. 
With a large number of nursing homes in his district along with George Junior Republic, a nonprofit delinquent youth center, a rise in the minimum wage would force much higher costs on those operations, Nesbit said. Further, the increase could mean fewer jobs.
"In some ways having a higher minimum wage would hurt the people we intended to help,'' Nesbit said.
When it comes to jobs, development agencies have little interest in companies that only create minimum-wage jobs, said Jim Cardamon, zone coordinator for the Shenango Valley Enterprise Zone Corp. The non-profit group offers loans to businesses that are creating or looking to save jobs.
"Our goal is to see jobs created that are paying 1.5 times the minimum wage,'' Cardamon said. "We need to know that a business will be able to deliver a liveable wage.''
It's for that reason that the organization doesn't court retailers offering minimum wage jobs, he said. 
"I don't think having $10 as a minimum wage is going to jar anyone,'' Cardamon said.
As he washed a car at Scheidemantle, Pumphrey talked about his future. His goal is to get into the field of sports medicine then something more in the medical field beyond that.
As for now, earning more than the minimum wage wasn't a gimmie from the Hermitage business owner, he relates.
"First he wanted to make sure I was worth it,'' Pumphrey said of Scheidemantle. "I work hard for what I get. And that's why he takes care of me.''