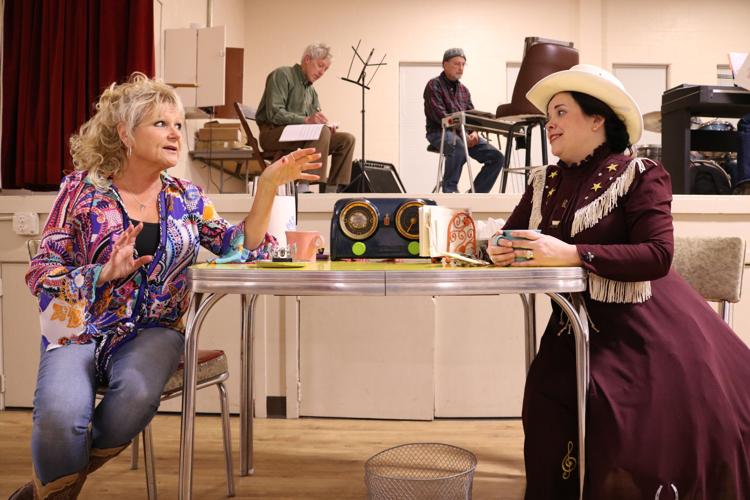 SHARPSVILLE — After inviting an imaginary audience to the "Grand Ole Opry," a lady in a red dress complete with stars, tassels and a white cowboy hat begins singing a Southern song while a band plays behind her.
Playing the title role in the musical "Always...Patsy Cline," Roxanne Chapman has more songs than dialogue to learn — about 30 overall.
"Singing is something that I've always liked a little more than just acting, and when you get into the rhythm and the music, songs can actually be easier to learn than lines," Chapman said.
Playing the role of Patsy Cline's friend Louise Seger is Chapman's friend and former music teacher Tina Greig. Having first taught Chapman at Mercer schools about 30 years ago, Greig said that lifelong friendship carried over to the musical.
"(We) have known each other for so long that when we have to perform as friends onstage, that chemistry's already there and things really pop," Greig said.
The dress rehearsal for "Always...Patsy Cline" was held Tuesday evening at the St. Bartholomew Church's community center, where the show and a dinner will be held later in March. Directing the musical is Maria Petrella-Ackley, who said she first saw the show performed about eight years ago in Alabama.
"I first saw it on Monte Sano at this beautiful museum in the South with the music and everything. I had wanted to put it on ever since," Petrella-Ackley said.
Directing the music and providing some of the vocals is Jeannetta Plotner. Dana School of Music students Andy Pickard, Owen Davis and Sean Williams from Youngstown State University, as well as local musicians Stephen Brown and Mitch Adelman will provide the music.
"Everybody has been rehearsing on their own, so this will be the first time that we bring everybody together," Plotner said Tuesday evening.
Unlike other musicals, "Always...Patsy Cline" tells the story of friends Cline and Seger who first met in 1961, becoming friends and maintaining a correspondence until Cline's untimely death in 1963. Even though there are only two characters, costume designer Don Shumaker still has to make sure the costumes fit the characters.
"For Cline, it's not a period dress but I was able to make something that resembles the era of the 1960s," Shumaker said. "For Seger, she has this bluejeans look because she's more of a free spirit."
However, bringing "Always...Patsy Cline" before local audiences is an effort roughly four years in the making. The musical was originally planned to be performed at the James E. Winner Jr. Arts and Culture Center, but the closing of the venue in 2015 put the show on hold.
Although the current cast and crew — who are involved in many of the same theater and musical circles throughout the area — remained interested in performing the musical, this March will mark the first time "Always...Patsy Cline" will be performed in Mercer County.
"I think some of the older people will appreciate the music, and I think the young people will get to learn a little about Cline and her music," Petrella-Ackley said.
The musical is a fundraising event for the Sharpsville Historical Society. This year, the funds will help cover the costs associated with the historical society's refurbished pipe organ, Vice President Robert Rannard said.
"We've done dinner shows in the past, but they were usually murder mysteries," Rannard said. "This will be the first time that we've done a musical."
Dinner at the event will be provided by Rita Sloan Catering, with the menu including roast beef, ham and chicken, and an apple dessert, Rannard said.
"Cline was originally from Winchester, Virginia, which they call the apple capital of the world, so it seemed appropriate to having something with apples served at a musical about her," Rannard said.
Performances will be held at 7 p.m. March 8 and 9 and at 2 p.m. March 10. Tickets are $35 and the doors will open one hour prior to the show's beginning. Tickets can be purchased at Mehler's Insurance in Sharpsville, at the Sharpsville Historical Society's website at sharpsvillehistorical.org, by calling 724-962-2392 or at the door.
Like David L. Dye on Facebook or email him at ddye@sharonherald.com.