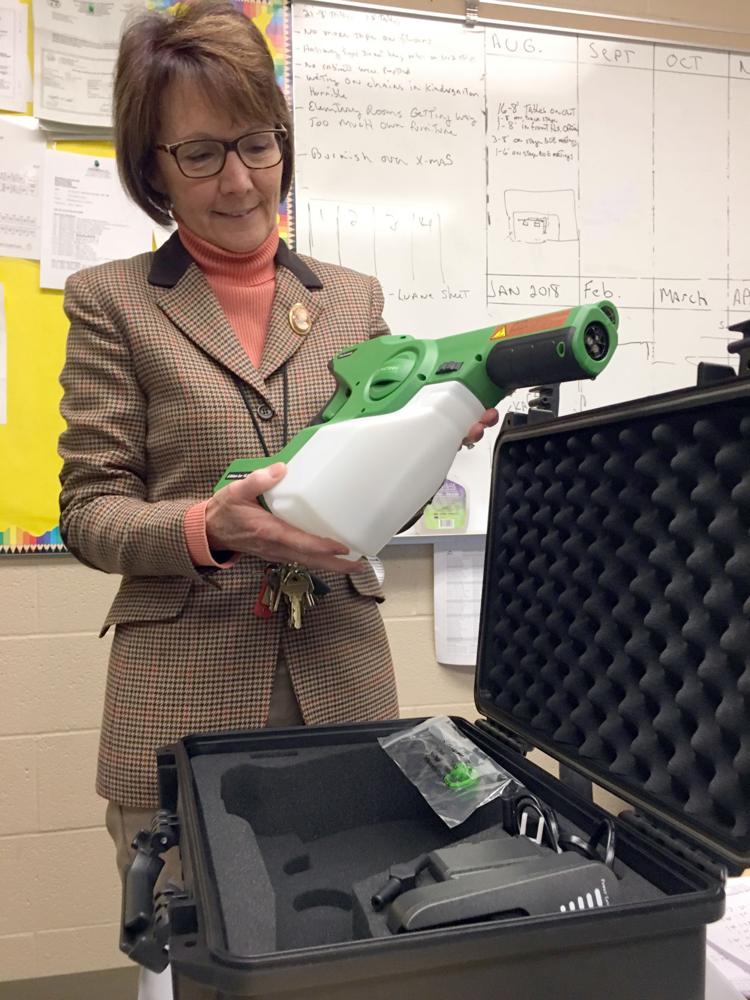 BROOKFIELD, Ohio – Brookfield Local School District has a new weapon in its fight to keep the school germ-free and students illness-free.
One of the district's equipment suppliers, Rhiel Supply Co., gave the schools an $800 grant that allowed the district to buy a piece of disinfecting equipment. The item, which resembles a squirt gun, shoots off a liquid disinfectant solution in a fine mist that quickly turns into a fog.
The new sprayer is eagerly being used to prevent illnesses from spreading among students, Superintendent Velina Jo Taylor said.
"In the past, we've had issues with MRSA,'' she said. MRSA is bacterium that causes infections in different parts of the body. 
Locker rooms are among the top troublesome areas for schools when it comes to spreading germs, Taylor said..
"You have students who are sharing things like towels with each other,'' she said. "MRSA is something that moves fast from person-to-person.''
Students on the district's wrestling team tend to be the ones most susceptible to illnesses, the superintendent said.
"The students are wrestling on mats where germs from one person can spread to another,'' she said. 
Football and basketball are other sports where germ-spreading can be an issue, she added.
Younger students in elementary grades are where illnesses often spread the fastest as the children don't always cover their mouths when coughing or thoroughly washing their hands, Taylor said.
"You don't see that as often among high school students,'' she said.
Still, there are germ hot spots in the school that will sprayed.
"Things like door knobs, electric switches and the lavatories will get our attention,'' she said.
Since the liquid turns into a fog it doesn't leave a wet trail, Taylor said. It is also odorless.
The disinfectant will be sprayed when the students are not in school.
Taylor said there is no danger from the students inhaling the mist. The custodians are not even required to wear masks when they spray it, she added.
Most of custodial staff is still waiting to be trained on using the equipment, but those who have learned the ropes already are using the equipment in schools right now.
The district is planning to purchase an additional piece of equipment, at a cost of about $900, which will allow the custodial staff to get a finer spray, which should make the equipment even more effective, Taylor said.