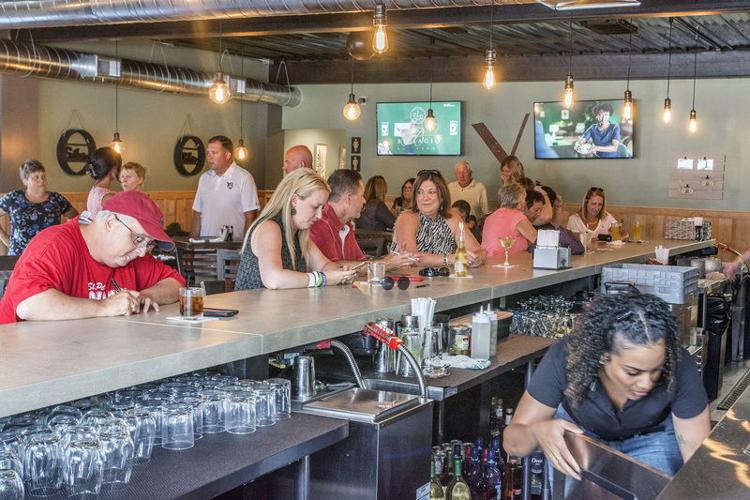 SHARON – Walking through the door at Vey's Pub on East State Street in Sharon, you almost expect to hear a loud welcome, much like the greeting you would receive at a famous bar where "everybody knows your name."
And that is the vibe owner Tom Ristvey and his staff are trying to capture with their new venture — a neighborhood spot where customers are friends and adults can come and have a drink or a good meal after work or on a weekend.
Ristvey did not start out yearning to take over the property, formerly known as the Tow Bar, or to get into the bar business at all.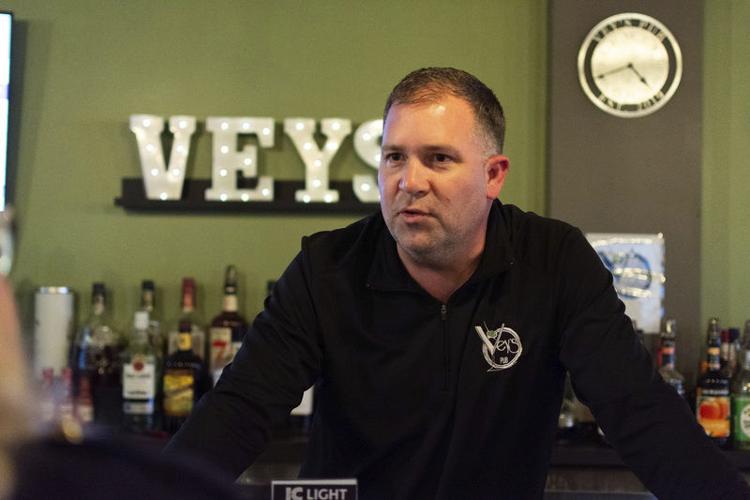 "I never really wanted to own a bar," he said.
He got the idea from a friend.
Ristvey had just ended a restaurant partnership. And while he loved the hospitality business, he was busy with his day job and his family.
Meanwhile, the owners of the Tow Bar were considering putting their property up for sale.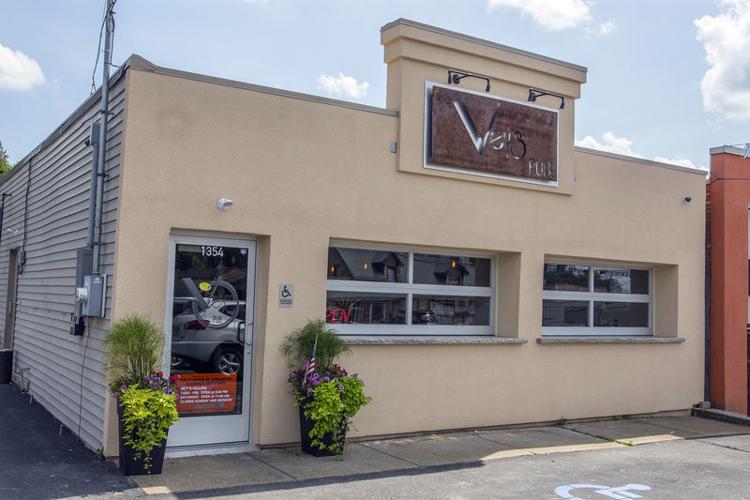 "I get my hair cut across the street," Ristvey said. "And Mike DeJulia said, 'You need to buy that place and get back in the business.'"
In 2018, the Tow Bar was officially up for sale, and Ristvey made an offer.
The owners accepted, and Ristvey had a bar.
"We felt the area needed another place for people to go," he said.
Then there was just one more hurdle — telling his wife, Deb, that they were back in the business.
Ristvey had seen the inside of the Tow Bar and knew he had a challenge ahead.
"I brought my wife in to see it," he said. "She about had a heart attack."
But Ristvey said his wife, who he says has been right by his side for every challenge, success and opportunity, stood by him one more time — with one caveat.
"She said the bathroom had to have two stalls — because women don't go to the bathroom alone," Ristvey said.
And Vey's has just that — a nice bathroom for the ladies.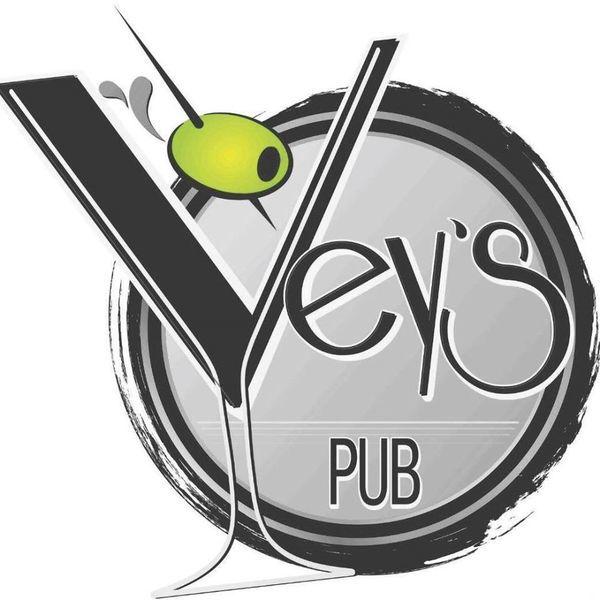 But getting to the sophisticated, warm and welcoming place Vey's is now did not come easily.
The deal closed in October.
But the building permit and plans came months later.
Ristvey said there were hurdles to overcome to get there — and he wanted to make sure that when the work was finished, it would be done right.
And that meant clearing out every last remnant of the Tow Bar.
"We took it down to cinder blocks and started over," he said. "The only thing that didn't go was the hood system in the kitchen."
The building was small, so space was — and is — at a premium.
Ristvey said the design, from the location of the bar and the restrooms to the kitchen layout, was envisioned with the most efficient use of space possible.
"This was originally a motorcycle repair shop," he said.
Remodeling meant more than just picking floor and wall colors.
Special care went into every decision.
"We had to move all the plumbing and the gas," Ristvey said. "It was the longest three months of my life."
The goal was to make customers feel welcome and relaxed.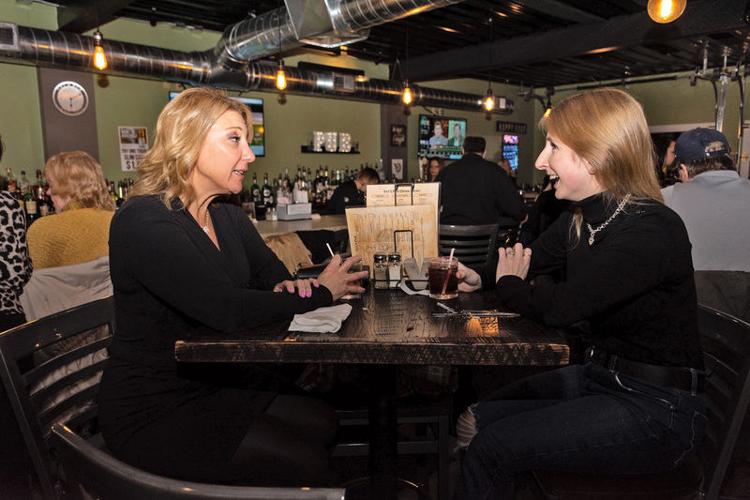 "We wanted a place where a woman would feel comfortable going after work," Ristvey said.
The inside of the bar was not the only space concern.
The property did not have a lot of parking.
There are spaces in the front and some in the back, but where to put the vehicles was a concern.
That is when Vey's neighbors stepped up.
"I can't say enough about the businesses that are located next to us," Ristvey said. "They have been so supportive. They allow people to park in their lots when they are closed."
There are plans for more parking in the future, Ristvey said.
And Vey's tries to be a good neighbor, too.
"We took pride in creating a really nice place that looks good from the street, too," Ristvey said. "I think our neighbors appreciated that."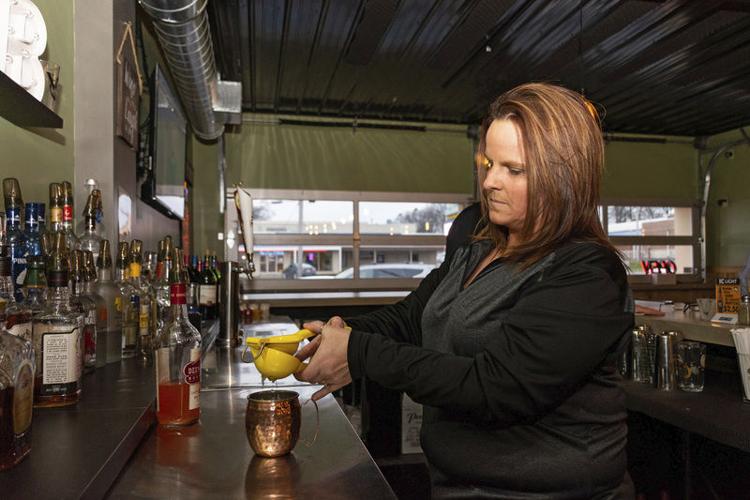 Now that the doors are open, Ristvey says he counts on his bartenders, Shannon Reagle and Chris Zeigler, to create the atmosphere where customers can enjoy a drink and a nice conversation.
Ristvey had worked with Reagle previously. He called her as soon as he knew he would be opening Vey's.
Reagle says she loves interacting with the customers. In addition to mixing drinks, she also works as a server.
"I am a people person," she said.
Getting to know the customers is an important part of her job, she said. Vey's already has its own happy hour crew of regulars.
"We know what they drink, and we get it ready for them as soon as they walk through the door," she said.
But Vey's is not just a place to stop for a drink.
Ristvey said the bar is offering food, too.
The menu originally featured shareables and appetizers, but now has expanded to include dinner features — a $19.99 steak special on the weekends, for instance.
"I learned how to cut meat," Ristvey said. "I hand cut all our meat."
He said the steak special could soon be available during the week, too.
And there are other choices on the menu as well.
"I took my mother's crab cab recipe, and we have a soup of the day," Ristvey said.
Manning the kitchen are Antonio and Antoine Robinson and their friend, Kenny Reid.
Antonio takes his cooking seriously. He knows exactly how to tell if what he has created will be up to Vey's standards.
"If I will eat it, they will eat it," he said.
His specialty is steak tips, but there are other new additions to the menu — crispy chicken as well as several new sauces.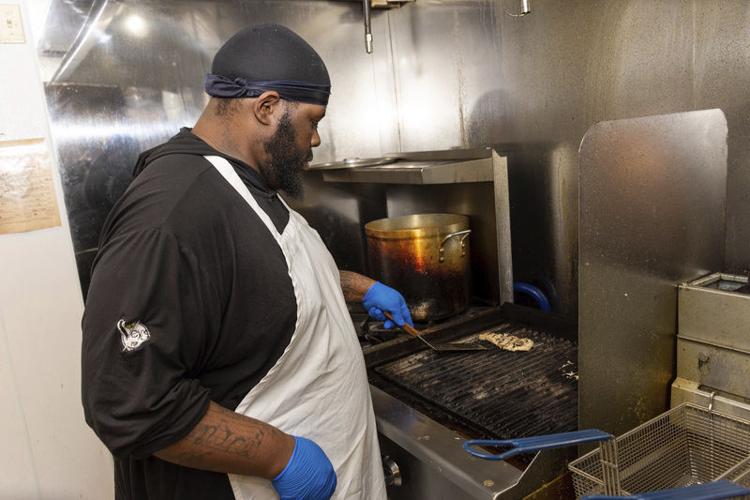 But if you are a meat lover, Antonio says you have to come for the dinner special.
"This is a place where you can get a steak the way you want it," he said.
They take food seriously, Ristvey said.
"The guys in the kitchen grabbed the ball and created some great items," he said.
Ristvey said Vey's will continue to grow, to expand and to change to meet the needs of the community it is proud to serve.
"We opened it with the intention of letting it become what it needs to become," Ristvey said. "We want to be here for the community."
The Ristvey family and the staff of Vey's are already serving their community in another way — being a part of making the place they live better.
This holiday season, the bar collected 53 pounds of food and gave $1,000 in donations and a cash match to help feed the needy in Mercer County.
And that is as important to Ristvey as making Vey's a neighborhood bar his community can be proud of.
"We want to be good stewards of the community," he said.
And that includes supporting other business owners who, like him, are investing in their hometown.
"I do as much buying locally as I can," he said. "Supporting small businesses, local businesses, that is very important."
And that means he hopes that one day, residents will have even more choices for a night out.
"I wish State Street had 10 more nice places like this," he said. "We are all stronger when we all succeed."
He credits the Shenango Valley Chamber of Commerce with helping Vey's get off the ground and supporting the small business community.
The exposure, he said, has been a big part of the early success of Vey's.
"We are building a clientele," he said. "Normally, when we get someone in for the first time, they come back."
Vey's is not work for Ristvey.
He has a job that pays the bills.
Vey's, he said, is a different kind of work.
"For me, it's fun," he said. "I don't feel the stress of someone who has to make a certain amount of money to survive."
But he spends lots of hours at Vey's, helping out where he is needed and welcoming the customers.
He leaves the day-to-day operations to Reagle and Zeigler.
Ristvey says he wants to make sure that while he supports the future of his new venture, that he puts his energies where they belong, with his children, Samantha, 11, and Lantz, 7.
"They are the most important thing in my life," he said, adding that he could not do what he does without Deb's support.
Zeigler said he enjoys spending time moving Vey's forward.
"It feels like a neighborhood bar that has been here for 20 years," he said. "We have our regulars and we get to know them. They send their friends in."
And Zeigler and Ristvey know something about that.
They have been friends for 30 years.
"You do the same thing every day, but it always different, interesting," Zeigler said.
Ristvey agrees.
"It is fun," he said. "And that is how it should be."