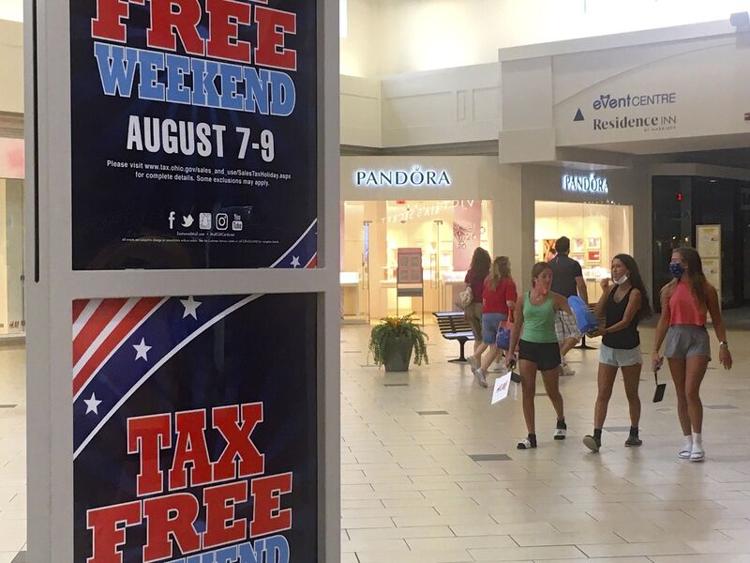 This weekend is a holiday in Ohio.
From midnight Friday to 11:59 p.m. Sunday, all sales and use taxes will be eliminated on a bundle of consumer goods throughout the state.
Taxes will be eliminated on:
• Clothing priced at $75 or less.
• School supplies priced at $20 or less.
• School instructional material priced at $20 or less.
Creating this permanent tax holiday just before school starts isn't by coincidence.
"This is second to Christmas for being the busiest shopping season,'' said Joe Bell, a spokesman for the Eastwood Mall in Niles, Ohio. "Merchants are doing a brisk business this time of the year.''
The fact that Pennsylvania doesn't levy a sales tax on most clothes and shoes is a draw for consumers, Bell acknowledged.
"It's a big deal for a lot of folks,'' Bell said of Ohio's tax holiday. "If people can save, $20, $30 and $40 on Johnny's back-to-school outfits, that's going to make them real happy.''
The mall has heavily promoted the event, he said.
There's no doubt traditional school purchases will be made, such as sneakers, notebooks and backpacks. But Bell expects changes this year due to the COVID-19 pandemic.
"Parents are being told their children shouldn't share anything and not to pass around things like pencils, pens and computer mouses, so they'll be stocking up on those things,'' he said. "And there's also going to be more masks bought, because kids should have them when they go into schools.''
Eastwood Mall is sweetening the deal for the tax holiday. Shoppers producing receipts totaling $300 or more from merchants at the mall complex between July 27 to Aug. 16 can get a $25 gift card at the customer service center while supplies last. The card can be redeemed at any store or restaurant at the mall complex.
The Ohio sales tax is 5.75 percent, but the total tax varies throughout the Buckeye State. Each Ohio county is levy an additional sales tax. The total tax  is 7.25 percent in Mahoning County, 6.75 percent in Trumbull County and 7.25 percent in Columbiana County. The tax holiday also wipes out the local taxes.
There are some twists and turns for shoppers. Qualifying items can be done in a single transaction. For example, two shirts, two pair of pants, a pair of shoes and a jacket with each item costing $50 totals $300. But the qualification is determined item by item, so the tax is waved.
It's important to know that the exemption only applies to clothing items under $75. So if a pair of shoe costs $80, the tax is due on the entire sales price. Certain promotions might prevent the sales tax exemption. "Buy one get one free'' or "buy one for a reduced price'' can't be averaged to qualify both items for the tax exemption. For example, someone buying a shirt for $80 and receiving another shirt for free would be subject to the sales tax.
Obviously, this event is geared for students returning to school, said Gary Gudmundson, communications director for the Ohio Department of Taxation.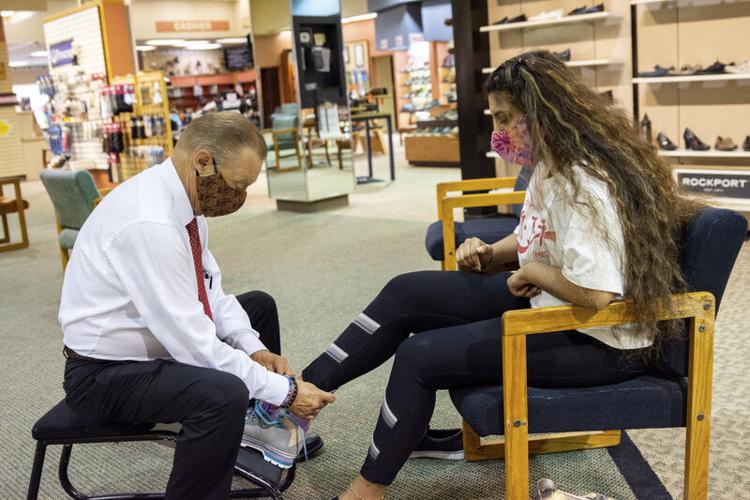 "But this isn't something that requires a proof of ID,'' Gudmundson,'' said. "To a large extent it's an honor system.''
Pennsylvania's sales tax generally runs 6 percent and exempts clothing. But there are some quirks to the system.
Leotards and tights aren't taxed. Graduation caps and gowns are. Boots and shoes designed for everyday wear sold in Pennsylvania aren't subjected to the state's sales tax – which sounds like an enticement for Ohio shoppers.
But that's not what gets Ohio shoppers to drive into Pennsylvania, said Mark Jubelirer, co-owner of Reyers Shoe Store in downtown Sharon.
"When I escort people from Ohio to the cash register and tell them there's no tax on shoes, they say, 'Oh,''' Jubelirer said.
Not having taxes on shoes is the gravy; delivering top-notch service and products is the meat and potatoes of his store, he said.
"Saving 6 percent is just an added bonus,'' Jubelirer said. "We carry sizes nobody else has and deliver customer satisfaction.''
WHAT COUNTS AS SCHOOL SUPPLIES
According to the Ohio Department of Taxation, "School supplies" that will be tax-free this weekend include:
Binders, book bags, calculators, cellophane tape, blackboard chalk, compasses, composition books, crayons, erasers, folders (expandable, pocket, plastic, and manila), glue, paste, paste sticks, highlighters, index cards, index card boxes, legal pads, lunch boxes, markers, notebooks, paper, loose leaf ruled notebook paper, copy paper, graph paper, tracing paper, manila paper, colored paper, poster board, and construction paper, pencil boxes and other school supply boxes, pencil sharpeners, pencils, pens, protractors, rulers, scissors, and writing tablets.
"School instructional material" includes only reference books, reference maps and globes, textbooks, and workbooks.
School supplies and instructional material does not include anything purchased for use in a trade or business.
SOME ITEMS THAT ARE TAXABLE IN PA
Pennsylvania has a lengthy list of common consumer goods affected by its 6 percent sales tax.  
Items taxed in Pennsylvania include:
• Biking clothing
• Costumes, for Halloween, Christmas, etc.
• Graduation caps and gowns
• Handkerchiefs
• Prom dresses
• Umbrellas
• Laptop computers
• After shave creams, lotions, powders
• Antiperspirants
• Bath and shower gels and body shampoos
• Colognes
• Cosmetics
• Buttons, elastics, fabrics and knitting yarn for articles other than clothing
Items not taxed in Pennsylvania:
• Gym suits
• Hosiery, pantyhose and peds
• Hunting clothing, including camouflage and blaze orange
• Leotards and tights
• Leather wearing apparel
• Neckwear, ties
• Buckles and buttons for clothing
• Dress patterns
• Dye, clothing fabric
• Elastics, fabrics and knitting yarn for clothing
SOURCE: Pa.  Department of Revenue