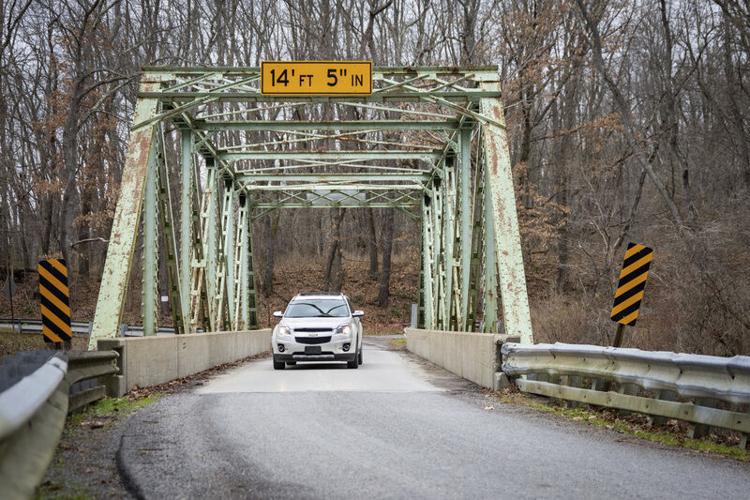 EAST LACKAWANNOCK TOWNSHIP – The century-old Old Mercer Road bridge just south of Mercer is one step closer to getting a makeover.
The Mercer County commissioners approved a reimbursement agreement with PennDOT for $2,185,000, which will allow local officials to find a design engineer for the project.
"Bridges are of the utmost concern to us," Commissioner Matt McConnell said.
PennDOT delayed some projects this year because of COVID-19, but the agency is now starting to allocate funding.
"Thanks to the bridge department for having projects ready to go and we could take advantage of that," McConnell said.
Brad Elder, director of the Mercer County bridge department, said construction can begin in 2024 at the earliest. To meet that timetable, though, Elder said the county has to start doing its work now.
"But we really need to get started in design," Elder said. "That date will move as we go through the design process and determine the challenges that need to be overcome."
The bridge, located on Old Mercer Road near the U.S. Route 19-Interstate 80 interchange in East Lackawannock Township, was built in 1922. It has steel trusses on both sides and a covered overhead. One lane has height restrictions.
"We're looking to do full replacement," Elder said. "The first step is the consultant engineer selection process. They will figure out the right way to design it and it will take them a couple years to get through."
He said the project will be very detailed.
"We typically try to get done in one construction frame, through the summer frame," Elder said. "It's definitely a few years out and we definitely have time before we'll have a better idea of when construction will begin."
Follow Melissa Klaric on Twitter and Facebook @HeraldKlaric, email: mklaric@sharonherald.com