Sharon has an opportunity to boost its downtown, and Manager Bob Fiscus says the city has to get it right.
"We realize this isn't something that happened over night,'' Fiscus, Sharon's city manager of the city's ailing business district.
He expects city planners to unveil a master plan to rejuvenate the downtown within a month. Sharon landed a $14.4 million federal grant for the project under the American Rescue Plan approved by congress in March.
But the city has to work quickly. Rules require funds to be designated for a project by 2024 and then spent by 2026. Fiscus pledged the plan would be a detailed one.
"I think it's going to be a heavy document,'' he said.
Sharon's main business district, anchored along State Street, has been hit hard in the last 18 months with departures of the Huntington and PNC bank offices and Reyers shoe store, and as the existing businesses were buffeted by the COVID-19 pandemic.
The announcement last month of Reyers' departure, after 135 years in Sharon's downtown, came as a jolt. Reyers — billed until recently as "The World's Largest Shoe Store" — was a tourist draw and part of the city's image.
But the reason behind Reyers' move to Eastwood Mall just over the state line in Niles, Ohio, was an even bigger blow. The shop's owners said they weren't getting sufficient foot traffic in Sharon's downtown, a sign that the city's overall retail climate is weak.
But things aren't as bad as they seem, Fiscus said.
"We're still better off now than we were 10 years ago,'' he said.
Fiscus cited signs of progress, such as development of the former Westinghouse industrial complex. The sprawling complex is being transformed into a multi-business dwelling called The Landings. The manager also credited local developers like Jim Landino for buying properties in in need of improvement and retooling them for new businesses.
Melissa Phillips, the city's community and economic development director, has been developing a long-term plan for building Sharon's downtown. She said that plan could call for a $250,000 annual budget, which will pay for a downtown manager, an assistant and marketing.
To pay for it, the city may charge owners of downtown business properties a fee, based on the land value. But that isn't a done deal
Fiscus said he understands that may be a hard sell to businesses that are financially strained, especially after the COVID-19 pandemic.
"Now isn't the time to asks businesses for money,'' he said.
There's been lots of talks with business owners and residents in crafting the plan.
A touchy subject surfaced. Initially, these groups cited downtown safety concerns. They proposed having a police officer to patrol the area.
But after probing deeper, city officials found that safety wasn't the real issue, Phillips said.
"Nobody is getting robbed or hurt,'' she said. "The real issue is panhandling.''
Dedicating a police officer to patrol Sharon's downtown might not be the best solution for that issue, Phillips said. The city is working with non-profit groups with psychological training and understanding of programs that could help people on the street.
"The hope is to get a social worker in the downtown that will be a familiar face to those needing help,'' she said.
Another core part of the plan is to create a non-profit organization to oversee the program.
"It would have its own funding that the city wouldn't have access to,'' Phillips said.
As Sharon's business district rebounds from COVID-19, city officials and developers alike are optimistic about the city's future.
Mike Lisac — owner of Lisac Properties which is buying and restoring buildings in downtown Sharon — said he's getting interest from business owners about some of his properties. Sharon offers affordable office space, particularly compared with cities like Pittsburgh. And with companies allowing more employees to work remotely, smaller office spaces are more attractive to business owners.
"Companies are finding their employees can work well at home,'' Lisac said.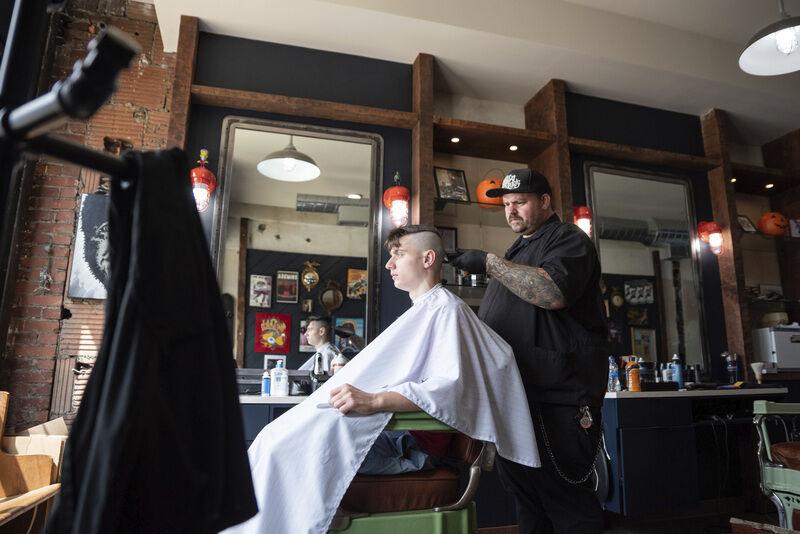 And even the Reyers' move — while a blow to Sharon's image — may be more appearance than substance, said Landino, who operates multiple businesses under the JCL banner.
"Sharon is not moving backwards because Reyers is leaving,'' Jim Landino, JCL's CEO said. "The same people who said it's sad they are leaving have likely purchased shoes online from Amazon or another big box store in the last year. We should be thanking Reyers for their decades of commitment and wishing them well in their twilight years.''   
Fiscus said he believes a rebound is imminent.
"There's lots of energy out there,'' he said.