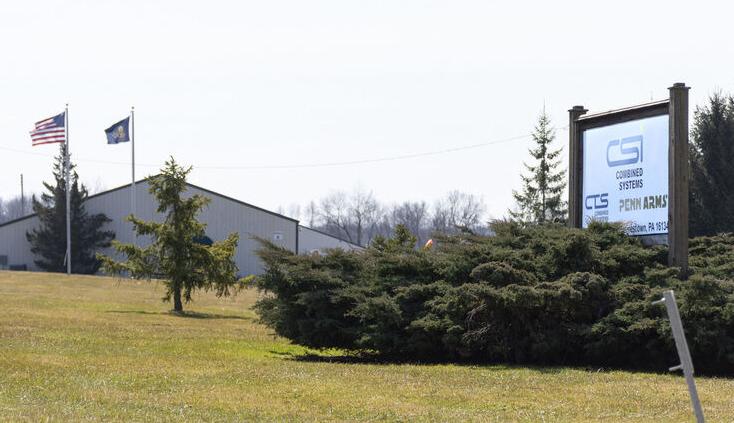 GREENE TOWNSHIP – An investigation by federal regulators indicated that a failure to provide proper safety equipment at Combined Systems Inc. caused a fire to create a "chain reaction of explosions," that injured five workers.
The U.S. Occupational Safety and Health Administration reported that it uncovered 10 safety violations in connection with a Feb. 14 fire at the Greene Township plant, near Jamestown. The federal agency imposed a fine of more than $45,000 against the company.
Combined Systems, founded in 1981, designs, produces and markets security products for a variety of consumers, including the military and law enforcement, according to its website. The company manufactures less-lethal weapons such as tear gas and sonic grenades designed for riot control, police tactical teams, corrections officers and military units.
Attempts by The Herald to contact Combined Systems officials Tuesday and Wednesday were unsuccessful.
The violations listed in OSHA's report included a failure to provide a workplace "free from recognized hazards that were causing or likely to cause death or serious physical harm to employees."
OSHA said a Combined Systems employee was depositing explosive materials into mineral oil on the day of the incident, when a flash fire occurred. OSHA said the worker and other employees nearby weren't provided adequate protection from potential fires
"Employees in the immediate areas sustained injuries due to the fire,'' the OSHA report said.
"The initial flash fire then began a chain reaction of explosions in the production machines behind the employee," according to the report. "The employee and employees in the area sustained injuries due to the fire. Means were not provided so that fire in one workstation would not propagate and ignite material in the next workstation.''
OSHA cited these additional violations in its report:
• An air press machine lacked proper guards to protect workers.
• Multiple flexible cords or cables were improperly used, instead of permanent wiring.
• Failure to update a hazard report listing potential exposure of employees to hazardous materials.
• Failure to complete required compliance audits in the manufacturing of flash-bang grenades
• Failure to document inspection tests on certain equipment.
OSHA said the company is required to abate and eliminate any hazards and develop safe workplace protocols.
Combined Systems has 15 business days after receiving the citations and penalties to comply, request an informal conference with OSHA's area director, or contest the findings before the independent Occupational Safety and Health Review Commission, a federal Department of Labor spokesman said.
PAST INCIDENTS
Herald files include these past accidents at Combined Systems:
• March 11, 2019 – Eight fire departments responded to a blaze at the plant.
• April 2, 2015 – A Greenville man was injured at the plant during an accident that caused shrapnel to be lodged in his shoulder. He was flown to an Erie hospital.
• Sept. 11, 2013 – A dozen employees at the plant were taken to local hospitals as a precaution due to a fire. No one was listed as being injured.
• April 22, 2013 – An explosion and fire at the plant.
• Feb. 20, 2012 – An explosion damaged a building at the plant. There were no injuries.
• Nov. 15, 2011 – A machine touched off a spark that caused a fire that destroyed a building at the plant property.