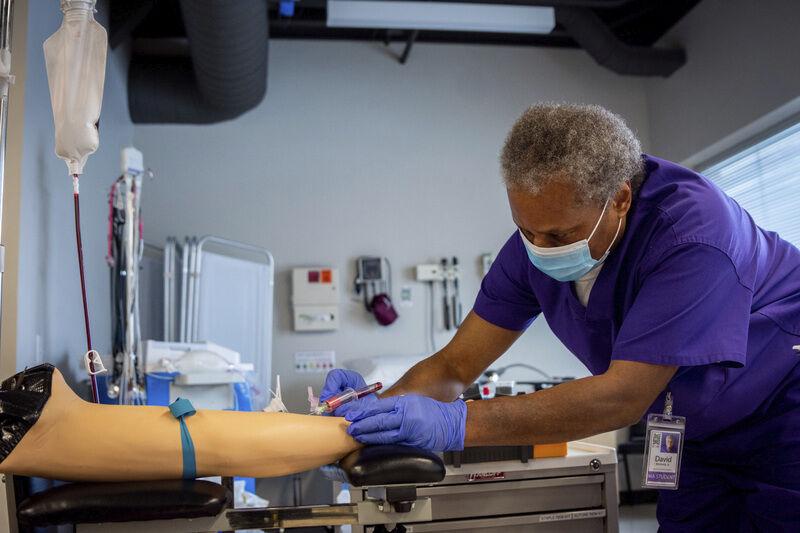 SHARON — As he prepares to draw blood, David Kennedy introduces himself to the patient, asks about any allergies or other problems with getting blood drawn, and applies a tourniquet to the patient's arm.
Carefully pointing the needle, Kennedy finds a vein and eventually fills a small vial with dark, red "blood". It's another successful practice run for Kennedy, a student in the medical assistant program at HopeCAT, or Hope Center for Arts and Technology, in Sharon.
For this particular trial on on a January day, the 63-year-old Sharon resident wanted to brush up on his skills before beginning his externship with a local healthcare provider. Thanks to drawing blood "hundreds" of times before, both from artificial limbs and the arms of his fellow students, Kennedy said he's gotten used to the routine.
"It gets easier the more you do it," Kennedy said.
The process of drawing blood, or phlebotomy, is just one part of the medical assistant program's curriculum, which includes both a traditional classroom portion and a hands-on portion in a mockup of a clinic. Students learn everything from how to draw blood to bedside manner to how to properly fill out medical paperwork.
In a normal year, the roughly 10-month course is held from 8 a.m. to 3 p.m. Mondays through Fridays, similar to a school year.
Though there are some tests and an interview to be accepted into the program, HopeCAT Executive Director Tom Roberts said there is no financial fee for the students. There is, however, a commitment in terms of getting to class every day, studying, and the sheer time involved.
"It's at no cost, but it isn't free," Roberts said.
Since the medical assistant program began in 2018, Roberts said 100 percent of the students who have taken the American Association of Medical Assistants' certification test have passed on the first try. This allows them to either continue their education or immediately enter the workforce at a local employer, depending on what the student wants to do upon their graduation from the program.
The medical assistant profession is in demand with local employers such as Sharon Regional Medical Center, which gave HopeCAT guidance on what they'd like to see from potential employees. Other options to continue one's education can also be found locally, such as Sharon Regional's nursing program or at Penn State Shenango, Roberts said.
"These are people who maybe had kids early, maybe they went straight to working after high school, or maybe they found that college wasn't for them, and now they want more out of life," Roberts said. "They can go through one course and now they have the skills and the certification to get a job at a livable wage, or climb the ladder to the next step in their education. And they can do it all locally."
Even though HopeCAT staff can help direct applicants to services, such as childcare centers or food pantries, the time commitment is still sometimes too great a hurdle for potential applicants.
Time will be less of an issue for a new phlebotomy program the HopeCAT will be rolling out later this year, which will both offer a more manageable schedule for a job that is still very much in demand with local employers, Roberts said.
Unlike the medical assistant program, the phlebotomy program will offer a much more specific course, about 20 weeks long and offered from 3 to 5 p.m. Mondays through Thursdays.
This will make it easier for applicants to juggle work, family and education, as well as allowing phlebotomy students to use the same facilities after the medical assistant students have completed their day, Student Services Director Sarah Scott said.
Like the medical assistant program, applicants to the phlebotomy program must either have a GED or high school diploma, be able to pass a background test and a drug test, and pass the Wonderlic basic skills test, an aptitude assessment that shows students will be able to handle the course's curriculum, Roberts said.
Along with other tasks such as interviewing applicants, Scott said she sometimes helps tutor students who may need help refreshing their knowledge for the aptitude test. Scott said students who come for assistance always end up completing the program.
"If they care enough to ask for that extra help, then you can already tell that they're going to take it seriously," Scott said.
Also like the medical assistant program, the phlebotomy program will funnel graduates toward in-demand jobs with regional employers if they so choose.
Local employers on HopeCAT's board indicated a need for phlebotomists. But the school had to prove a market need before the Pennsylvania Department of Education private licensed school board would approve the program.
The state screening process ensures that trade education programs offer only courses where students have a guaranteed opportunity for employment in upon graduation, with HopeCAT's phlebotomy program licensed last November.
To apply for the phlebotomy program, potential applicants can visit the HopeCAT website at hopecat.org/applynow, where they can find information for the phlebotomy program. The program will have a maximum of 10 students and is expected to begin later this year when all the openings have been filled, Roberts said.
Kennedy's said he was introduced to the medical assistant program by his mother, who saw an ad for the program and recommended it to her son, who said he always enjoyed being able to help people, although the medical field would be a new setting for him.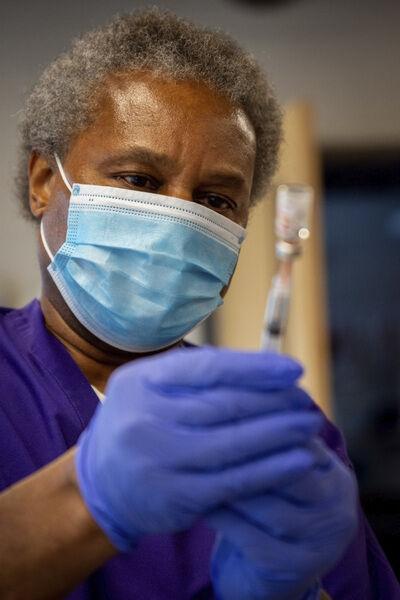 Though he successfully qualified for the program, Kennedy said he almost quit a few days in due to the amount and diversity of knowledge the course required, He even told Roberts that he felt overwhelmed and was considering quitting. However, with the support of both HopeCAT staff and the camaraderie of the students, Kennedy said he was able to get a handle on the coursework and ultimately completed the program.
"They're always here, they're always accessible, and they won't let you give up on yourself," Kennedy said of the HopeCAT's staff.
A member of the medical assistant program's class of 2020, Kennedy and his fellow students would have originally graduated last June.
With onset of the COVID-19 pandemic, HopeCAT closed temporarily, before learning resumed remotely and the center eventually reopened while complying with guidelines set by the U.S. Centers for Disease Control and Prevention.
Even with the reopening, part of the medical assistant program's curriculum involves an externship at a local healthcare provider. Due to the pandemic, no employers were able to take externs until the number of COVID-19 cases began to decrease later in the year, Roberts said.
Despite delays in arranging his externship, Kennedy said he looked forward to eventually getting some real-world experience, regardless of where he ended up, and ultimately being able to help people.
Kennedy credited his success with the staff at HopeCAT, for providing not only the opportunity to become a medical assistant but helping and supporting him when he lost faith in himself.
"These people put me on the path to success, and that is immeasurable," Kennedy said.
Like David L. Dye on Facebook or email him at ddye@sharonherald.com.