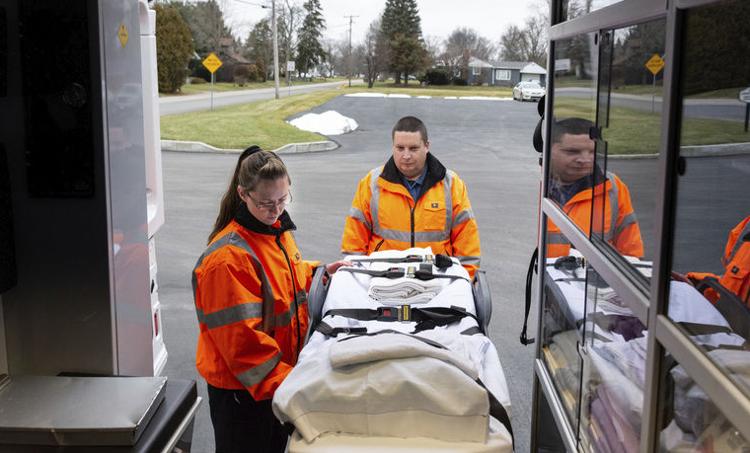 HERMITAGE – One fourth of July, Mike Heasley had some crazy EMT calls.
The 41-year-old Greenville resident was working for the former Eastern Medical Ambulance in Greenville at the time.
He recalled that on that day, a man in a campground had a few too many adult beverages as he was sitting on a golf cart on a hill. Somehow, he knocked the cart into neutral and it went backward down the hill. It hit a huge tree and pinned the man between the golf cart and tree. The man had serious head injuries.
"We were having dinner or stopped down for coffee, and they dispatched it as, 'Golf cart accident with entrapment'," Heasley said. "We're like, 'How does that happen?'"
After that call, they went back to the diner to pay off their bill and noticed people running out of the bar across the street. People were running up and down in the middle of Mercer Street in Greenville.
"Here, a guy got mad at his girlfriend and instead of hitting somebody, he stuck his head in a big exhaust fan," Heasley said. "And they're trying to get him and he's running up and down Mercer Street just squirting blood on cars that are going by."
After that call, another man flipped his car at the railroad tracks on Clinton Street and went into the New Englander Hotel.
Those calls happened within a three-hour time period.
"There's just some things you have to see to believe them," Heasley said. "You seriously see some Jerry Springer things. You never see it all and as soon as you think you did ... "
On the other end of the spectrum, he's also gone out on calls such as when an elderly woman slid down her ramp and got stuck in the mud.
He doesn't mind those calls because he gets to talk with people and help them.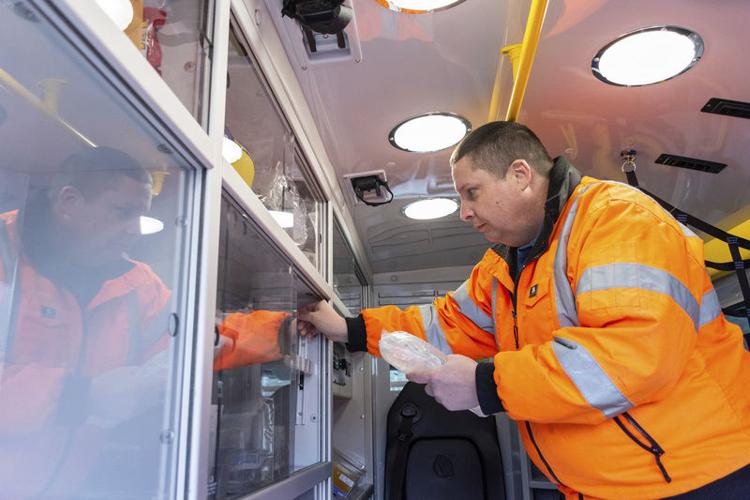 This is Heasley's 24th year as an EMT. He grew up in Transfer and graduated from Reynolds High School. He grew up around the fire and EMS areas because his father worked in EMS as a past fire chief for Transfer Volunteer Fire Department.
"I grew up around all this stuff, that's why I wanted to get into it," Heasley said.
Heasley attended the Community College of Allegheny County in Monroeville. He joined the Monroeville Fire Department. There, he received EMT training and he ran his first EMS calls through Monroeville Station No. 5.
Heasley then moved home and started working with the former Eastern Medical Ambulance in Greenville in June 1997. He worked there until they closed and started with McGonigle Ambulance Service in 2001.
McGonigle Ambulance, based in Hermitage, just ran its 1,678th emergency call for the year last week.
McGonigle shares emergency calls with Elite EMS Inc. in Hermitage unless people request a specific service.
Every EMS worker's worst call always involves children, Heasley said.
"None of us want any kind of pediatric call," Heasley said, adding that they do not have those calls on a regular basis. "We do get pediatric patients, but a lot of them are respiratory issues, especially in the wintertime."
On a daily basis, Heasley conducts a lot of transport calls.
"In this area, you've gone to specialized services, so we see a lot more trips to Pittsburgh, Cleveland, Erie and some other places that handle bigger cases," Heasley said.
Sharon Regional Medical Center can take cardiac patients, but other hospitals take advanced heart calls, for example.
Heasley thinks he was meant to be an emergency services worker.
"I grew up around it and I watched my dad do it, that's why I wanted to do it," he said. "I started doing it and I like the people I work with. I like learning. It's almost entirely different from some of the stuff we did when I first started, to what we do now. So, I like learning the new things as they come along."
EMTs and paramedics are required to take continuing education credits.
He also likes the people he works with and for, he said.
"Working for the McGonigle's, they take good care of us here and they're a great family to work for," Heasley said. "I like meeting some of the patients. You hear a lot of interesting stories and a lot of times if you get them to talk a little bit then you distract them from what's bothering them. Just talking to them is a form of treatment."
Working in the field is a continuous learning experience for Heasley.
"I never quit learning," Heasley said. "I'm still learning. Some people say they've seen everything but you don't see everything. Almost 24 years, I learn something new every day."
•
Lydia Killian, 30, of Southington, Ohio, has worked as a paramedic for 12 years, two years with McGonigle Ambulance Service.
She trained as an EMT at Maplewood Career Center in Ravenna, Ohio, and trained to be a paramedic at University Hospitals Geauga in Ohio.
Most of the calls that stick out in Killian's mind are either really bad or career saving.
She doesn't like to talk about the bad calls.
"We've had kids fall off ledges and we've had to rappel down and get them," Killian said. "We had a man literally scalp himself as he fell down the stairs."
The patients survived.
"The calls vary," Killian said. "That's part of what we love about this job is you never know what you're going to get. It's not mundane."
A typical day for Killian is to get up at 4:30 a.m. and come into the station. She checks her truck to make sure it has all the supplies needed. Lately, she has run a lot of critical calls.
"I've delivered two babies," she said. "The first one was in Youngstown and it was mom's seventh kid. The second one was in Girard, Ohio, and we made it to the doors of the Ob. Your mind is racing and it's blank at the same time."
Her favorite call of all time was career changing.
"I was burnt out and I was ready to quit EMS," Killian said.
The call was in Geauga Lake and involved a little girl who either had a splinter or a bee sting.
"It was no big deal but it was world-ending to her," Killian said. "I fixed her problem and she continued her swim lesson and when she left for the day she came over to the first aid room and she gave me her little bracelet. That was probably 2010 and I still have that bracelet. That little girl reminded me why I do this."
Both Killian and Heasley love their jobs and agreed that they were made to be EMS workers.
Heasley was named the 2017 EMS Provider of the Year.
Killian received two stork pins for delivering the babies. She has also received heart-saver pins for saving people who went into cardiac arrest.
Follow Melissa Klaric on Twitter and Facebook @HeraldKlaric, email: mklaric@sharonherald.com