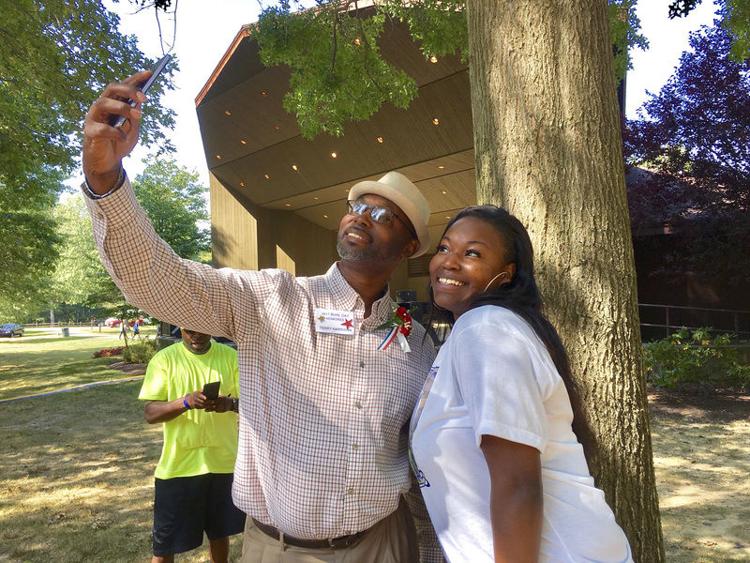 FARRELL – Terry Harrison said he was meant to serve.
"Any position that God has ever blessed me with is never for me," Harrison said. "It just allowed me to serve people at a greater level."
And he has been called to many positions.
Harrison, 58, is pastor of Valley Baptist Church in Farrell and serves as president of Farrell Area School Board. He also serves on several boards — United Way, Community Action Partnership, Farrell Recreation Commission, Zion Education Center as president and is second vice president of Shenango Valley Ministerial Association.
A Buhl Day honoree in 2017, Harrison, who retired after 32 years service in the Air Force, also has been a Farrell Blue and Gold honoree.
"But my head never gets big, because I realize it's not for me. It's more for the people because I can bury, I can marry, I can christen, I can serve communion, I can baptize," Harrison said. "It's all serving the people. We're called to serve."
He was called in 1982 to serve in the ministry. But Harrison said his most important jobs are being a husband and father.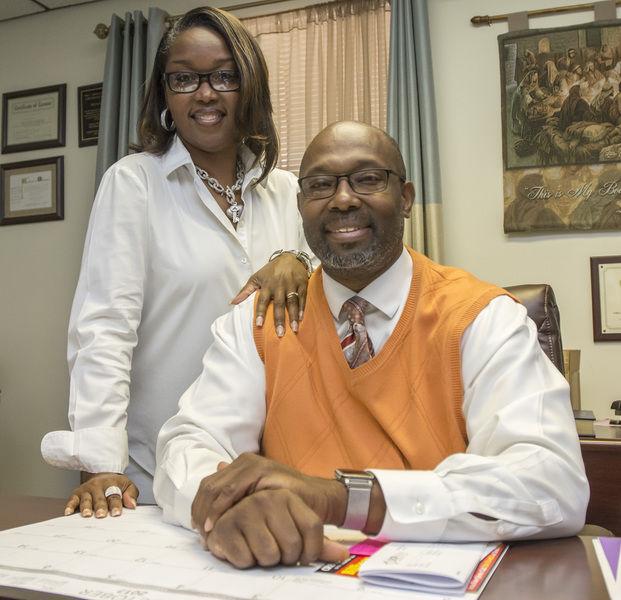 "Being a father. Serving my children. Helping my children. Being there for my grandchildren. Being a husband. It's remarkable," Harrison. "I have a remarkable life that is just second to none."
Harrison has been married to his wife, Tamara, for almost 13 years and said he has "several kids."
"Because I have godchildren that are just like my own children. So, I just always say I have several kids," Harrison said.
He has 13 grandchildren.
Harrison expresses the importance of being a father through a fatherhood mentorship program at Valley Baptist.
"We place a high emphasis on fathers being aware, fathers being involved and fathers being consistent," Harrison said. "We talk about the foundation of what fatherhood is all about."
He said fatherhood is broken down into many parts.
"It's how we communicate with our children, how we relate to our children, the relationship that we need to establish with our children," Harrison said. "Whether you are with the mother of your child or not, there's still such a thing as co-parenting."
So he teaches people how to co-parent. And he teaches the importance of fathers remaining an influence in the lives of children, even when the parents aren't together themselves.
"If the mother and father are at odds with one another, the only one left in the crossfire is the child," Harrison said. "So the mother doesn't want the father to be involved so there's a part of their medical history that is unknown because we have communication that is not there."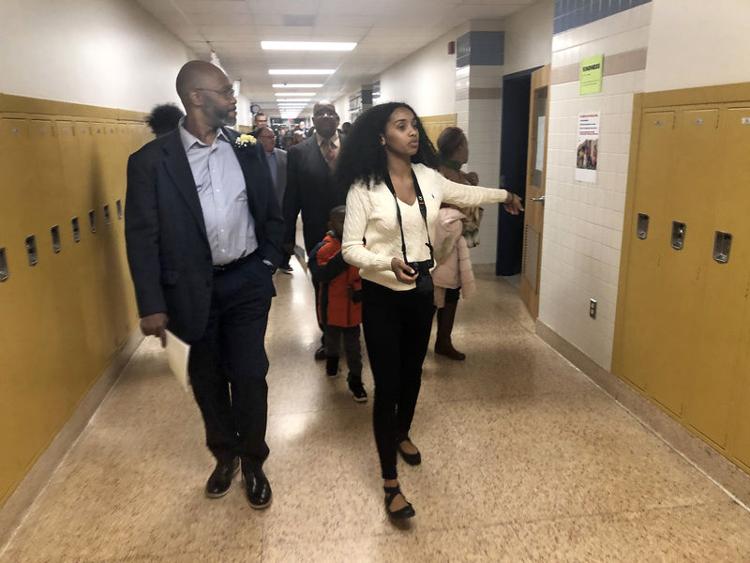 Harrison said that trust is learned in the first two years of a child's life.
"We must teach men that the first two years are very crucial to the child trusting you," he said. "And we can't be absentee fathers."
He emphasizes those lessons in "24/7 Dad," fatherhood classes he teaches through Valley Baptist.
"We teach that fatherhood doesn't stop," Harrison said. "Fatherhood is 24 hours a day, seven days a week. You are a father."
Harrison said he has a passion for effective fatherhood because he was a single parent when his children were young.
"I understood that I didn't just become a dad, I was already a father," he said. "So, the father's piece was really easy for me. It was just getting used to doing it by myself and on my own. That was a challenge."
And he loves being a father.
"Being a father is one of the best things that I'm doing," he said. "I think being a father is so important."
And, he said, so is being a mother. He also helps teach a class for mothers.
"It's called Mom: The Gatekeeper," he said. "It teaches mom to watch who and what she lets inside her children's lives. Being that gatekeeper is crucial. Sometimes we just let anyone or anything in, not realizing that the influence is high."
Harrison was a facilitator of fatherhood for 11 years for the Mercer County Behavioral Health.
He has further plans to supplement his fatherhood teachings, but, as a church leader, he has numerous other activities taking up his time, starting with his leadership at Valley Baptist Church.
The church's theme this year is "The Power of Change 2020."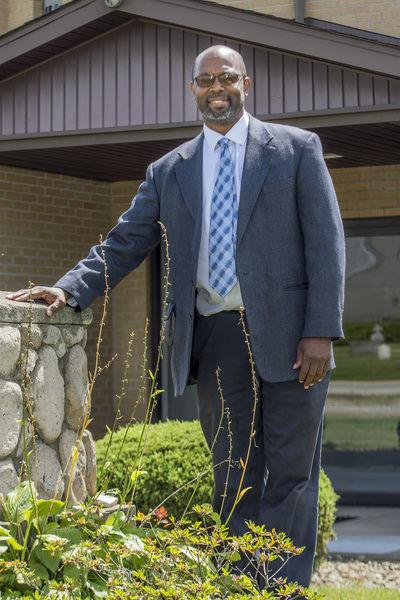 "We place high emphasis on reconciliation," Harrison said. "Getting ourselves reconciled back to God through Christ, but also reconciled with one another and becoming whole as families."
The church has already had positive outcomes as it focuses on marriages he said.
"We're working with couples trying to strengthen marriages," he said. "Divorces are running rampant around here. But people should understand that marriage is still a good thing."
Twice a year, Valley Baptist offers marriage enrichment classes and fun nights for couples.
Harrison said Operation Lighthouse, a service helping those recovering from addiction, is another important mission.
"We're diving into this Operation Lighthouse and Minority Health in collaboration with Mercer County Behavioral Health," he said. "We're focusing on recovery to restoration."
Minister Tim Harrison facilitates the weekly groups at Valley Baptist.
"Trying to decrease this opiate epidemic that we have," Terry Harrison said. "Trying to aggressively attack that. Try to put things in place so when people are struggling with drug addiction that they have a resource that they can come to."
Harrison said nobody seeks addictions to drugs or anything else that takes over their lives, and Operation Lighthouse provides support for people to turn in more positive directions,
"One thing we're about at Operation Lighthouse is helping individuals rebuild and reestablish their lives," he said. "Get back on track."
Harrison said balancing everything, all the hats he wears, requires flexibility and a conscious effort.
"So, I wear many different hats. Seven days a week I'm wearing a pastoral hat, husband hat, father hat, then I put on community hat," he said. "You have to be able to flow with all those hats."
Harrison said all those hats can sometimes be overwhelming.
"In everything that I do comes under one title," he said. "Being a servant. When you love to serve."
And Harrison said he loves to serve his family, to help people and make sure that people are doing well.
"We have to be hospitable. No matter where we go," he said. "And it doesn't stop here at the church. It's in the community."
And what makes him successful as a leader is that he tries to be a model of his teachings at home, he said.
"This is just not Sunday morning for me, it's a lifestyle," Harrison said. "I believe that if I'm nothing at home, I'm nothing at church."
Follow Melissa Klaric on Twitter and Facebook @HeraldKlaric, email: mklaric@sharonherald.com