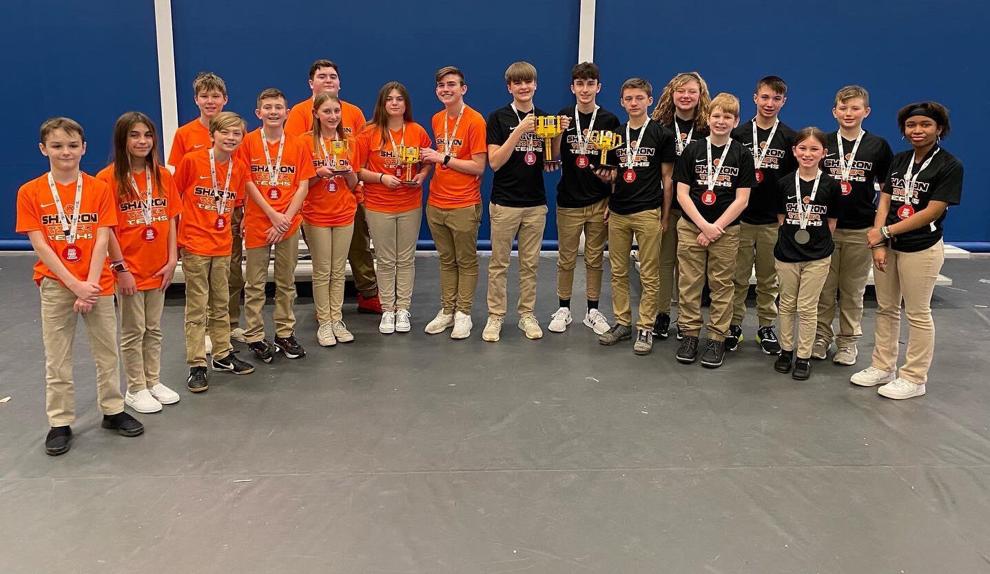 Tiger Techs First Lego League
at Case Avenue Elementary
The Tiger Techs Orange and Black teams recently received top honors for their achievements at the Northwest Pennsylvania FIRST Lego League Robotics Championship.
On Jan. 15, the Techs competed against more than 30 teams from the region.
Sharon Tiger Techs Team Black received the highest honors with the overall Champion's Award, a first place Robot Performance Award, and the Global Innovation Award for their research project. Sharon Tiger Techs Team Orange received a second place Robot Performance Award and a third place Champion's Award.
As a result of their achievements, Sharon Tiger Techs Team Black will advance to the international level and will also apply to advance their innovative project solution in a separate international competition.
Over the past six months, the teams have designed, built, and programmed Lego EV3 Mindstorm robots to compete on a thematic playing field. The theme for this season, "Cargo Connect", provided the teams the challenge to program a robot autonomously for a 2.5-minute period to complete tasks related to the theme of cargo delivery. A few tasks involved the robot delivering cargo to a truck, train, and shipping port, activating an airplane cargo door, and picking up cargo to deliver to areas of the playing field.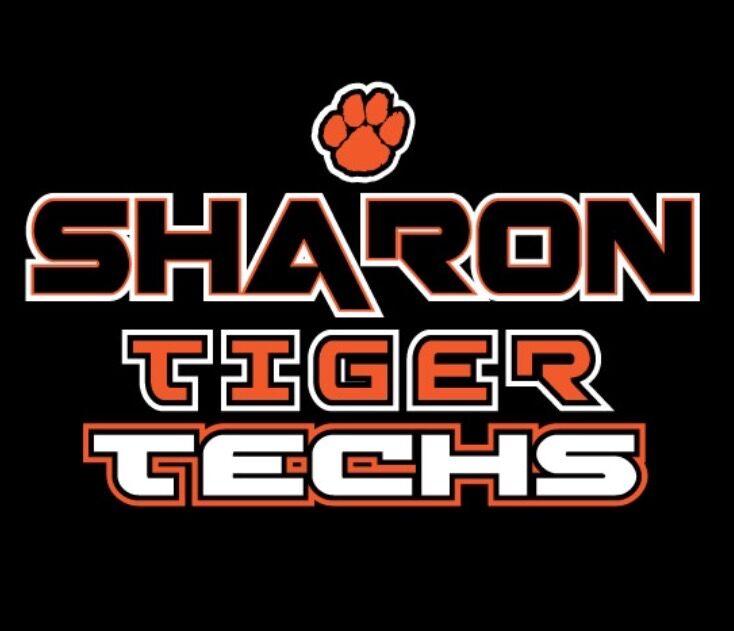 In addition to the robot challenge, the teams developed innovative project solutions to problems in the cargo industry. Tiger Techs Team Black developed, "Cargo Xpress," a redesigned shipping container to help alleviate the backups at ports. The project enlisted over 15 guest speakers and trips. The Techs visited the Department of Transportation in Harrisburg, the Ports of Philadelphia and Erie, among other local trips and guest speakers. A CAD file and prototype was created of the shipping container.
Tiger Techs Team Orange developed R.O.V.I.R., which stands for Rail Observation and Visual Inspection Robot. The team developed R.O.V.I.R. to help prevent cargo train accidents where cargo can be delayed or damaged. They also spoke with multiple guest speakers including Wabtec, which builds locomotives, and railroads CSX and Norfolk Southern.
In addition to their robot and innovative projects, the teams have stayed active in the community by participating in 18 in-person outreach events and initiating a global outreach project for more than 75 teams.
The Techs hosted multiple robotics camps for kids in kindergarten to ninth grades, presented at state and national conferences, and collaborated with several organizations in the community to build "Canstruction" at an Empty Bowls Event.
SHARON – When Lucas D'Angelo joined the Tiger Techs Robotics team in Sharon schools in 2012 in fourth grade, he did not know much about robots…
A new initiative for Sharon Robotics Teams was the creation of "Connect and Share." This global outreach event enlisted more than 75 teams to send a "Connect Box" from team-to-team sharing a letter, photo, and a small gift for the next team. Ten "Connect Boxes" are currently being shipped around the world and are all due back by mid March.
From the activity the Techs will learn about each team and will share their project results with participating teams, hoping to connect them during a time when face-to-face interaction can be challenging.
The robotics teams are part of the FIRST Lego League organization. FIRST stands for "For Inspiration and Recognition of Science and Technology."
The Sharon Tiger Techs, Team Black and Team Orange, consist of 18 students ranging from fifth to ninth grades in the Sharon City School District. They are under the leadership of Dave Tomko, Kelly Roys, and Darcy Wiesen.
The team is funded by community sponsors from the Shenango Valley and the Sharon City School District. Learn more at www.tigertechsrobotics.com
First Tech League
at Sharon High
The First Tech League high school team competed two weeks ago and is moving onto the state competition.
The team is one of the first teams to qualify for the next level.
"It's fun," said Tomko, who also is the adviser of the high school team. "Especially when you see all their hard work and they've been working on it for so long."
In February, the team will compete in Philadelphia, a competition that will qualify other teams for the state competition.
Tomko said the team presents and demonstrates its robot. They must present a business plan, outreach plan, goals, programming and mechanical, all in five minutes.
The teams compete, but must also present robots with each other, something the league calls "coopertition."
"The next tournament will be good practice for us to be able to work with other teams," senior Eli Buck said. "And see who we're working with at states too."