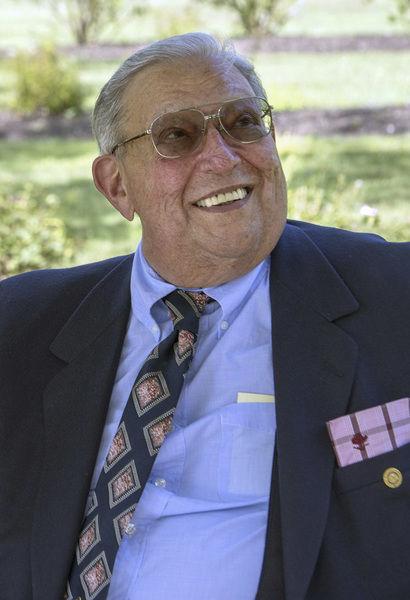 HERMITAGE – Penn-Northwest Development Corp. gave its highest award to Joseph George, one of the organization's founders, Thursday at its annual dinner.
Penn-Northwest gave its Lifetime Achievement Award to George, the retired head of Joy Cone Co. During his tenure as Joy Cone's CEO, George guided his company through major expansions at its Hermitage and Flagstaff, Ariz., operations. The company employs more than 500 locally and is a leading producer of ice cream cones in North America.
"By the time he retired, we were in almost every grocery store in the country and Canada,'' said David George, now Joy Cone's CEO, in honoring his father.
David said the company's growth is a legacy that his father established.
"It happened largely under his leadership,'' David said.
He credited his father for providing employees with benefits such as profit sharing, 401K, and an employee stock ownership plan.
In accepting the award, George said in a brief speech he was proud of creating good benefits for his workers.
"They have one hell of a retirement program,'' he said with a large smile.
He also said he was proud that salaried employees aren't needed to oversee workers on production lines.
"Everyone is working,'' he said.
George said he was grateful to see that the that Penn-Northwest, Mercer County's lead economic development agency, is succeeding.
"I think what Penn-Northwest is doing is great and important,'' he said. "We need more industries to come to this community.''
The following companies received Impact Awards during the Penn-Northwest dinner.
• Zero Error Racing – The racing equipment manufacturer needs more space so it will relocate from its current operations at Reynolds Development to the former Laird Controls building in Sharpsville. Cost of the project is $525,000 and will allow the company to retain 8 jobs and potentially create 1 to 2 new jobs.
• Laurel Technical Institute – The educator is renovating and expanding its industrial school on Broadway Avenue in Hermitage. Plans call for expanding the first floor classrooms by 6,000 square feet and completing the second floor, which will add another 8,000 square feet. The self-funded expansion will create 12 new jobs and the retention of the existing 35 faculty and staff positions. Cost of the project is $894,345.
• Sharon Regional Medical Center – The healthcare provider has hired nearly 300 full- and part-time employees and 28 physicians over the past two years.
Its expansion includes a 14,000-square-foot health and diagnostic center in Neshannock Township, Lawrence County. The hospital also is adding an outpatient center on Thiel College's Greenville campus. The expansion is part of a partnership between Sharon Regional and the college. Both projects are scheduled to be completed by December.
• Rig Fab Energy Services – Currently located in Sharon, the construction provider to the industrial and power industries plans to hire about 100 welders and other types of workers to supply services to major companies such as Shell and Bechtel. Rig Fab is working with Laurel Technical Institute to train and certify welders. The company plans to invest $300,000 in the project and has recently hired 4 employees.
• Moxietec – The plastic industry company developed NautXcell, a patent-pending material. The company bought the former Instron property in Grove City to further develop the material. The company plans to invest $2 million in the project and hire 30 employees.
Movement Team Champion Awards were given to: Tom Noone, Brad Mantzell, David Grande, Chris Burger and Eric Karmecy.
Elected Penn-Northwest officers are: Chairman, John Thigpen; vice chairman, Brad Mantzell; second vice chairman, Matt McConnell; secretary – Scott MacDonald; treasurer, Drew Pierce; assistant secretary/treasurer, Brad Gosser; immediate past chairman, Doug Riley; and president/CEO, Randy Seitz.
Board members: Ethan Keeler and Al Boland were re-elected to serve another three years on the board. Dr. Susan Traverso was newly elected to a three-year term and Matt McConnell for one year.
Elected to serve as emeritus directors for a one-year terms: Kenneth Faulconbridge, James Feeney, Joseph George, James Grasso, Stephen Gurgovits, Robert Jazwinski, Lew Kachulis, John "Chip'' Mastrian, Paul O'Brien, William Perrine and Donna Winner.