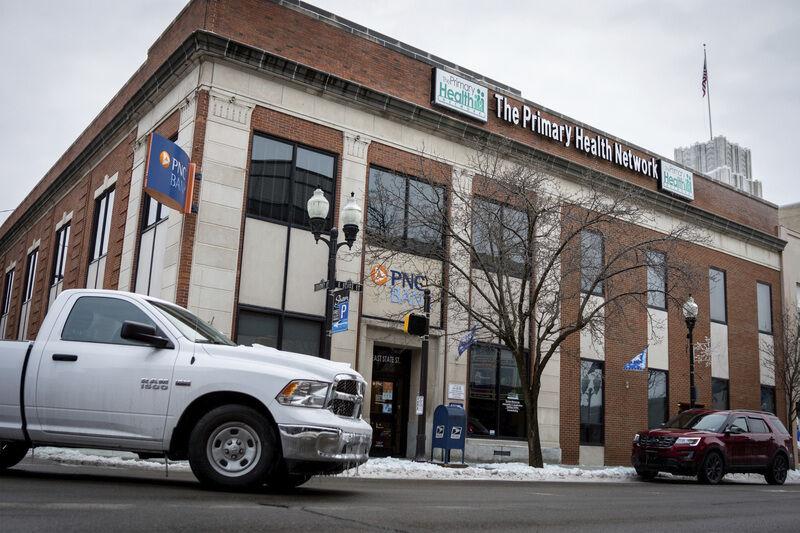 SHARON – PNC Bank said it will close its downtown Sharon branch, vacating a building that has been a bank for more than a century and leaving the city with only two financial institutions.
The bank sent letters, dated Feb. 12, to the branch's customers. By law, financial institutions accepting deposits, such as banks, are required to give 90 days' notice to customers and federal regulators. In the letters, PNC said it will permanently close the Sharon branch, at 66 E. State St., at 3 p.m. May 21. Customers are being directed to its other Shenango Valley branch, at 2470 E. State St. in Hermitage.
PNC's move is the latest in a series of bank branch closures in the Shenango Valley. The company previously closed its small Hermitage Crossing plaza office near Walmart two years ago.
PNC is the second bank to close its downtown Sharon branch this year. A block away, Huntington Bank shut the doors of its Sharon branch in January.
First National Bank announced late in 2020 that it would close its Farrell office in March. That closure followed the Hermitage-based bank's decision to close 20 other branches, including 16 in Pennsylvania, throughout its system.
This latest branch closing means Sharon will only have one commercial bank – First National Bank on West State Street – and a credit union, Mercer County Community Federal Credit Union, which has an office on North Sharpsville Avenue.
A message left Wednesday with PNC Bank officials wasn't returned.
According to the Sharon Historical Society, the PNC building at East State and Chestnut Avenue was built in the late 1800s and has been a bank for at least 120 years.
It originally was Sharon Savings and Trust Co., which was taken over in 1922 by McDowell National Bank. McDowell moved into the building after extensive renovations in 1934-35.
Sharon-based McDowell merged into Integra Bank in 1988, then National City Corp. bought Integra in 1995. Pittsburgh-based PNC acquired National City in 2008 and rebranded the Sharon bank and drive-through.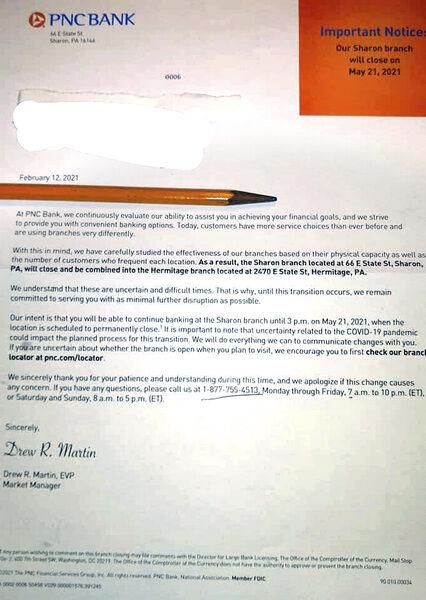 Mercer County tax records show the building has been owned since 2011 by Primary Health Network, which has offices upstairs.
Branch closures are a growing trend in banking, said Jim Cardamon, a former First National executive.
"It's an adjustment the industry is making to get away from brick-and-mortar branches to more online banking,'' Cardamon said. "It reduces the need of having a staff, maintaining a building and all the costs that go with it.''
Before Cardamon joined First National, he worked for McDowell National Bank in 1959. That was a far different era for banks.
"Back then, you did almost all of the things manually,'' he said. "You didn't have all the computers like you do now.''
At the end of the day, PNC, like any bank, has an obligation to its stockholders, Cardamon said.
"I'm not going to second-guess this,'' he said of PNC's decision to close the branch. "I understand this from a business point of view.''
Losing PNC bank's office will have an impact on Sharon, said City Manager Bob Fiscus.
"I'm disappointed,'' Fiscus said. "I don't know all the nuts and bolts on why they're closing the office. But it appears everything is changing in the past couple of years. And the pandemic has shown we can do a lot of things without having to go out into the public.''