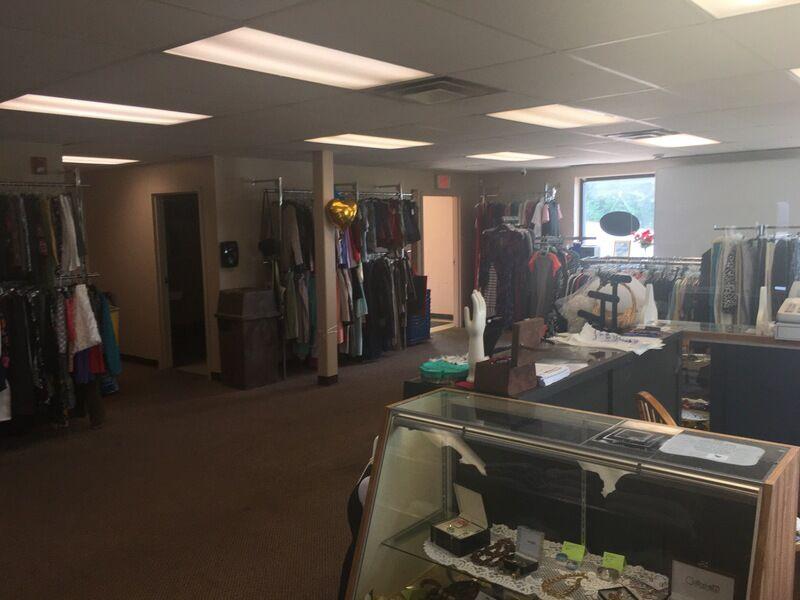 FARRELL — Housed in a space once used for education programs and board meetings, the Prince of Peace Center's new Providence Clothing Store and Boutique now offers plenty of space for visitors to browse the racks of donated clothes.
There's also sorting space for newly-donated clothes and the center's new washer and dryer, inside the Bond Street entrance, which is already familiar with visitors who have participated in the center's food distribution programs.
The increased space, which is dedicated to displaying clothing, has allowed the center to expand its Furniture and Appliance Thrift Outlet, Prince of Peace CEO Jennifer Wallace said.
The idea for the clothing store and boutique, officially unveiled Tuesday morning in a ceremony hosted by the center and the Shenango Valley Chamber of Commerce, sprung from the COVID-19 pandemic, Wallace said.
The center's thrift store has offered clothes, furniture and housewares for years, but the onset of the pandemic forced changes to the process of clothes donations.
The state already required furniture and appliances to be sprayed with a sanitizing spray, but pandemic restrictions required clothing had to be set aside for 72 hours before it could even be prepared and cleaned for display, Wallace said.
"We continued to take donations, so clothes and furniture-wise, we wanted to be safe by following the CDC guidelines but we were running out of space," Wallace said.
To remedy the situation, officials repurposed the Prince of Peace Center's basement into the Providence Clothing Store and Boutique, using the space exclusively for clothing. The upstairs rooms will be used for the center's board meetings and educational programs, while the traditional thrift store will focus on furniture and housewares, Wallace said.
"Now the donated items that come in here can actually be set out, not stacked on top of each other," she said.
The stores' regular hours are 10 a.m. to 3 p.m. Monday through Friday, with proceeds from store sales directed toward programs that help people or families in crisis make rent and utility payments throughout the year.
When clients come to the center for assistance, a case manager works to determine their needs and why the client is struggling, Wallace said.
That is why a client not only receives assistance if they're eligible, but are often directed to the center's education programs, which cover topics ranging from life skills to financial literacy or addiction and recovery, Wallace said.
"We have a board room upstairs that can house about 15 people, which is about how many people we'll have in an average educational class," Wallace said.
During the COVID-19 pandemic, Wallace said the Prince of Peace Center saw a 48% increase in spending to assist people with rent and utility payments.
Many of those clients constitute what Wallace said could be considered the "working poor" or underemployed, people who have jobs but are unable to sustain themselves, either because their jobs don't pay enough or because they can't get enough hours to pay their bills.
Some of that increased need has begun to decrease lately with federal aid, which is available for rent or utility assistance, although Wallace said the center's staff is still fielding calls and recommending people to other local agencies.
Wallace also credited the community support with helping the Prince of Peace Center continue its mission of helping those in need, a mission created by the center's founder, Sister Benita Repasky.
"About 38 years ago, Sister Benita had a vision of helping others by giving a hand out, and we're still able to do it and serve our community," Wallace said.
Like David L. Dye on Facebook or email him at ddye@sharonherald.com.