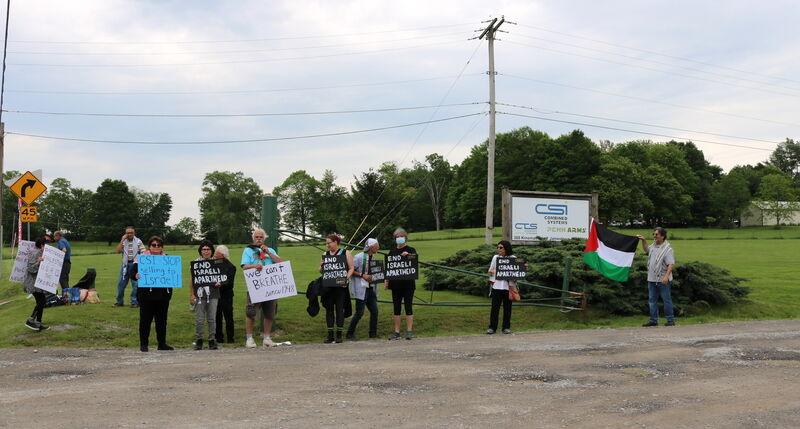 GREENE TOWNSHIP — A group of activists protested Friday in front of a Mercer County munitions plant in opposition to Israel's operation last month against Palestinians.
"We want to shed light on the atrocities. That's how we stop them," said Werner Lange of Trumbull County, Ohio.
The group chose the entry gate of Combined Systems Inc. along state Route 58 in Greene Township, for their protest. They marched outside the factory — which manufactures less-lethal ordnance like tear gas, rubber balls and flash-bang grenades — while holding Palestinian flags and handmade signs with phrases like "CSI – Stop selling to Israel" and "End Israel Apartheid."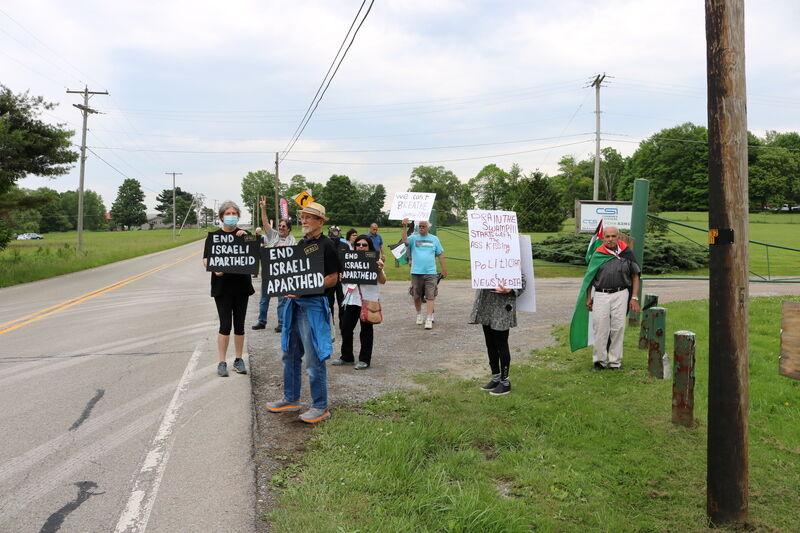 On its website CSI lists the U.S. military and law enforcement agencies, "as well as foreign military and security forces around the world" among its customers. It is unknown whether the Israeli military used any CSI products against Palestinians last months. CSI did not return a phone call Friday from The Herald.
The protesters marched peacefully and did not disrupt CSI operations, unlike a demonstration last August at the company. State police filed charges against five people — four Philadelphia residents and one from Connecticut — from the War Resisters League of New York City who had been accused of forming a human barrier Aug. 17 to prevent anyone from entering or leaving the factory property.
All five pleaded guilty in September to disorderly conduct and were ordered to pay fines.
There were no arrests Friday, but the demonstrators expressed their opposition to CSI's products. Lange said less-lethal weapons are used to hurt and kill innocent people around the world, including the United States and Palestine. He cited reports from the the United Nations Office for the Coordination of Humanitarian Affairs.
Lange said he didn't know why people would want to work for a company like CSI, and that U.S. tax dollars would be better spent on jobs and education. The group of activists – participant Jeff Kassouf of Cleveland said they consider themselves "peacemakers" – has protested outside CSI several times in recent years, and they are willing to talk to company representatives.
"I'm afraid it would fall on deaf ears," Lange said.
Many passers-by in rural western Pennsylvania near the Mercer-Crawford county line honked their car horns and waved in support of the protest, said Julie Stout of Niles.
At least one vehicle sped past, the sound of its engine drowning out conversations among the activists.
A woman from Palestine, who declined to identify herself, said she's encountered people who told her to "go home."
"We are home," she said, adding that they are also working to improve things for the next generation.