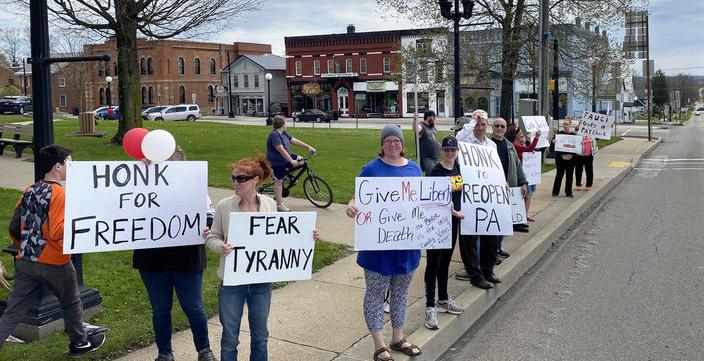 MERCER – Ben Wilkinson said he moved from England to the U.S. in pursuit of the American dream.
Over the past decade, the Sandy Creek resident has grown his used bookstore – Mr. Bookman – from a small, online store headquartered in his basement, to an operation large enough to fill a 3,000-square-foot building at its current headquarters in Franklin.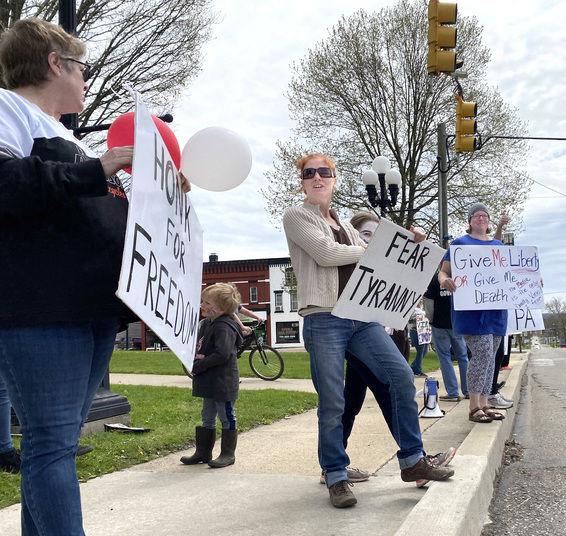 Mr. Bookman has been closed since Gov. Tom Wolf ordered a statewide shutdown of nonessential businesses on March 16 to help mitigate the spread of COVID-19. Now, Wilkinson, said the economic fallout from the COVID-19 outbreak could cause him to lose everything.
"They are telling me now because of a virus I am going to lose all my freedoms," he said. "But I'm not letting the last 10 years of my life go down the tubes."
Wilkinson was one of about 20 protesters at the Mercer County Courthouse Saturday demonstrating against the governor's stay-at-home order and shutdown of businesses across the state, a move the protesters deemed as an act of drastic overreach by Wolf and the state government.
"We're witnessing a systematic shutdown," he said. "But our right to speak words will not be infringed."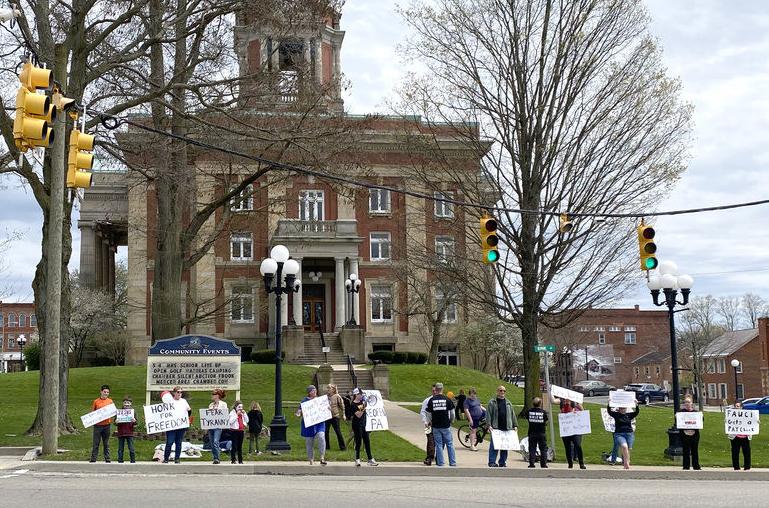 A number of the protesters, including Wilkinson, wore masks depicting Guy Fawkes – one of eight 17th century Catholic conspirators convicted of a plot to assassinate the protestant King James I, whom they viewed as a tyrant, and other high ranking members of Parliament by blowing up roughly 30 barrels of gunpowder located under the British Houses of Parliament.
Fawkes has been portrayed as a revolutionary hero in popular culture, largely due to the popularity of the graphic novel and film "V for Vendetta." A number of children at the protest also had their faces painted in Fawke's likeness.
Wilkinson said he viewed the governor's request for residents to wear protective masks in public as a sign of modern-day oppression, likening the masks to Star of David badges Jewish citizens were made to wear throughout German-occupied territories during the Holocaust.
"We are marching toward absolute tyranny," Wilkinson said.
Saturday's protest was held less than 24 hours after Wolf announced that 24 counties, including Mercer County, will begin to relax social distancing restrictions by May 8.
The governor announced last week that the state will use this phased approach to transition regions from the current "red phase" to a "yellow phase" in which non-essential businesses will be allowed to reopen while following safety guidelines.
The transition into the yellow phase means that childcare and retail shops will be allowed to reopen. Restaurants will still be limited to takeout and delivery, and bars will remain closed, as well as other businesses that involved large indoor gatherings including casinos, concert venues, theaters, gyms, barber shops, hair salons and nail salons.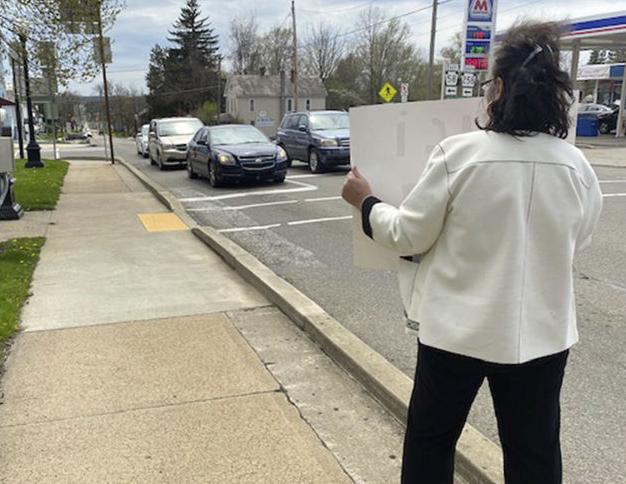 Although the state began allowing businesses offering outdoor recreational activities like golf courses, boating marinas and private campground, to reopen Friday, youth sports will still be barred during the yellow phase.
Melinda Lenkner, of Grove City, said the state's decision to bar youth sports during the county's yellow phase is the latest of many disappointments for her 9-year-old daughter, who attended the protest Saturday with her mother.
"They have taken everything from her," Lenker said of her daughter, Emma, who has been attending online school and a virtual 4-H agriculture program. "The governor is not in charge of her health – I am."
Lenkner praised the Grove City Area School District for the job it has done keeping kids up to date on lesson plans as they learn from home. But she voiced concerns about the effects remote education will have on students' progression – especially when it comes to learning difficult subject matter.
"My older kids are having a meltdown," she said. "They need their teachers, and the teachers need their kids."
Mercer native Jennifer Horstman operates a concession business at fairs with her husband. She said with all summer events being canceled, their business has lost nearly its entire income for the year.
Horstman said she believes citizens should be left to decide for themselves whether they should stay home based on any conditions they might have that would make them more susceptible to virus symptoms.
"I didn't ask to be protected," she said. "As an American, if I don't want protection, I shouldn't have to take it."
Other protesters took exception to the term "non-essential" businesses.
"We are all essential, because we all have to feed our families," said Rachel Powell, a Sandy Lake resident who was furloughed from her sales job with Cherish Creamery in Reynoldsville, Pa. "I don't think the governor has the right to tell people not to work."
Powell said the response from pedestrians passing by the protest Saturday was mostly positive.
"And the people who disagree with us, who take the time to actually talk to us, at least leave with an understanding of where we are coming from," she said.
Many motorist passing by the protest Saturday honked and waved to show their support for the protest. Other motorists made clear they believed the demonstrators should be at home, per the governor's orders.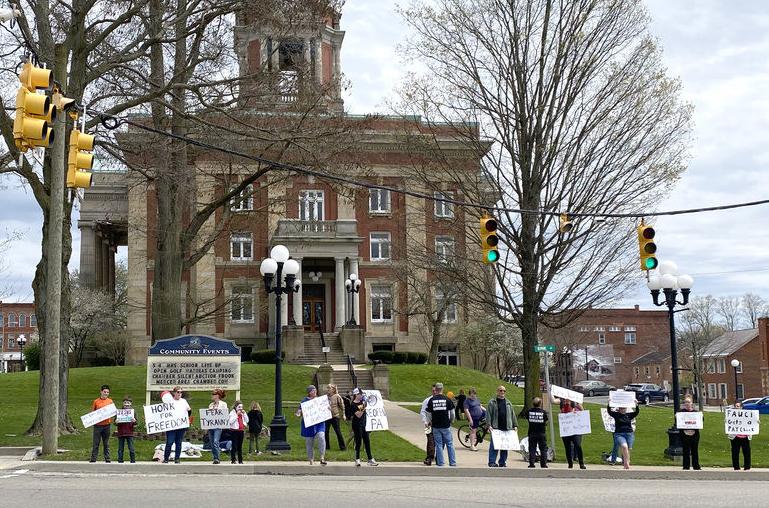 "See how much support we have?" Wilkinson said as a car honked and waved approval at the demonstration. "When that critical moment comes, everyone who beeped the horn will be out here, too."