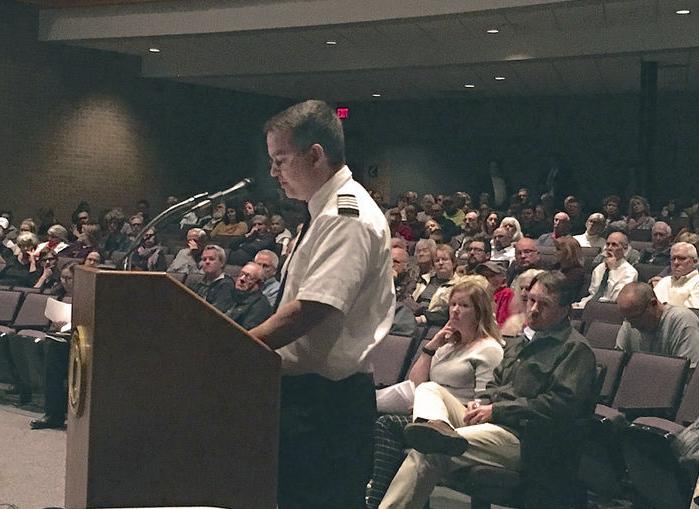 GROVE CITY – All 28 speakers at a DEP hearing Wednesday were unanimous in their opposition to an application by Tri-County Industries Inc. to reopen a landfill in southeastern Mercer County.
"Are we willing to risk the health and safety of this community?" asked Laura Rydbom.
She was among the witnesses who spoke during the hearing at Grove City High School and hosted by the Pennsylvania Department of Environmental Protection. More than 250 people attended the two-hour session.
The DEP is reviewing the landfill application submitted by Vogel Holding Inc., which owns the TCI property in Liberty and Pine townships.
The company wants to reopen a landfill that closed in 1990 when the DEP changed its landfill regulations. Edward R. Vogel, vice president of Vogel Holding, has said the company wasn't able to comply with the new regulations in time to keep the landfill open.
This is the fourth time that Vogel Holding has sought to reopen the landfill. DEP denied the previous permit applications. The current application indicates that a previous landfill request was denied in part because of violations at some of Vogel Holding's properties.
DEP representatives have said the landfill would operate six days a week, 24 hours a day on about 70.37 acres. Under the application terms, the landfill would operate for up to 10 years and accept municipal and residual waste, but no hazardous waste, said Tom Decker, community relations specialist for DEP's Northwest Regional office in Meadville.
Terms of the application call for the landfill to be 40 feet high, but the level could reach 160 feet if supervisors from Liberty and Pine townships approve the modification. Vogel Holding is also seeking approval to increase the maximum daily volume of waste it can process at its TCI transfer station from 800 to 1,200 tons.
Judy Hines of Springfield Township said residents spoke out to prevent the construction of a toxic-materials incinerator in the area. After the incinerator was rejected, businesses, hotels and restaurants sprang up in its space. A landfill could jeopardize that economic development, she said.
"What is going to happen to all that has been built up in 25 years?" she asked.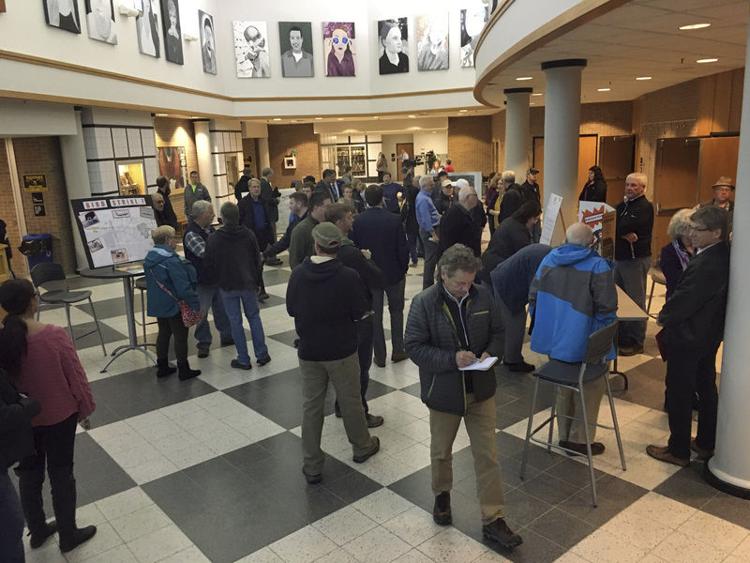 Stephen Shields said the landfill could create a potential hazard at Grove City Airport in Springfield Township near the proposed landfill site. He is a pilot who has been using the airport for more than 20 years.
Shields said the proposed landfill could attract birds, posing a danger to planes that fly in and out of the airport. A single bird could cause severe damage to a small plane.
In Shields' testimony, he said the landfill could forestall expansion plans at the airport, with a new hangar for two new jets in the works, and the possibility of additional employees at the airport. But he fears that one of the jet owners might withdraw from the expansion if the landfill is approved.
Pine Township resident Jane Cleary said the permit application lists "construction waste" among the material that would cover trash for the landfill.
The cover would contribute to the production of hydrogen sulfide gas, which Cleary said could travel into residential neighborhoods.
"This is not your father's landfill," said Cleary, who lives in Pine Township and is a member of the Citizens' Environmental Association of the Slippery Rock Area, also known as CEASRA.
CEASRA has vocally opposed the landfill application.
Dr. Robert Multari, who has met with CEASRA and is running for Mercer County commissioner, said the landfill could attract birds and vermin that could affect water supplies and threaten public health.
Pine Township resident Bill Pritchard, president of CEASRA, said TCI would take in 8 million pounds of waste a day if the landfill application is approved. He warned that the landfill would have a negative and permanent effect on property values, airport operations would decline and even the Grove City Premium Outlets operations would be damaged.
Lisa Pritchard, Bill Pritchard's wife and co-owner of the b'gifted shop in Grove City, said Vogel Holding has had serious violations at its Seneca landfill in Butler County, stemming from allegations of excessive odor, litter and dust; exceeding the daily maximum trash intake capacity; and failure to maintain equipment.
She noted that Vogel Holding would make about $600 million from the landfill.
Rydbom lives a half-mile from the landfill site and said that area is important for birds, according to the Department of Conservation and Natural Resources.
She said sound from TCI's existing operations already reaches her property and believes the landfill would increase noise, especially with the application including the use of pyrotechnics to scare off the birds.
"This is about people. This is about lives. This is about community," Michael Haizlett said.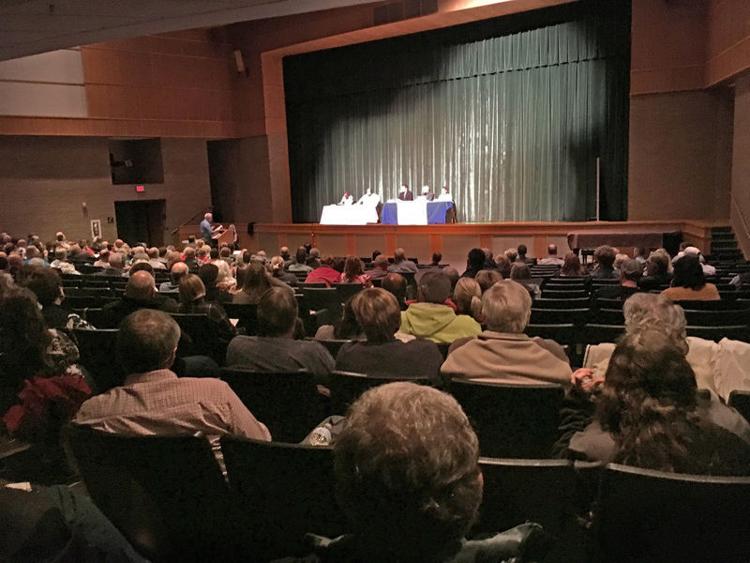 Former Grove City resident Barbara Shafran said the landfill could cause terrifying problems. If hydraulic fracturing waste is used, nearby water sources could be polluted with chemicals used in drilling.
Rick Dillaman, a Springfield Township resident and chair of the board of supervisors, and his wife Patty both spoke during the hearing. Dillaman said TCI needs to update its traffic study, which was done in 1999.
Mercer County commissioners Tim McGonigle and Scott Boyd both testified in opposition to the landfill. McGonigle said reopening the landfill could disturb toxic substances at the previous site, and Boyd said the landfill would be detrimental to continued economic growth along the Interstate 80-79 corridor.
Carmen DeRose, general manager of Grove City Premium Outlets in Springfield Township about 1 mile from the landfill site, said mall management is concerned about the proposal. DeRose said TCI needs to submit new traffic and economic studies.
Dave Dayton, who owned the now-closed Slovak Folk Crafts on state Route 208 in Springfield up until a few years ago, said the landfill would increase traffic, with TCI's entrance near Route 208. A landfill would impact the area's livability, with large trucks 24 hours a day.
Roberta Jeffrey said she once lived near a landfill and was forced to move because the landfill worsened her respiratory illness, and she believes TCI won't be good stewards of the environment.
"Their track record is despicable," she said.
The DEP will accept written comments until 4 p.m. Friday, Nov. 1, Decker said.
Everyone who testified Wednesday will receive a comment response document with a summary of the hearing, including answers asked during Wednesday's hearing.
Other interested will be able to buy a copy of the document.
DEP might be close to ruling on the permit application soon after the hearing, Decker said previously.
TO SUBMIT a written comment, contact Decker at the DEP Northwest Regional Office, 230 Chestnut St., Meadville, PA 16335, or email him at thomadecke@pa.gov.