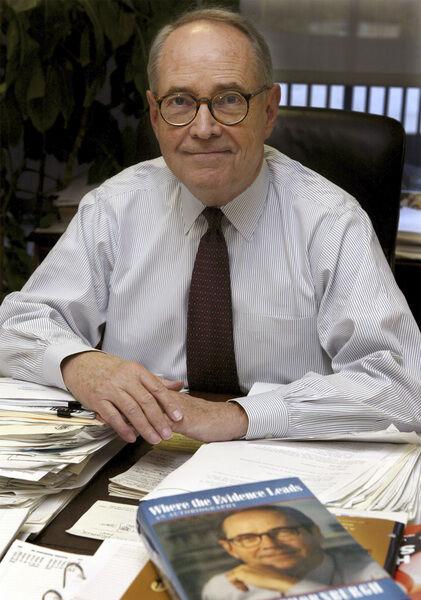 Just two weeks after being elected to the state House of Representatives, Bob Robbins was walking down a state capitol building corridor when then Gov. Dick Thornburgh popped into view.
"I didn't have to introduce myself,'' said Robbins, of Salem Township. "He called me by my first name. I couldn't believe he knew who I was.''
Thornburgh, a Republican who served as Pennsylvania's 41st governor from 1979 to 1987, died Thursday at age 88 in a retirement community near Pittsburgh. No cause was given for his death. He also was U.S. attorney general from 1988 to 1991. Prior to these posts the Pittsburgh native was U.S. attorney for the Western District of Pennsylvania.
Two local fellow Republicans, Robbins and Roy Wilt, served in state-elected offices while Thornburgh was governor. They talked about the late governor on Friday who they viewed as their elder statesman.
Robbins served in the state House from 1983-90 and the state Senate from 1991 to 2014. Wilt, a Sugar Grove Township resident, represented Mercer County in the state House from 1968 to 1981, then as a state senator from 1981 to 1990. 
Aside from his uncanny ability of remembering names, Thornburgh won national acclaim for his deft handling of the Three Mile Island nuclear plant crisis in 1979. But he wasn't given enough credit for other accomplishments, Wilt and Robbins both said. 
Although it might have been trivial compared with the nuclear meltdown crisis, Robbins said Thornburgh's biggest triumph was cleaning up PennDOT, which had been riddled with political graft.
"It was that way with Democrats and Republicans when they took office,'' Robbins said of the money grab in the transportation department.
Once elected to state office, it was accepted practice that a politician could reward their cronies with PennDOT jobs.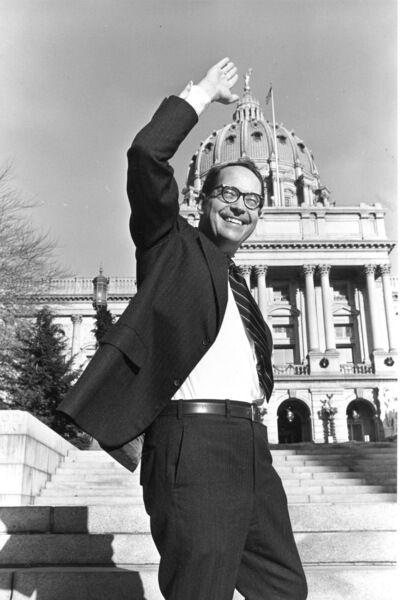 "There were a lot more PennDOT employees back then,'' Robbins said. "It was automatic that there were PennDOT jobs to give away in each county. Well, Dick Thornburgh put an end to that.''
On average, the governor's acts wiped out 20 PennDOT jobs per county, Robbins said.
But there was a price to pay. Though Thornburgh ended job giveaways, Robbins said his own supporters still expected to get the posts.
"I had to tell them the jobs weren't there anymore,'' he said. "I caught a lot of hell for that.''
Before Thornburgh, PennDOT leased an enormous amount of equipment, Wilt said. Contracts with big checks were issued to equipment-leasing businesses with tight political connections.
"After the checks were handed out you would hear of people in government going to these businesses for kickbacks,'' Wilt said. "Dick stopped that from happening when he came into office.''
Early on Wilt learned Thornburgh was tight-fisted on state funds.
"He was a good, conservative hard-liner,'' Wilt said. "After the state budget was set if you went to him for more money on something all you would get is a whistle in the wind.''
Robbins said Thornburgh dealt well with people from all walks of life.
"He was very personable,'' Robbins said. "He would talk to a janitor just as easily as he would a legislator.''
But it would be a mistake to say his easy public temperament meant he was a pushover, Wilt said.
In the aftermath of Three Mile Island, Wilt headed a state committee on how the state and the healthcare system should respond in natural and man-made disasters. In personally presenting the committee's findings to Thornburgh, he found the governor had reached different conclusions on some issues.
"He was personable, but he was strong,'' Wilt said. "With him it was 'My way or the highway.'''
In November the U.S. Attorney General's office awarded the inaugural Dick Thornburgh Award. The recognition will be presented each year to an outstanding assistant U.S. attorney exhibiting "the commitment to justice and the highest ethical standards'' embodied by Thornburgh.
During the award ceremony, then-U.S. Attorney General William Barr called Thornburgh "a lawyer's lawyer'' who had the highest integrity.
Thornburgh and his wife, Ginny, had private moments with Robbins and his wife, Cindy, while on the campaign trail and during events in Harrisburg. Those memories are the most lasting, Robbins said.
"Even though you were low on the totem pole they made you feel important,'' he said of the couple. "They made you feel special.''