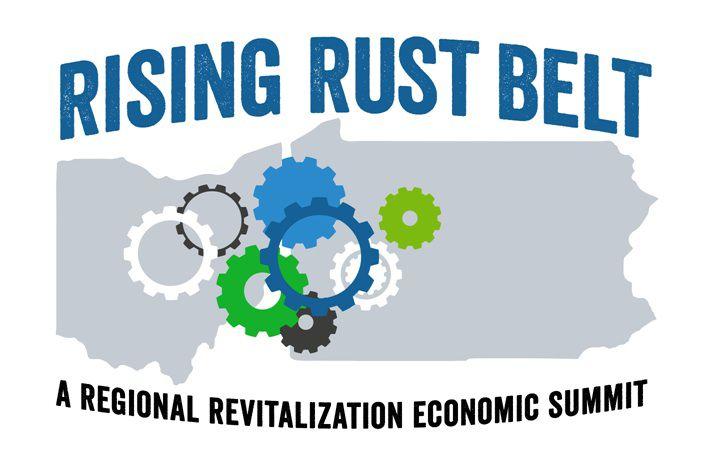 SHENANGO TOWNSHIP — The term "Rust Belt," as it applies to the one-time industrial powerhouse region, is a loaded one — Sherris Moreira admits as much.
"We're still carrying the weight of the old narrative," said Moreira, executive director of the Shenango Valley Chamber of Commerce.
Moreira acknowledged that the "Rust Belt" nickname, coined during the collapse of industrial economies in cities like Detroit, Cleveland, Pittsburgh — and, yes, Sharon, Youngstown and New Castle — carries the connotation of decay, degradation and deterioration.
But she, along with her counterparts from the Youngstown-Warren and Lawrence County regional chambers of commerce, are looking to change that narrative.
The three chambers are collaborating to embrace "Rust Belt" and redefine the term, starting with Rising Rust Belt: A Regional Revitalization Economic Summit, on Oct. 6 and 7 at The Park Inn by Radisson in Shenango Township. The event will feature economic development and revitalization on both sides of the state line, with a speaker list that includes John Fetterman and Jon Husted, lieutenant governors, respectively, from Pennsylvania and Ohio.
Alex McCoy, director of the Lawrence County Regional Chamber of Commerce, said the benefits of economic revitalization go beyond the boundaries of any single chamber of commerce region.
"It doesn't know township lines," he said of development benefits. "It doesn't know county lines. It doesn't know state lines."
Moreira, McCoy and Youngstown-Warren chamber Director James Dignan are organizing Rising Rust Belt both to help entrepreneurs build their businesses in the region and to highlight successful development in all three regions.
"We're proud of our legacy," Dignan said. "We're turning toward our rivers and renewing our downtowns."
The summit will kick off on Sunday, Oct. 6, with a tour tours of economic development sites in the Shenango Valley, followed by a mixer at the Park Inn.
On Monday, the event will continue with speakers economic development large-group and breakout sessions. The individual sessions will focus on economic development themes including downtown revitalization, workforce development across borders, "Small Business Toolbox" and a tutorial on the business site selection process.
Fetterman is scheduled to speak during the breakfast large-group session.  Husted, Ohio's lieutenant governor, is the afternoon speaker.
The summit will wrap up Monday with a "Shark Tank-style" pitch session, where six entrepreneurs — two from each of the three chamber of commerce areas — will promote their business plans to a panel of judges.
Contrary to the traditional Rust Belt perception, the region's biggest economic development obstacle isn't a lack of jobs. The unemployment rate in Lawrence County is 4.4 percent — statistically full employment. Dignan said there are more than 14,000 open positions in Trumbull County, Ohio.
Moreira said she has been working on improving quality of life issues, including education, health care and dining — both of which will be covered in breakout discussion in October's summit.
McCoy, of the Lawrence County chamber, said the region has to attract young working families and entice native-born residents to stay, which has been an unsuccessful venture.
"Our biggest export is our young people," McCoy said.
Moreira said the three chambers don't want to run from the "Rust Belt" tag so much as they want to redefine it.
"We keep being told what we are," she said. "Maybe it's time that we told our story."
Follow Eric Poole on Facebook and Twitter @HeraldEricPoole. Email him at epoole@sharonherald.com
---
This story has been updated to correct when the two lieutenant governors will speak.