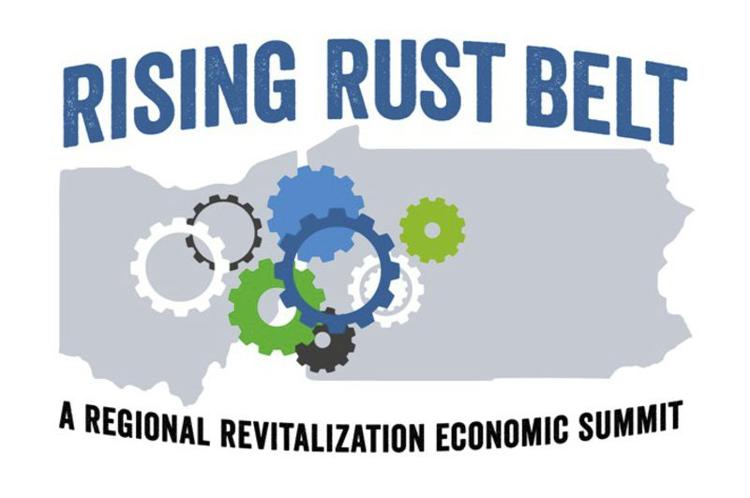 With a week to go before the Rising Rust Belt Summit, preparation for the event is getting down to the fine strokes.
"Today, it was like, 'We need flags from Pennsylvania and Ohio on the stage,'" said Sherris Moreira, executive director of the Shenango Valley Chamber of Commerce. "It's little things like that."
Rising Rust Belt, an unprecedented cooperative effort of the chambers of commerce from Lawrence County, Shenango Valley and Youngstown-Warren, is scheduled for Oct. 6-7 at the Park Inn by Radisson in Shenango Township. The economic development summit will address a wide range of issues, including site selection, petrochemical businesses and workforce development.
On Sunday, Oct. 6, attendees will tour business operations at the former Westinghouse plant and Hope Center for Arts and Technology in Sharon and will participate in a mixer at the hotel.
Pennsylvania Lt. Gov. John Fetterman will deliver the morning keynote address at 8:30 Monday, Oct. 7. Ohio Lt. Gov. Jon Husted has been invited to deliver the afternoon keynote address, and Moreira said another speaker from Ohio will step in if Husted is unable to attend.
Rising Rust Belt will also feature four breakout sessions, two in the morning and two in the afternoon, with four presentations in each session. Throughout the day, attendees will be able to visit a vendor area. Moreira said the vendor area will have about 40 participants.
The 10 a.m. discussions include a presentation by Mekael Teshome, vice president and senior regional officer for the Federal Reserve Bank of Cleveland's Pittsburgh branch, and a panel discussion on health care in the Rust Belt, led by Tom Roberts, executive director of the Hope Center for Art and Technology in Sharon.
The 11 a.m. session includes a panel discussion "Making the Most of Your Riverfront," and a presentation on site selection, with Don Schjeldahl of DSG Advisors in Akron. Schjeldahl has a national reputation on site selection, Moreira said.
A discussion on higher education's role in community and economic development is also included in the 11 a.m. session. That panel will include Youngstown State University President Jim Tressel, Westminster College President Dr. Kathy Richardson, Penn State Shenango campus Director Dr. Jo Anne Carrick and Ohio's Eastern Gateway Community College Vice President Arthur Daly.
The afternoon presentations include one on the food and beverage economy and filling job openings in the skilled trades. The skilled trades discussion will include Len Rich, administrator of the Lawrence County Career and Technical Center, and Tony Miller, administrative director of the Mercer County Career Center.
The 2:20 p.m. session has a presentation roster with petrochemical economy and neighborhood revitalization efforts to wrap up the breakout sessions.
Moreira said she is anticipating the alliance among the three chambers of commerce, spanning two states, will lead to an annual event. Ultimately, Rising Rust Belt could rotate in all three territories.
But she said the event could usher in a new spirit of cooperation among economic development groups from throughout the area.
"I'm excited just about the opportunity to talk about people from throughout the region," she said.
Follow Eric Poole on Facebook and Twitter @HeraldEricPoole. Email him at epoole@sharonherald.com