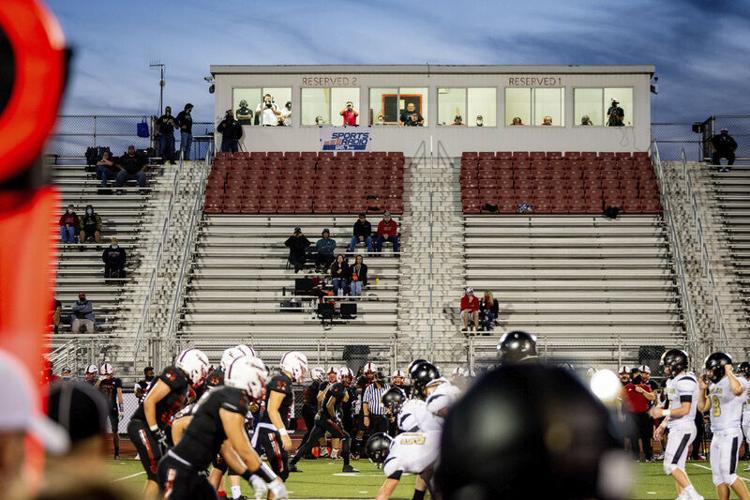 In a normal year, high school football fans would be packed shoulder-to-shoulder Friday in the stadiums at Sharon and Farrell for early-season rivalry games.
That isn't allowed under the state's current rules for limiting exposure to the coronavirus. 
But that could change, soon, if not in time to affect those who want to see Sharon play host to Hickory Friday — in a stadium with a maximum capacity of 4,000 — or 2019 state championship finalists New Wilmington and Farrell in Lou Falconi Field at Anthony J. Paulekas Stadium in Farrell.
U.S. District Judge William Stickman IV ruled Monday that COVID-19 pandemic-related limits on indoor and outdoor gatherings imposed by Gov. Tom Wolf violated the U.S. Constitution. Wolf's guidelines limit gatherings to 50 people indoors and 250 outdoors.
When high school football season opened in Pennsylvania, the restrictions forced schools to limit ticket distribution and resulted in games played before mostly empty stadiums.
A representative of Gov. Tom Wolf said the governor will appeal the ruling.
Whether or not the ruling stands, Sharon City School District Superintendent Mike Calla said the district's approach would remain the same.
"Our policy will be driven by the safety of our kids,'' Calla said.
State Rep. Timothy Bonner, R-8, Pine Township, a plaintiff in the case, said the decision restores "law and order" in the state by asserting that the legislature's constitutional duty is to pass laws, and the governor's is to enforce them.
An attorney and longtime solicitor for public bodies before being elected to the state legislature earlier this year, Bonner said he was impressed with "how strongly worded" Stickman's decision was.
In his 66-page decision, the judge acknowledged that Wolf's initial rationale — to flatten the COVID-19 viral curve and preserve hospital intensive care capacity. 
Bonner said the governor had no plan for ending the pandemic restrictions. With the court decision, he hopes that will change.
"It requires the governor to come up with a much more rational and equitable plan," Bonner said.
State Sen. Michele Brooks, R-50, Jamestown, said Monday in a statement that she hoped that the ruling would provide impetus for the governor to work more closely with the Republican-controlled legislature.
"In the past several months, the House and Senate have passed multiple pieces of legislation that are indicative of the court's conclusion, but many of our bills, unfortunately, were vetoed by the governor," Brooks said. "We believe that the governor has over-reached in his emergency declaration powers."
Others, such as school districts, are touched by the ruling, Calla said. He plans to check with other school districts and superintendents to gather their thoughts on the issue.
"We will get whatever information we can from the court order and consider what the governor is going to do,'' Calla said. "But in the end, we have kids coming to our events. And it's our requirement to keep the kids safe.''