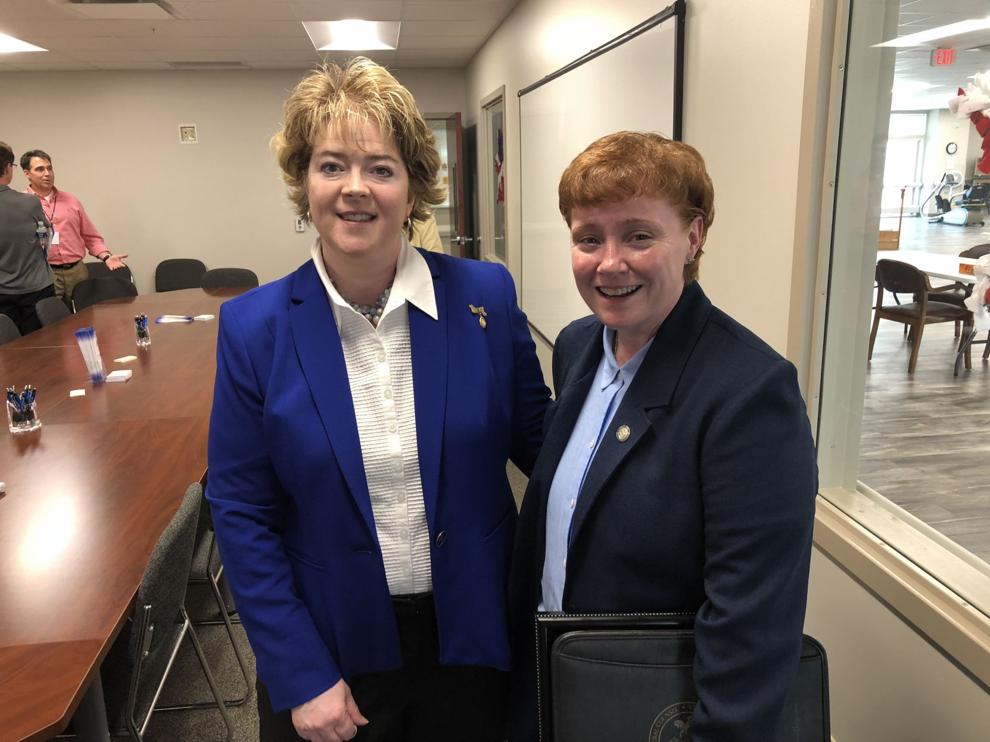 SHARON — As the number of senior citizens grows, both in Pennsylvania and across the United States, state Department of Aging Secretary Teresa Osborne said officials on the state and local levels are focusing on expanding the options for senior care.
And those options include keeping seniors in their homes, even in situations where they might previously have been moved into assisted living or nursing home facilities.
"They want to live in their home," Osborne said. "They want to stay near their families."
Osborne paid a visit Thursday to the LIFE-NWPA facility in Sharon at the Primary Health Network Building. LIFE-NWPA — an acronym standing for Living Independence For the Elderly, Northwestern Pennsylvania — helps provide medical and social services for its clients in Mercer, Erie, Crawford and Warren counties.
LIFE-NWPA CEO Mark Guzek said the organization will expand into Clarion County next year, and much of the rest of northwestern Pennsylvania in 2020.
Several area state legislators and their representatives were at the meeting. State Sen. Michele Brooks, R-50, Jamestown, and state Rep. Mark Longietti, D-7, Hermitage, were at the event. A staff member from the office of state Rep. Parke Wentling, R-17, Greenville, also attended.
The Sharon location serves 72 people, as of Thursday, with staff trained to address medical, rehabilitative and social needs. Guzek said the organization provides transportation to doctor's appointments, and to its facility in downtown Sharon.
Nancy Stinedurf, one of the Sharon center's clients, said she likes LIFE and its staff.
"It's good," the Hermitage resident said. "The staff is wonderful. They try to help as much as they can."
Her only complaint was the difficulty in qualifying for the LIFE program, she told Osborne Thursday. Stinedurf was rejected the first time she applied, but she didn't give up. 
Instead, she got a second medical opinion and was approved.
To be considered for the LIFE program, an applicant must be at least 55 years or older, certified by the state as eligible for nursing home level of care, be a resident of a county where LIFE is operating, and be able and willing to be cared for in a community setting.
Qualifying for LIFE care has its benefits, said Guzek, including full coverage of transportation, medical care and prescription medication needs. 
Marcie Campbell, director of marketing and intake for LIFE's Sharon facility, said the organization's benefits are an important way to keep seniors in their homes.
"Our folks aren't ready for a nursing facility," Campbell said. "They just need a little extra help to remain independent."
After hearing Stinedurf's story, Osborne counseled state residents to persist, even when they are rejected for home care programs like LIFE. But she added that the state has to do a better job connecting people to caregivers and programs that are paid for by Medicare and Medicaid federal funds.
"We need to ensure that the journey as you go through the process is better than what you had to get through," the secretary said.
Brooks, chairwoman of the state Senate's Aging and Youth Committee, said presumptive eligibility could be a key component in finding a solution. With presumptive eligibility, prospective home care clients would no longer have to prove their qualifications for programs like LIFE. Instead, medical officials would have to show justifications for denial.
The senator, seeking re-election to a second term, said LIFE and home health are integral parts of senior care in the state.
"It helps our loved ones stay in their homes and in their communities," she said.
As the youngest baby boomers hit 72 years old in 2018, and the youngest approach 55, Osborne said options like LIFE help keep residents in their homes, where most of them really want to be. LIFE also costs less than nursing home care, but the secretary said savings is secondary to providing the optimum treatment for Pennsylvania seniors.
"We want to make sure that you have the opportunity to age well, with independence and choice," Osborne told more than two dozen of LIFE's Sharon-based clients Thursday. "And most importantly, with the dignity and respect that you deserve."
Follow Eric Poole on Facebook and Twitter @HeraldEricPoole. Email him at epoole@sharonherald.com.