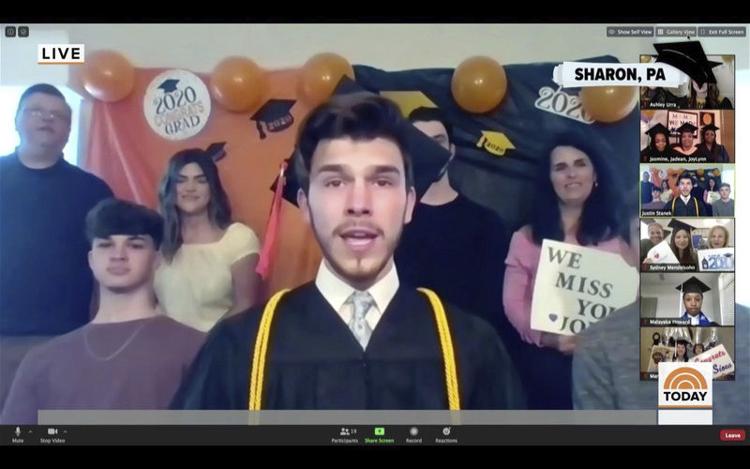 SHARON – Singing on "Today" doesn't make up for what Sharon High School's Class of 2020 valedictorian Justin Stanek is missing out on at the end of his senior year, but it sure was a nice consolation prize.
Justin, 18, and most of his family – mother, father, sister and three brothers – were featured on NBC's "Today" program Monday morning as part of a graduation segment. Justin wore his Tigers cap and gown and sang a portion of Rascal Flatts' "Bless the Broken Road."
Justin was set to play Jesus in the school's spring musical, "Godspell," which, like the rest of his senior celebrations, was pre-empted by the COVID-19 pandemic.
But the virus didn't interrupt his day on national television.
"I was just honestly in awe," Justin said. "I was really thankful for my mom. She put that together on her own and surprised me with it."
In normal times, "Today" is often aired from inside a window at NBC headquarters in Rockefeller Center, with passersby forming an outside-the-studio audience. With group gatherings nixed for the pandemic, the show's producers have been soliciting people for a virtual audience.
Justin's mother, Jill Stanek, filled out an application for her son to be in the virtual audience. In one section of the application, she wrote about how her son was missing out on his graduation and the opportunity to star in his school play. "Today" producers called her Saturday and invited the entire family to be a part of a grid to wave at the audience.
The Staneks did not know if their square in the grid would be called upon – even the producers didn't know. The family was on a Zoom video call to the show and they could see if they were muted. The producers said if they were unmuted, that meant the hosts would call upon them next to be featured. Justin said his family almost could not believe it when they were unmuted.
Justin then introduced himself, talked to the hosts, and sang for a total of about 30 seconds.
"It was such a neat experience from start to finish," Jill said. "It was a nice memory. It would be so much better if he could go to prom and all that, but that was so sweet."
Justin said he's thankful for the event.
"It was a really cool experience and I'm really glad I got to do that," Justin said. "My mom and I watch the 'Today' show together. It's a really cool memory to have and to have Craig (Melvin, 'Today' host) call my name was pretty cool."
Immediately after Justin performed, he got quite a few texts from friends. He received emails from teachers telling him he did a good job. The Orange Crew, Sharon High School student fans, tweeted out a video of Justin.
"I got a lot of positive feedback from the community," Justin said.
In addition to missing his senior year spring musical, which means a lot to Justin, he is involved in the Tiger Kittens Men of Note singing group, the chamber choir, yearbook, Interact Club, Students for Charity, robotics and student council as class president.
Justin played soccer for four years in high school career and was captain this year. He also played tennis for four years, but the COVID-19 virus shut down schools only one week into the season.
"Obviously, I'm really upset about it, but it's been really nice to be home with my family," Justin said.
Justin misses seeing his friends more than anything.
"It's hard to be cut off and not have that physical interaction," Justin said. "And I'm used to singing all day. The music program and musical rehearsals – that's something I'm going to miss the most about school."
This fall, Justin plans to attend Penn State University Park as a marketing major but says that is subject to change.
"But I'm planning to pretty much have a fun and eventful four years there and then I still want to somehow keep the arts in my life," Justin said.
Follow Melissa Klaric on Twitter and Facebook @HeraldKlaric, email: mklaric@sharonherald.com