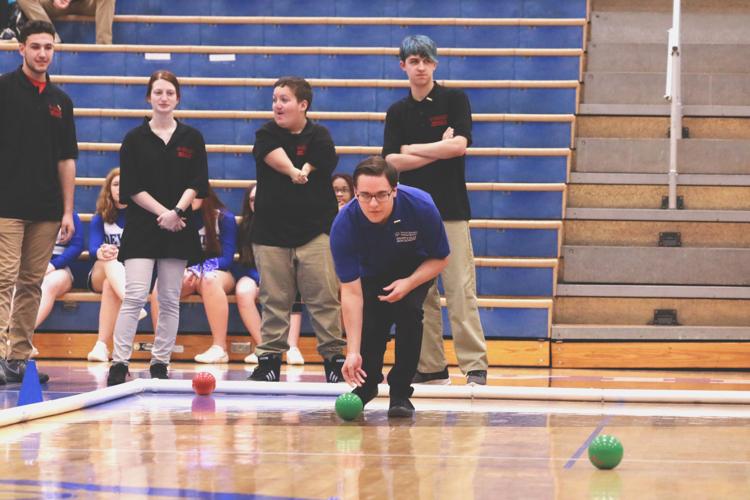 SHARPSVILLE — Mackenzie Springer lined up her throw, making sure not to put too much force behind her bocce ball.
A senior member of the Sharpsville unified bocce team, she sent the ball down the Blue Devils' basketball court, trying to get her throw as close as possible to the pallina, a smaller target ball, as a large crowd of spectators cheered.
Mackenzie, 17, said she knows well the precision necessary to deliver a scoring bocce throw.
"You have to be careful how you throw the ball, because it'll keep going even if you only toss it a little bit," she said.
The match, held Thursday afternoon in Sharpsville Area High School's gymnasium, was the annual home match for the school's unified bocce team, which faced off against the team from New Castle.
Sharpsville formed its unified bocce team four years ago, when Slippery Rock University began reaching out to local school districts about starting teams.
Since then, Sharpsville's program has fielded two six-player teams, each comprised of students from special and mainstream education programs, said Dejah Springer, a special education teacher who doubles as Sharpsville's coach.
"We make an announcement that the students can come sign up in the office, and they're always so excited for it," she said.
Filling the team's roster over the past four years has never been difficult, the coach said, with many students saying they enjoy the camaraderie among their teammates.
"I just did it for the feeling around the kids," senior team member Abigail Messett, 18, said. "The kids are always so happy and support each other."
Every year, the unified bocce team plays once at home, once away and a tournament at Slippery Rock University, where schools from Mercer, Lawrence and Butler counties compete against each other to qualify for the Interscholastic Unified Sports' state bocce tournament.
"Our team hasn't gone on to state — yet," Dejah Springer said.
Sharpsville students hold a special sendoff for the team each year when it departs for the match at Slippery Rock University, while the home game always draws a lot of support.
On Thursday, Sharpsville's cheerleaders and pep band came out to display school spirit, while students came to cheer on their fellow classmates.
"Just looking around, I see some kids from the boys basketball team here; there's some kids from the girls basketball team here," Superintendent John Vannoy said. "The bocce game is definitely always a highlight at the school."
Like David L. Dye on Facebook or email him at ddye@sharonherald.com.