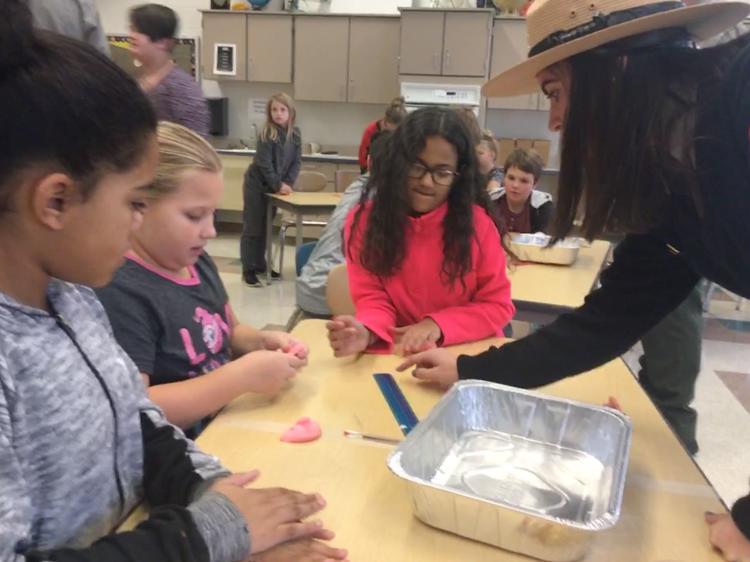 SHARPSVILLE — When Park Ranger Jamison Conley asked if anyone had ever seen ankle-deep water while walking around their neighborhoods, almost every fifth-grader enthusiastically raised their hands.
Conley, who works with the U.S. Army Corps of Engineers at Shenango Lake looked at the upraised hands and asked how many students at Sharpsville Area Elementary School had ever seen water up to their knees. Only a few hands remained raised.
"Okay, now how many of you have ever had water up to your waists?" Conley said, causing all the hands to drop.
"If you lived in this area before the sixties, then that would have been an annual occurrence for you."
That all changed with construction from 1963 to 1965 of the Shenango Dam, which provides flood control for the Shenango Valley and prevents the catastrophic floods that were once a seasonal part of life in the valley. 
But the event was more than just a history lesson for the fifth-graders at Sharpsville Area Elementary School. With Thursday, Nov. 8, was also National STEM Day, a nationwide effort to help introduce children to the importance of science, technology, engineering, and math.
In their first such visit to the school, rangers from the U.S. Army Corps of Engineers, which operates the Shenango Dam, told the children not just what the corps does, but also how their field incorporates the principles of STEM, Conley said.
"We've got folks here with degrees in biology and conservation and accounting, and I'm working on a degree in environmental science, so these are all different skills that help us when we're doing our jobs," Conley said.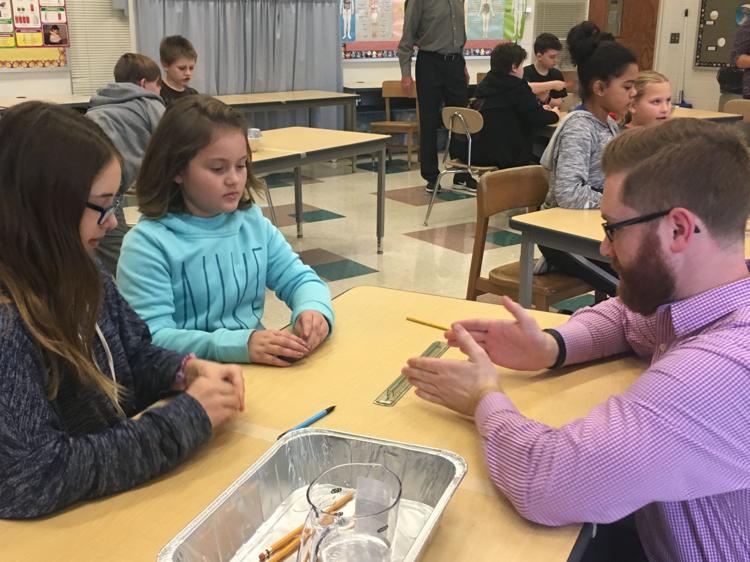 Following the history lesson, the rangers showed children some of the factors that go into building a dam, such as the materials used or where dams are located.
"When we ask the students where would you put a dam, they already know at the shortest width because it's cheaper," said Park Ranger Hannah Jacob.
The students then went over the formula to determine volume with Lake Project Assistant Cory Powell before challenge the students to build their own "dams" out of modeling clay. However, the students had to use rulers to make sure the dams' walls were long or high enough to contain a certain amount of water.
At one table, students Isabella Buccilli, 10, and Ava Gassner, 10, cut different-sized chunks of play dough into symmetrical blocks before arranging them into a rectangle.
"I like going to the dam sometimes to go fishing," Ava said.
At another table, students Karma Harvey, 10, Nevaeh Griffin, 10, and Ingrid Gonzalez, 10, meticulously made sure their walls would be high enough to contain the water. As a fellow student who enjoys visiting the Shenango Dam with her father for fishing or swimming, Nevaeh said she appreciated the hands-on approach to their lesson.
"I've just been impressed with everything, like they're letting us make dams out of play dough," Nevaeh said.
Eventually, the students poured in the water, with some dams' walls proving too short or the entire structure not wide enough to contain the water. However, the excited shouts of students at seeing their dams pass or fail showed the day's lesson was a success in showing why STEM mattered, at least in building dams.
And its something that staff at the U.S. Army Corps of Engineers at Shenango Lake said they were interested in continuing in the future.
"The kids are very into it. They've been very engaged and they're very responsive," Powell said.
Like David L. Dye on Facebook or email him at ddye@sharonherald.com.