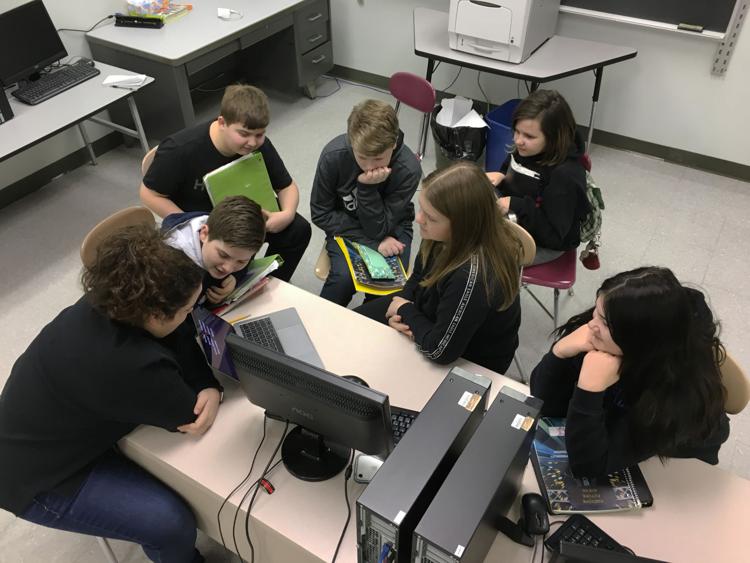 SHARPSVILLE – As he walked into Reynolds Services Inc.'s shop floor, Sharpsville seventh-grader Nick Bell knew exactly what to do.
No, make that he knew exactly what he was prohibited from doing.
"We can't cross the yellow lines,'' Bell said. "That's a safety rule.''
This is part of the "What's So Cool About Manufacturing?'' learning experience. Developed in the Lehigh Valley, the program is designed to give middle school students an education on the manufacturing sector.
Under the local oversight of the West Central Job Partnership, school districts in Mercer and Lawrence counties were invited to have a team participate in the experience. Nine local school districts are participating in the program, which was introduced to the area this year.
And to spice it up, the teams are in competition with each other.  
A visit to a manufacturer is just the beginning of the program. The real instruction comes from students creating a marketing video for the industrial company. Under the guidance of Lisa Oliver, a Sharpsville middle and senior high school teacher, a team of seventh-graders took on the task. It took serious work to create the final product, team members said.
"This isn't as easy as it looks,'' said Julia McConahy, who did most of the team's video editing.
Reynolds Services Inc. in Greenville-Reynolds Development volunteered to be Sharpsville's video subject. RSI specializes in the distribution and sales of cut sheet, flat-rolled steel, coil, slit coil, and tin mill products. The company's products are used in a number of items such as decorative tins, paint cans and sanitary cans. 
"We went on two tours of their plant,'' said team member Nolan Lapikas.
Each tour covered different subjects, said Brandy Hammerschmidt, RSI's director of corporate services.
"The first time they came we gave them an overview of us to help them formulate their questions,'' Hammerschmidt said. "And then we gave them a tour of our two buildings and explained our manufacturing process.''
Each team in the program is given a small video camera to record what they see and interview employees. It was during this process the team learned about video production.
"We didn't know what an A-roll or B-roll was,'' McConahy said. 
For those without video savvy, A-roll is video used to tell the story of what is going on. B-roll is supplemental footage used to give depth and context. In this case, interviewing RSI employees was the A-roll while showing machines cutting metal was the B-roll.
Once all of the video is in hand, students begin the process of creating the final product back at the school. The team decided what parts of the video to keep and what should be tossed.  
Several Sharpsville team members were called upon to provide voice-overs. This is where the voice of someone is heard talking, usually off camera, to describe what's happening in the video or the subject at hand.
Choosing a musical background for the video also was decided by team members. In this case it was light contemporary music. 
Students crafted their video and sent it a volunteer at the Western Reserve PBS station based in Kent, Ohio, who volunteered to critique the product. As a result, a change was made. The rules required the video to run between 2 to 2.5 minutes and the students were 1 second over the limit.
"So we cut off one second,'' Lapikas said.
They also showed the video to RSI managers that resulted in another change.
"We said that they make tin,'' McConahy said. "They don't, so we took that part out.''
After touchups, the final video was in hand. In all, the team racked up at least 30 hours of work with much of it cutting into their class time, Oliver said. 
"Sometimes they had to miss classes and they had to make up any work they missed,'' Oliver said. "So this was something that took a big commitment on their part.''
Smaller schools such as Sharpsville often aren't given access to this kind of a program, she said.
"The larger schools in the big cities are the ones who usually have the resources for this,'' Oliver said. "This was a great opportunity to learn about video production and editing.''
West Central partnered with Penn-Northwest Development Corp. to bring "What's So Cool About Manufacturing?" to the area. Regionally, the project was supported by the nonprofit Northwest Industrial Resource Center, which promotes and aids small manufacturers in northwestern Pennsylvania. A state grant funded the local program with the help of state Rep. Mark Longietti, D-7th District, Hermitage.
There's more going on here than just helping students learn about video production, said Rebecca Moder, West Central's coordinator of operations and special projects. 
"It makes students aware of the manufacturers in our area and the career possibilities they offer,'' Moder said. "Students don't get to go into manufacturing plants like they do with hospitals, doctors and dentist offices.''
The contest offers people the chance to vote online for their favorite school video.
RSI has already voiced its opinion of the video. "We loved it,'' Hammerschmidt said.
Besides Sharpsville, the other middle-school video teams competing are from Greenville, Hermitage, Jamestown, Lakeview, Laurel, Mercer, Sharon and West Middlesex.
TO VOTE: Go to: whatssocool.org. Click on "2019 Contests'' then scroll to "West Central PA.''. Voting will run through Wednesday. An awards ceremony will be March 28 at Penn State Shenango in Sharon.