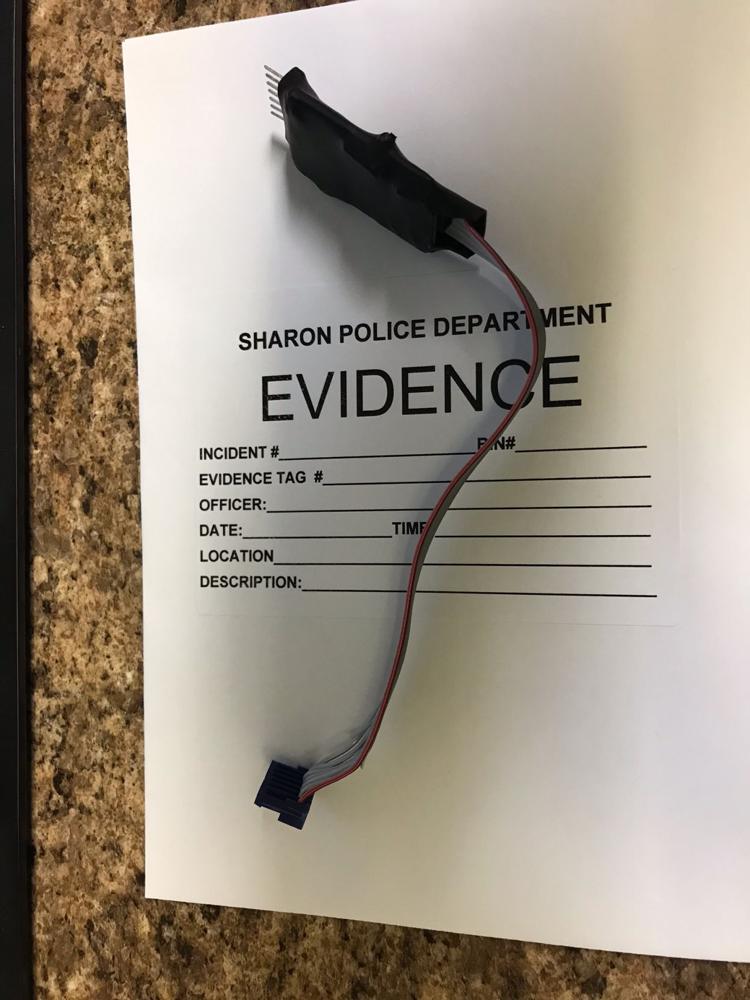 Police are asking anyone who has used a credit or debit card to buy gas at a pump at the Sharon Qwik Mart to check their statements for unusual spending.
Sharon police were informed Thursday by the Department of Agriculture that a credit card skimmer was found attached to the card reader of one of the gasoline pumps at the Qwik Mart at 505 E. State St., across from Daffin's Candies, police Chief Edward Stabile said Friday.
Card skimmers can be secretly attached to credit card readers to intercept credit card data. The skimmer recovered was wired inside of the machine. Police do not know how long the skimmer had been on the machine.
Police are asking anyone who believes they are the victim of fraud to contact their banks or credit card companies and law enforcement.
The Department of Agriculture found that the pump's credit card reader had no security or integrity tape, a red adhesive tape used to seal credit card readers to ensure that no one has tampered with the device. 
Will Nichols, spokesman for the Department of Agriculture, said that once a department agent finds anything suspicious, he or she reports it to law enforcement.
"Our staff are visiting gas stations and performing inspections on pumps to make sure they're dispensing the correct amount of fuel," Nichols said. "In the course of that, they're opening up pumps to make sure everything is in good order. If we find something suspicious, then we notify the Department of Banking and Securities and contact the police."
Sharon police will send the skimmer out for forensic analysis and investigation to determine who attached the device, Stabile said.
There are ways to avoid becoming a victim of this type of fraud, said Ryan Tarkowski, spokesman for the Pennsylvania State Police.
He said skimmers can be installed in two ways — inside the machine or over the card reader.
"Choose gas pumps that are in the line of sight of cashiers," Tarkowski said. "People install the devices where they think they can't be caught."
Customers should also avoid using ATMs that are not well lit and out in the open. 
Tarkowski said card users should pay attention to the card reader.
"Insert your card and wiggle the card reader because they (criminals) will put on a device over the card reader and when you put in the card, it's capturing your information," he said. "If the card reader comes out, it could be a skimmer or something else fishy."
Another tip from state police is to consider using a credit card instead of a debit card.
"Then the scammers don't have direct access to your bank account and your money," Tarkowski said.
And check your bank statements frequently, Tarkowski advises. 
"The earlier you can catch something, the better," he said.
And lastly, scammers who gain access to the inside of the machine where the pump opens have most likely broken what is called integrity tape.
Integrity tape is a metal tape that notes the device's most recent inspection. 
"So if that tape is broken, you'll have an idea that someone who should not have been in there was," Tarkowski said. 
He also advises the consumer to inform someone at the gas station.
Tarkowski said some criminals have become pretty sophisticated and it is hard for consumers to see if someone gained access to the inner workings of a machine.
"Unfortunately, the criminals, this is their full-time job," he said. "They're always advancing, trying to become better hidden. Just do your best not to be a victim because they can be hard to spot." 
Follow Melissa Klaric on Twitter and Facebook @HeraldKlaric, email: mklaric@sharonherald.com