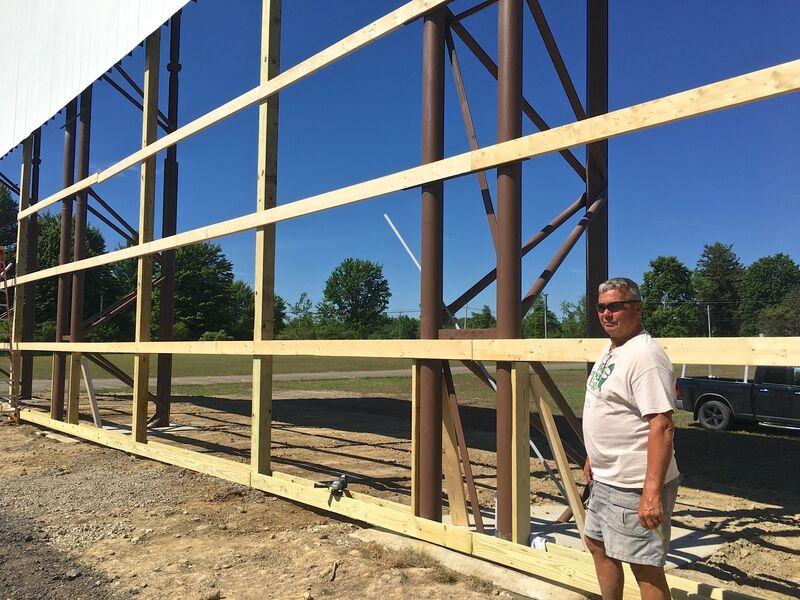 TRANSFER – Two ferocious events over the past seven months has blown Jeff Fiedler away.
As a family member co-owning the Reynolds Drive-in theater, Fiedler's first encounter was enduring a vicious storm last November. Howling winds toppled the drive-in's huge outdoor screen.
Buying the drive-in last spring the family, which includes Fiedler's wife Peggy and their daughter Stephanie Davis, had upgraded the outdoor theater. There was never a question about whether to rebuild, Fiedler said.
"This wasn't something that could be put off,'' Fiedler said.
Insurance covered the cost of replacing the screen and other damage – based on early-winter lumber prices at that time.
Then the second depressing episode struck.
Hurricane winds of the economy shot lumber prices through the roof. Lumber prices were already rising sharply in the spring of 2020 as the COVID-19 pandemic spread. When the pandemic's grip worsened lumber costs soared to where weekly double-digit percentage hikes were common.
In May prices screamed to an all-time high of $1,711 per thousand board feet. The measurement is the way lumber is sold on the open market to home improvement stores and retail lumber yards.
To show how gruesome that figure is, as the coronavirus spread in February 2020 lumber costs were a tad above $450 per 1,000 board feet. And builders were grumbling at that price. In October 2018 the cost had dipped below $300.
The drive-in owners were "lucky,'' said Jerry Calvert, co-owner of Calvert Lumber in Sharon. He explained that at least their timing allowed insurance to absorb part of the hefty price hikes.
"Last fall is when things started to go crazy,'' Calvert said of lumber prices.
Overall lumber costs have skyrocketed up to four-fold over the past 18 months, he said.
"I've been in this business 60 years and have never seen anything like it,'' Calvert added.
But Fiedler wasn't as lucky as he hoped. Lumber costs for the project this spring alone were up by 15 percent, which added thousands to construction costs.
There was no way to collect more insurance money, he said.
"Once the insurance claim is filed and paid for it was all over for them,'' Fiedler said of the insurance carrier.
Approached by their contractor, he told the family it was impossible for him to gulp down the extra costs.
"We made up the difference out of our own pockets,'' Fiedler said.
It doesn't take a huge project to feel the sting of higher lumber prices. A 4 foot by 8 foot sheet of plywood fetching $35 just 18 months ago now goes for an eye-popping $120.
Surging lumber prices have added over $35,000 to the cost of an average new single-family home, the National Association of Home Builders, a trade group said.
JACKSON CENTER – White oak is king of the forest – and the sales floor.
Even affluent consumers have to adjust.
A swanky home costing $500,000 to build two years ago is getting socked with an extra $60,000 to $80,000, Calvert said. Those getting price quotes early on and waited to begin construction are sticker shocked.
"They're having to go back to their bank to borrow more money for their mortgage,'' he said. "For some its been a real stumbling block.''
So what's going on here?
A robust demand for construction, companies being able to charge higher export prices and lower availability, said retailers and analysts.
COVID-19 resulted in workers spending more time at home allowing them to tackle home improvement projects, Calvert and others said.
Lumber isn't the only culprit.
Electrical goods from copper wire to steel conduits are paying more as copper and steel prices have jumped.
Steel prices are enjoying an unheard of rally that's nearly quadrupled after hitting a low of $450 a ton in mid-August 2020. Likewise, the commodity price for copper was $4.18 a pound on Friday. In 2019 its low price hit $2.52 a pound.
Supplying electric copper lines and conduit are among the bread basket products sold by JCL Energy, a Sharon electric supply company. JCL's owner, Jim Landino, said higher commodity prices and availability has created headaches for price quotes from his suppliers.
"A lot of the prices we're being given are only good for 24 hours,'' Landino said. "The prices used to be good for weeks, sometimes months.''
There are true signs prices are backing off.
July futures costs for lumber on Friday fell to $900.80 per thousand board feet, a steep 47 percent drop from its record May high. Since the price reflects future costs, it will take a little time for that to hit lumber stores, Calvert said.
"At least it's going in the right direction,'' he added.
Reynolds Drive-in had to pay the going rate for lumber costs. Plans call for a July 10 opening featuring a concert of bands, Fiedler said.
"We just want to get open,'' he said.