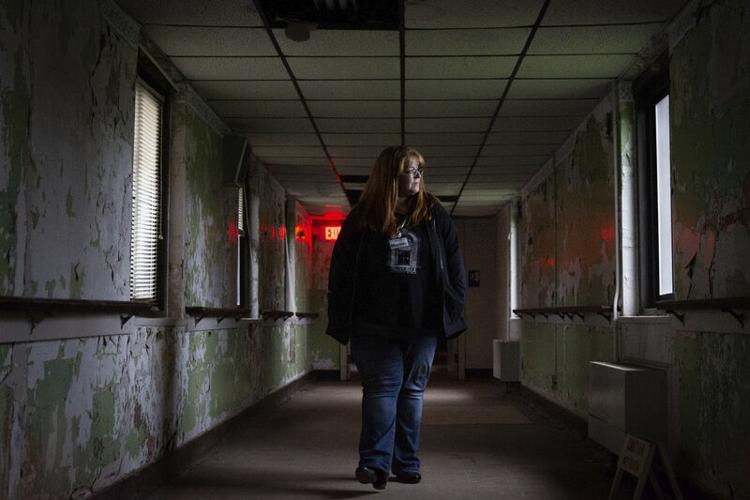 NEW CASTLE – She feels the building touch her – something within her.
Haunted Hill View Manor is alive – but then again, it isn't.
She has so many stories.
"I was sitting in the office one day and had a nice view of the stairwell,'' said Melissa Keen, a Sharon resident who is tour guide at what was once the county poor house, southeast of New Castle. "I looked up and watched a woman dressed in a 1950s-era nurse outfit walk down the stairwell, through the lobby and through the front door and vanish.''
As this is Halloween weekend, it's prime time for those searching for someone on the other side. Countless numbers of people taking tours of this sturdy, brickl structure said they've seen, heard, or felt someone reach out to them from the ghostly world.
In a recent tour, a visitor's fully charged cell phone battery suddenly went dead. A few minutes later he and a woman in the group heard the whisper of another woman's voice behind them – but there was no one there.
"This is one of the most active buildings I've ever been in,'' Joe Moczan, co-founder of Ellwood City-based Digital Paranormal Investigations.
Active, as in spirits.
While on over 20 ghost hunts at Hill View, Moczcan said he has tape recorded dozens of voices of those from the world beyond. He also has a video showing what he said is a partially transparent apparition of a human behind glass doors that gradually fades away. His wife, Debbie Burns, has displays of photos taken at the building which she says are "orbs,'' which to paranormal investigators are transparent balls or globes of light that are spirits.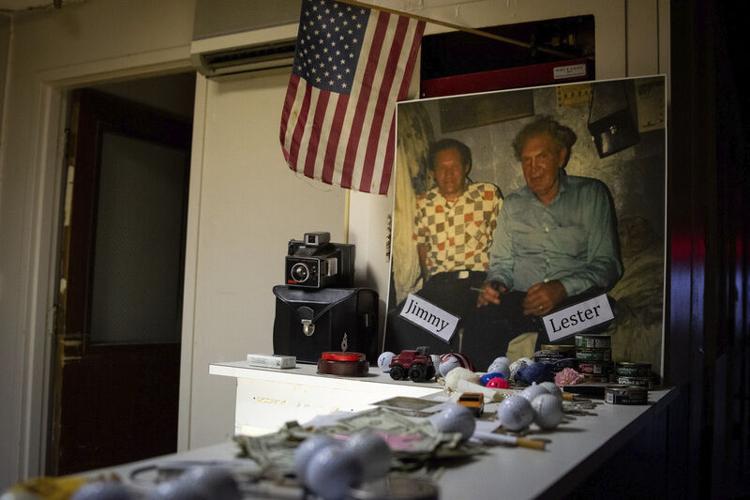 For Keen Hill View is a second home. After watching a TV ghost investigation show nine years featuring Hill View she was invited by a friend to take a similar adventure.
An advanced ghost hunter her friend had an ovilus – equipment used by paranormal investigators which they say helps communicate with ghosts. This ovilus was designed for people to ask questions and to give vocal answers – but couldn't give proper name answers, Keen said.
They walked into the boiler room where a deceased maintenance man, just known as "George,'' had worked. It turns out he was a big Pittsburgh Steelers football fan.
"I asked George who his favorite quarterback was. The next thing I know I hear the words 'Terry Bradshaw.''' Keen said. Bradshaw was the Steelers famous quarterback who led the team to four Super Bowls in the 70s.
Keen became hooked on ghost hunting. With the permission of the Triko family, which bought Hill View in 2005, she has been investigating Hill View for nine years and working as a tour guide for the past two years.
Only a portion of Haunted Hill View's massive 80,000 square feet can be viewed by those diving along state Route 65.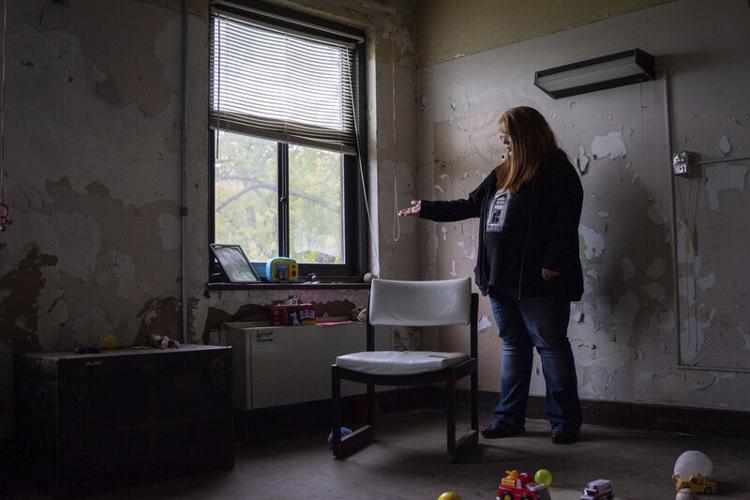 The original building had a noble beginning. Opening on Oct. 19, 1926, as The Lawrence County Home, it also was known at the time as a poor farm or poor house. Owned and operated by the county, it was designed to serve the elderly, impoverished and mentally ill who didn't have a family to support them.
Those who could work tilled the farm that fed the residents.
By the late 1960s it was gradually changed into a skilled nursing center. And in the '70s a surging number of residents created overcrowding that demanded action. In 1977 the county expanded the center by opening the north wing and renamed the complex Hill View Manor.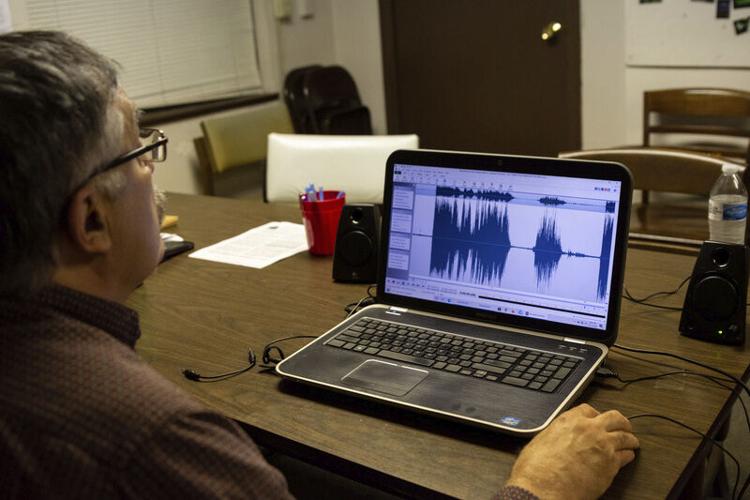 As the years passed, the operation became a financial drain. By 2004 the decision was made to close its doors.
In addition to deceased employees, spirits at Hill View include departed residents and even children, Keen said.
Hill View has been the ghost star of TV paranormal investigative shows such as "Ghost Hunters,'' "Ghost Adventures,'' "Ghost Lab,'' and "Ghost Asylum.''
Tours are available that runs from $25 to $65 a person. Top-of-the-line private investigations lasting nine hours for up to 10 people can run up to $650 on Friday and Saturday nights. There is an extra charge for those videoing for commercial reasons.
VIDEO: Watch as Herald Business Editor Michael Roknick goes on a tour of Haunted Hill View Manor in New Castle with tour guide Melissa Keen an…
And there are rules, such as everyone in a group must sign a waiver and those under 18 must be accompanied by an adult at all times.
Defining what ghosts or spirits are is perplexing, Keen said.
"A lot of people believe they are earth-bound spirits,'' Keen said. " I think they come and go as they please. I think we're learning more every day.''
ONLINE: hauntedhillviewmanor.com