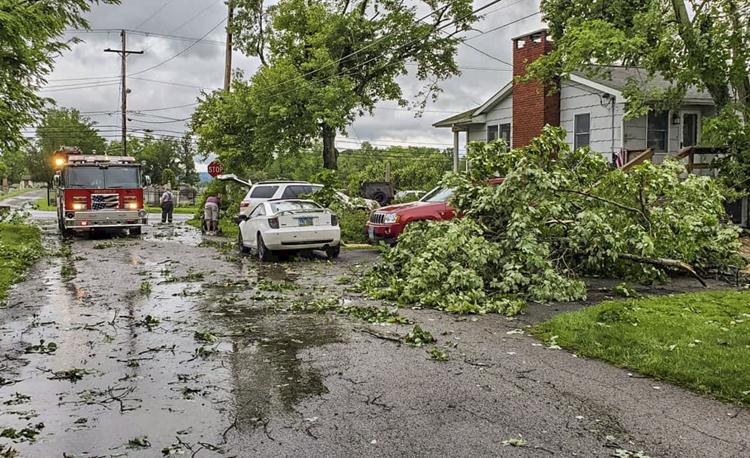 BROOKFIELD — When a tornado warning came and went at about 4:30 p.m., Brookfield resident Mike Steach thought the threatening weather had passed over his area.
About an hour later, Steach and some family members saw what they thought was high winds and rain, so they closed the windows at his house, 466 state Route 7 in Brookfield when what they thought was a tornado blew through the area.
"We all got into the bathroom, but it seemed like it was over really quick — probably only 30 seconds and it was over," Steach said.
Though Trumbull County 911 couldn't confirm that a tornado touched down, it reported heavy storm damage in Brookfield and throughout Trumbull County Sunday evening.
Throughout Brookfield, there were signs of damage including homes with removed shingles, downed trees and in the case of Brookfield Cemetery, knocked-over tombstones.
Brookfield police Chief Dan Faustino said he wasn't certain that the damage was caused by a tornado, but it sure seemed like it.
"The way stuff was damaged is indicative of one, but I'm no expert," he said.
Faustino said he put two additional police units on duty from about 5 to 8 p.m. during the storm's aftermath because trees had fallen across roads in the township, but there were no reported injuries.
The storm also caused damage, with tombstones toppled or knocked down by fallen trees, in Brookfield Cemetery. Faustino said the storm also caused severe damage to one of the outbuildings at Kirila Contractors' offices along Bedford Road.
"A lot of branches and debris were blocking roads," he said.
Brookfield police undertook additional patrols late Sunday night into Monday morning to find and assess additional damage.
Just after 6 p.m., Ohio Department of Transportation announced road closures of U.S. Route 422 eastbound at state Route 305, and state Route 82 eastbound and westbound at state Route 7. ODOT announced about two hours later that the Route 82-Route 7 intersection had reopened.
At Steach's residence, he and others worked to clear some of the trees on his property that were either downed or had branches broken off.
"We thought something would be damaged with all the trees by our house and our cars, but other than some branches that was it," he said. "Nobody was hurt either, so we were really lucky."
Mercer County was spared high winds and was buffeted by heavy rainfall instead.
While there were no reported tornado touchdowns in Mercer County, public safety Director Frank Jannetti said he called extra staff to the 911 center to handle increased call volume in event of an emergency.
Jannetti said the National Weather Service Pittsburgh office issued three tornado warnings for Mercer County at 4:59 p.m., 5:11 p.m. and 5:43 p.m. The first warning was for the Shenango Valley area, the second was for the central county area around Clark and Mercer, with the third warning for the Grove City area.
"We've had some people out, including myself, looking for signs of damage, but we haven't had any reports of damages yet in Mercer County," Jannetti said.
As of about 8:30 p.m. Sunday, FirstEnergy Corporation reported there had been three power outages in the Sharon and Farrell area, with about 22 power outages in the Brookfield area.
Like David L. Dye on Facebook or email him at ddye@sharonherald.com.