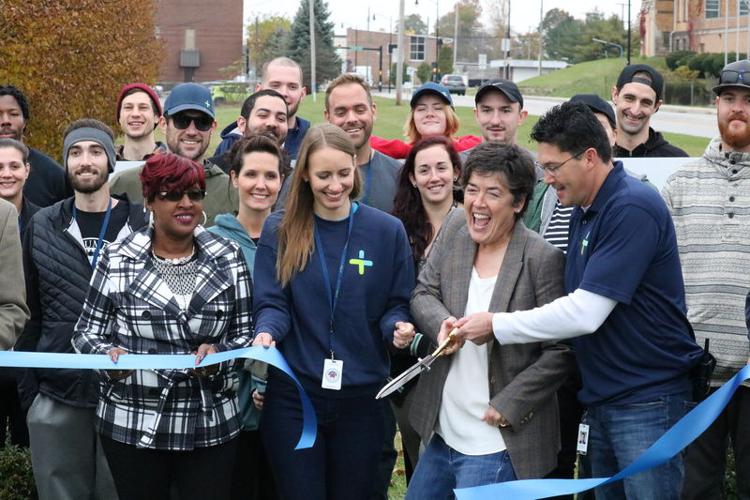 FARRELL – City Manager Mike Ceci had a lot of people to thank for helping to bring FarmaceuticalRX to Farrell during a ribbon-cutting ceremony last month at the medical marijuana growing, processing and research facility.
County officials were not included in that list. In fact, Ceci said the the city's partnership with FRX would have gone up in smoke from the start if the Mercer County commissioners got their wish.
Ceci was first contacted through email by FRX founder and chief executive officer Rebecca Myers on April 17, 2018, regarding the possibility of a partnership between the city of Farrell and FRX. In her email, Myers outlined the benefits of a potential relationship — which included economic development, job creation and biotech opportunities — and asked to set up a face-to-face meeting with city officials.
Ceci forwarded Myers' email to Gary Dovey of Penn-Northwest Development Corp., the county's lead economic-development agency. Ceci included the reasons local officials needed to look into the partnership. Ceci listed FRX's relationships with state universities and its ability to bring certain biotech jobs not offered elsewhere in the Shenango Valley as reasons for which he saw immediate value.
The next day, Ceci received this response:
"If it has anything to do with anything in the cannabis arena, the county commissioners prefer that PNDC stay away from it," the email read. "We are gun-ho [sic] on attracting companies to Farrell/Mercer County, but as I illustrated in the latter sentence, the commissioners' preferences were direct. Maybe Arnie & Ken could start the process; then, if more of the biotech device/R&D part flushed out we could assist; however, we have to tread extremely lightly here due to the above preferences."
As a paying member of Penn-Northwest, Ceci said he was surprised the private nonprofit economic development agency didn't offer what Ceci described as "the basics of economic development services," including demographics, tax information, and site and facility searches.
"I was really depressed about that," Ceci said of the commissioners' unwillingness to support the industry. "You don't have to personally approve (medical marijuana), but to try to step in a and stand in the way when the commonwealth has said it's OK just doesn't make sense to me."
Matt McConnell, chairman of Mercer County Board of Commissioners, said the commissioners never stood in the way of FRX. But they didn't advocate for it, either.
"I just don't want to have my name associated with marijuana, because it's still illegal on the federal level," he said. "They have us in a sort of no-man's land."
Commissioner Scott Boyd expressed a similar sentiment and said no one ever approached him to support FRX, but that federal law – which prohibits the use or possession of marijuana, even for medical purposes – makes it difficult for the commissioners to provide backing to a medical marijuana business.
"I have no problem with medical marijuana, but because of the federal laws, it makes it very complicated," Boyd said.
Randy Seitz, Penn-Northwest's president and CEO, said the decision wasn't as simple as just denying the city of Farrell its services at the county's behest.
With marijuana still illegal, at least technically, on the federal level, supporting FRX is difficult for economic development agencies. Seitz said Penn-Northwest accepts federal and state grant money, and worried that supporting the FRX project would jeopardize federal funding Penn-Northwest relies on for other large projects.
Seitz specifically cited an $80 million project, announced in September, for a a million-square-foot warehouse that could employ up to 1,000 full-time workers near the Route 19 interchange with Interstate 80 in East Lackawannock Township.
Seitz did, however, add that he believes the FRX project to be a "fantastic" endeavor for the city.
"I think that any project that will create family-wage-sustaining jobs in the area are projects that should be supported," Seitz said. "But we have to do it within constraint of the law that we are governed under."
Ceci credited Mayor Olive McKeithan and some members of Farrell city council who were initially opposed to the idea of partnering with a medical marijuana company for having the open-mindedness to realize what Ceci said could bring unique benefits to the city.
"(The commissioners) didn't even want to talk about what this was," Ceci said. "There was no assistance from them."
Now that FRX is open and operating, Ceci said he looks forward to how the facility can affect the city's future, including more biotech companies becoming aware of FRX's success in Farrell and deciding to relocate there.
"That type of research and development is a type of field we don't have in the valley," Ceci said. "This could be a springboard for that."