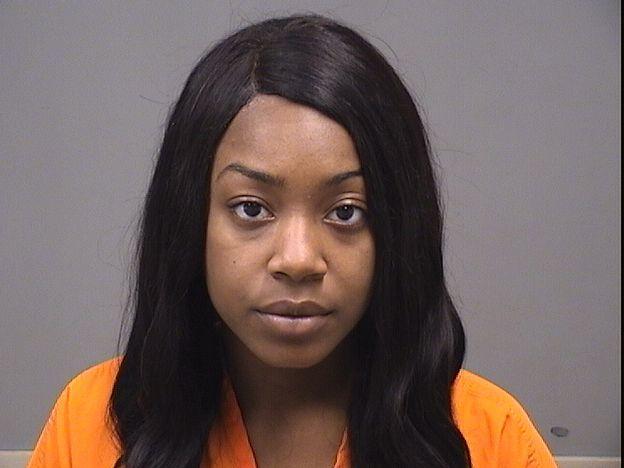 SHARON – Police have arrested a New Castle woman in connection with the May 23 shooting death of a Sharon man.
Officials are also now saying the incident at the home of Khalil "Champ" Hopson, 24, was a robbery that also involved a Youngstown man.
Alexis Evonna Holmes, 20, of 320 Halco Drive, New Castle, was arrested Wednesday morning in Austintown Township, Ohio, with the assistance of the U.S. Marshals Service, Sharon police Chief Ed Stabile said. 
Holmes was charged with homicide, solicitation to commit robbery and burglary, and robbery and burglary in connection with the case. She is being held in Mahoning County Jail awaiting extradition to Pennsylvania.
Eddie James Robinson Jr., 25, was charged by Lawrence County authorities for prohibited possession of a firearm. 
A source close to the investigation said the firearm is believed to be connected to the Hopson case, and that Robinson was taken into custody at the same time as Holmes.
Police responded to the May shooting call at 5:32 a.m. at 1239 Cedar Ave., Sharon, according to a police report signed by Sharon detective Sgt. Ryan Chmura.
When they arrived, officers found Hopson lying on the kitchen floor with his father tending to him. Hopson's pit bull, Blue, had also been shot.
Hopson later died in a Youngstown hospital from a gunshot wound. Blue died a few days later from his injuries.
Police found that there was no forced entry into the Hopson house. Hopson's father, James Hopson, was the only other person in the house when officers arrived. James said he was sleeping and woke up when he heard two gunshots. He told police that Khalil yelled to him that he was shot and that Alexis Holmes had let the shooter in, according to the police report.
Detectives then interviewed Holmes at the New Castle police station in Lawrence County.
Holmes said she arrived at Hopson's house at about midnight May 23. Around 5 a.m., Holmes said she was talking with Hopson in the kitchen when he opened the side door for her to walk onto the porch. She told police that three armed men rushed the porch and ordered the pair on the ground.
Police said Holmes told officers she froze on the back porch while one man held her at gunpoint. She said Hopson ran into the home, followed by two gunmen. She heard Hopson yell something to the effect of "OK, OK," then a gunshot. She then ran down the driveway, climbed over a chain-link gate and ran west until she was able to hide and call a friend for a ride, she said.
Holmes told police that she had recently broken up with her boyfriend, Robinson. She said she was not secretly seeing Hopson and that Robinson would have killed Hopson if he had known she was at his house.
Police discovered text messages between Holmes and Robinson showing the pair discussing robbing "Champ" for several thousand dollars, detectives said in a report. 
Investigators found video surveillance near Holmes' home that showed Holmes with Robinson several hours before the robbery. The video showed Holmes later removing a long firearm, which the pair had previously placed in a grill, and handing it to Robinson. Robinson then entered Holmes' vehicle with an unidentified man and the gun and drove away.
A witness told police that Holmes and Robinson were involved in the robbery and Hopson's murder. The witness said they had been shopping together in Youngstown in the early morning hours of May 24 and that they stayed in a hotel together in the Youngstown area.
When police went back to speak with Holmes, she had left home. Police traced posts on her Snapchat account May 24 from Charlotte, N.C., May 27 and May 28 in Myrtle Beach, S.C. Myrtle Beach police confirmed that Holmes' car was in the city.
Follow Melissa Klaric on Twitter and Facebook @HeraldKlaric, email: mklaric@sharonherald.com.