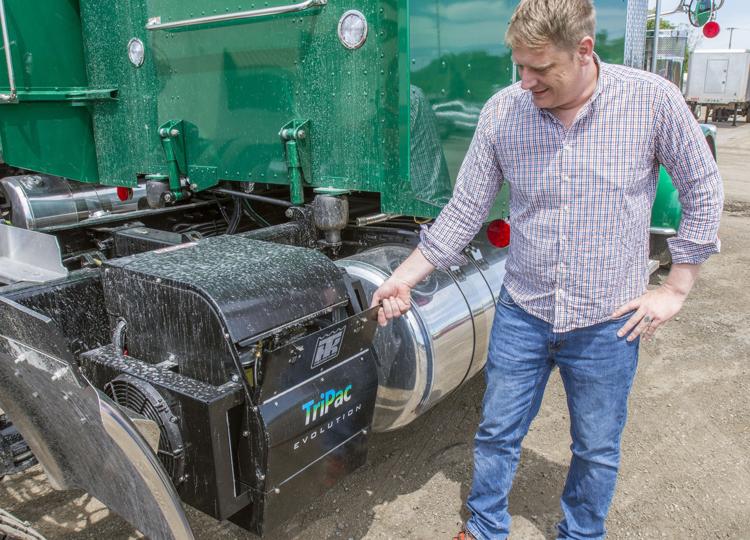 SHARON – Most drivers with Chadderton Trucking don't travel farther than 50 miles from the terminal in Sharon.
But for trips as far away as Baltimore or Newark, N.J., drivers are required to take some time to rest in the unit for eight to 10 hours. During those breaks to sleep or have something to eat, Chadderton president Jerry Nighswander said truck drivers used to rely on idling their engines to stay comfortable.
"In the old days you'd just idle the engine for heating and air, but now you're not allowed to let the engine idle," Nighswander said.
Employing about 47 people with a fleet of about 20 trucks, Chadderton Trucking, founded in 1929, primarily transports pipe and steel coils. The company recently purchased three new trucks, and like all the equipment used by the company since 1998, these trucks have an important feature — alternate power units, or APUs.
APUs are used on tractor-trailer trucks to help decrease the amount of diesel fuel burned to power climate control systems inside the cabin, but they also provide an economic and an environmental benefit as well, Nighswander said.
"To have a truck idling, that burns about a gallon of fuel an hour, so if it's idling for eight hours, that's eight gallons of fuel," Nighswander said. "The fuel itself costs $4 a gallon, and that can be hard on the engine."
By comparison, an APU can run five hours on a single gallon of fuel. Based on the reduced fuel consumption, Nighswander said he estimates the units pay for themselves in about 12 to 13 months.
Along with the heating or air conditioning, the APUs operate any electronics in the truck, including refrigerators or microwaves, or even be set to turn on a certain time before a truck driver arrives for work. Without the APUs, drivers wouldn't have heat in the winter or air conditioning in the summer unless the truck's engine was idling, Nighswander said.
"I wouldn't want to be in there, and I wouldn't want the drivers in there either," he said.
To help offset the costs of the equipment, Chadderton was awarded a $7,000 grant through the state Department of Environmental Protection's Small Business Advantage Program. The annual program provides 50 percent matching grants of up to $9,500, the press release states.
However, Chadderton is not the only local trucking company that has experienced a shift in technology over the years. Yourga Trucking Inc. in West Middlesex has also seen some changes to its fleet.
While the 55 or 56 trucks at Yourga also have the auxiliary power generators, computerization has also became a major factor in the trucking industry over the last 10 years — something that mechanic Ron Engel never expected to have to learn when he started at Yourga in 1979.
"Back when I started, you wouldn't have even thought of putting a computer into a truck," Engel said.
In some cases, the truck's sensors can detect what's wrong, such as an issue with the transmission, while other times, the sensors themselves aren't functioning properly and the computer misinterprets that as an issue with the truck. Factors such as ice and salt can wear away at the sensors' wires, though the trucks now have to be towed from the scene when a problem is detected.
"There were times when the truck driver was able to fix whatever the problem was, and some of them were pretty good at it, but not anymore," Engel said.
Now if there seems to be a problem with the truck, Engel plugs the truck into his computer to determine what the problem. A trouble code indicates the problem.
However, other advancements that are entering the trucking field — such as radar-enabled braking — could potentially be more dangerous than helpful, maintenance director and sometimes-truck-driver Geoff Buskirk said.
"If you have a car hitting the brakes, that's not too bad," Buskirk said. "But if you have a truck with a full load behind it hitting the brakes because the computer thought it detected something in front of you, then that could be a problem."
Not all of the changes are bad though, as the computerization has given truck drivers access to the global positioning system, which can help with directions or parking when approaching their destination. The auxiliary power gives truck drivers heating or air conditioning, while the cab also features a bed, refrigerator, plugs for a microwave or a USB cord for a computer, which makes it easier on drivers who can be gone up to a few days at a time, Buskirk said.
"All the comforts of home," Buskirk said.
And even if the computer does sometimes result in a truck having to be towed, it can help with recovery efforts and locating an available towing service, Buskirk said.
"If I get a call at 3 a.m. that a truck has broken down somewhere, there's a site that I can get onto that'll tell me what towing services are in the area and which ones are available to pick them up," Buskirk said.
Technology changes trucking industry
Like David L. Dye on Facebook or email him at ddye@sharonherald.com.