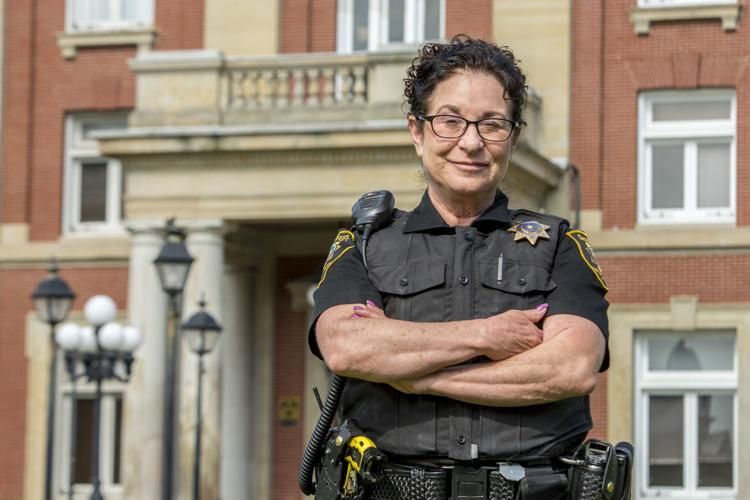 MERCER – Mercer County's Chief Deputy Sheriff Roni Shilling has been becoming familiar with the sheriff's duties since Gary Hartman's retirement in April.
Mercer County Commissioner Tim McGonigle said Shilling would remain acting sheriff through the 2019 elections.
"It's too close to an election," McGonigle said. "We're just going to go with status quo."
Hartman was elected in 2015, and his term was scheduled to expire after the 2019 elections. Potential candidates for the position will have to start their campaigns in February in order win a spot on the primary ballot in 2019.
"I'm getting the feel of the office right now," Shilling said. "And I'm quite honored right now that people have confidence in me." 
Shilling, Mercer County's first-ever female chief deputy sheriff, has been with the office for 10 years, six in the chief deputy role.
And Shilling, if she decides to run for sheriff in 2019, would become the first woman to be elected for the office.
But will she run?
"It all depends," she said. "Once I get comfortable and get a feel for the office, I will make the decision with my children. So, my children have some input into this also."
Shilling has a 13-year-old daughter and a 28-year-old son.
"They have mixed feelings," Shilling said. "They know it takes quite a commitment, and I know, especially with my youngest, she has school functions."
But men attend their children's functions too, Shilling said.
"We have never, ever had a woman sheriff," she said. "My daughter said, 'You have paved the way for so many other of us.'"
And Shilling's daughter is correct. The acting sheriff has been a trailblazer her entire law enforcement career.
"In my prior positions ... there were other female deputies, but never a chief deputy," Shilling said. "I was the first female for the Greenville-West Salem Police Department."
Shilling served as a police officer in Greenville for 10 years.
She has until mid-February to decide if she will run for election, according to county Elections Director Jeff Greenburg.
Candidates for countywide positions – sheriff, district attorney, county commissioner, clerk of courts and recorder of deeds — up for election in 2019 can begin collecting 100 petition signatures to be included on the ballots for May 2019's Republican and Democratic primary.
Winners of the county row office races in the November 2019 general election would take office in January of 2020.
Follow Melissa Klaric on Twitter and Facebook @HeraldKlaric, email: mklaric@sharonherald.com