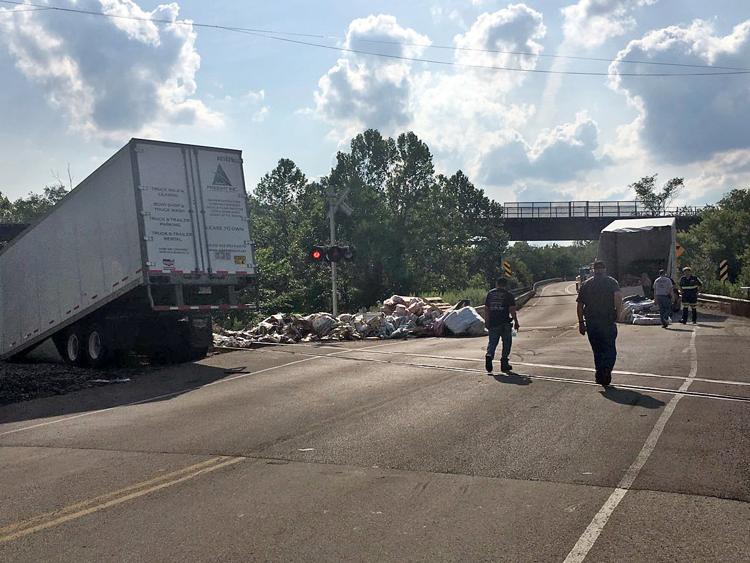 SUGAR GROVE TOWNSHIP — Three people avoided injury Tuesday when a freight train collided with a tractor-trailer loaded with pet food north of Greenville.
Mercer County 911 said first responders were dispatched to the accident about 3:43 p.m. at a railroad crossing on Werner Road in Sugar Grove Township, according to Mercer County 911. The driver of the tractor-trailer, which had departed the Smucker's pet food warehouse nearby, approached the railroad crossing and stopped, said Patrolman Brent Zane of Hempfield Township police.
Zane said the driver told police he saw the signal lights flashing at the crossing and proceeded anyway when he didn't see any trains nearby.
"He assumed that if there was a train coming then there would have been a safety bar lowering across the road," Zane said of the driver. "But as you can see, these signals don't have safety bars."
The train struck the trailer, tearing it in two and spilling cat and dog food across the road. Because the train engine was already decelerating, the train was able to come to a stop shortly after hitting the trailer, Zane said.
In addition to Hempfield Township police, Mercer County Fire Police and Hempfield Volunteer Fire Department responded to the incident. Norfolk Southern Railroad police sent investigators to the scene.
The train sustained some damage, including damage to its air brake line, but the Norfolk Southern investigators cleared it to proceed around 5:15 p.m. Zane said two people were in the train's engine but neither was injured.
The truck driver was also uninjured. The incident is still under investigation by Pennsylvania State Police Commercial Vehicles Enforcement agency and Norfolk Southern railroad, so police withheld the driver's identity.
"The truck driver will receive citations for the incident," Zane said.
The truck was in the process of being towed after 5:30 p.m. Tuesday. While some of the pet food was intact, Zane said the entire load has to be written off and destroyed, so it cannot be recovered and sold or donated to local animal shelters.