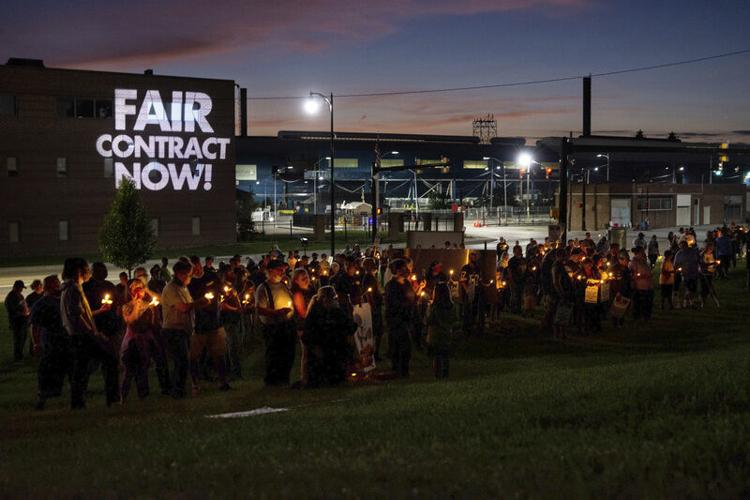 FARRELL — When Norfolk Southern Railroad brings train cars loaded with steel slab into the NLMK Pennsylvania mill, Ron Blosz decides what happens to them next.
As an engineer on the plant's internal railroad, he directs the cars where they need to be for unloading. Newly hired employees in other departments get 30 days of training, Blosz said.
On the railroad, it's 90. He called the work mentally taxing with potentially mortal stakes.
"There's no forgiveness on the railroad," said Blosz, a 51-year employee with the plant. "If you make a mistake, you're cut off (an arm or leg) or dead."
Blosz and a couple hundred of his closest friends and NLMK co-workers were on hand Thursday just outside the factory gates for a prayer vigil and rally. United Steelworkers Unit 1016-03, which represents more than 400 union employees at NLMK's Farrell plant, has been on strike since Aug. 22.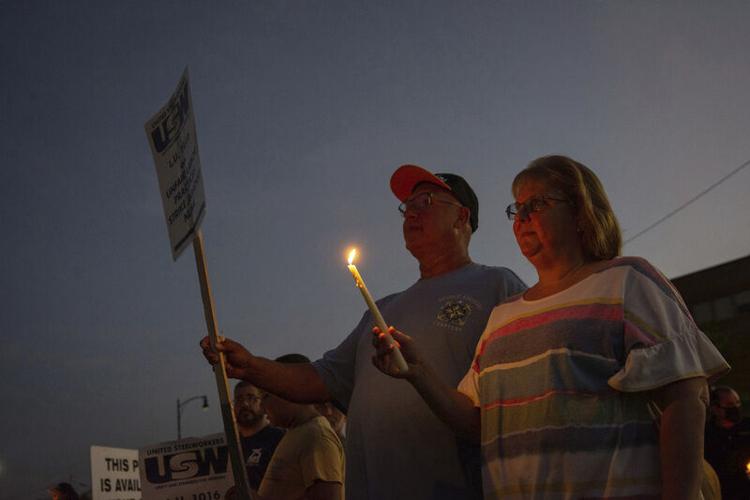 There is little sign of swift resolution. In a statement this week, NLMK said it had presented its "last, best and final offer," and it planned no further negotiations.
The company's four-year contract offer includes a pay increase of 2.5% in the first year, with raises of 2% the remaining years, and a choice of preferred provider organization or a high-deductible plan for health-care coverage.
Todd Clary, a USW staff representative, said the company's PPO option would include premium increases that would more than wipe out the pay increases for a workforce after four years without a raise in the previous contract, and membership has rejected the high-deductible option, even with the company's offer of a contribution into a health savings account. 
Clary said the company's final offer is actually worse than a previous proposal, which included raises of 3% in the first year and 2.5% in the three successive years, and a $3,000 signing bonus that has been stripped from the current offer.
But if the negotiations appear to have reached loggerheads, the spirit at Thursday's vigil was hopeful and defiant with a public-address system playing event-appropriate music like "We're Not Gonna Take It" by Twisted Sister, and selections from Johnny Cash and Bruce Springsteen.
As the sun descended below the NLMK plant roof, union members and their supporters gathered with lit candles in a grassy lot across Martin Luther King Boulevard from the building, which had a large projected image of the words "FAIR CONTRACT NOW!"
Shane Carlin, lead negotiator from the United Steelworkers international office, outlined the negotiations. He said union representatives approached the company with a health care insurance proposal that would have saved the company $250,000, which NLMK rejected.
"Instead, what the company is doing is forcing a health care plan that this membership has rejected," Carlin said.
He accused NLMK of refusing to answer questions about the health care options, specifically on how much the company would save on the contract proposals.
"And how much of that savings are you going to shift onto the employees' backs," he said.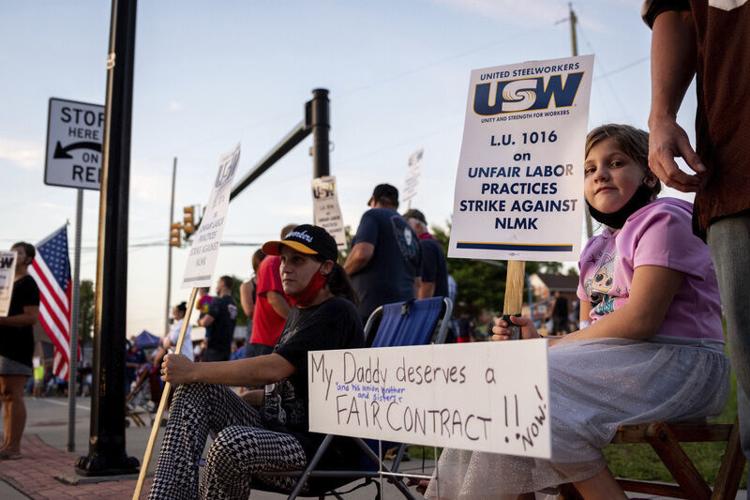 But it might have been the story of one employee and his family that raised the most emotion among union members and their supporters. After the death of an employee in an accident outside work hours, the company terminated his family's health coverage immediately.
Carlin said that deviated from prior practice, which held that the company kept the deceased worker's family on its plan for the rest of the month.
"On the day that he passed, what did they do," Carlin said. "They cut his wife and family off the health care plan."
After Carlin spoke, two Farrell-based pastors — the Rev. Terry Harrison and the Rev. Tiffany Holden — offered prayers.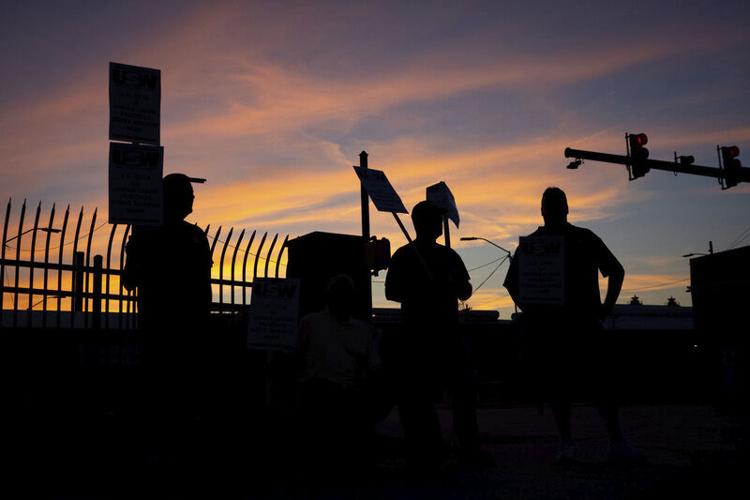 As Carlin laid out the union's case, Holden provided the passion, leading the crowd in a chant of "We stand strong!"
Holden cited the definition of having steel, as a human characteristic, as being made with a "strong substance" before tying it to the gathered union members.
"Why would God have made you steelworkers," she said to enthusiastic applause. "Because you are made with a strong substance!"
Her prayer was for intervention on a fair contract — as soon as today.
For his part, Blosz was hoping for the same thing.
"We're not asking for the world," he said. "We're just asking for a fair contract."
Follow Eric Poole on Facebook and Twitter @HeraldEricPoole. Email him at epoole@sharonherald.com
USW members, supporters gather at NLMK for a candlelight vigil