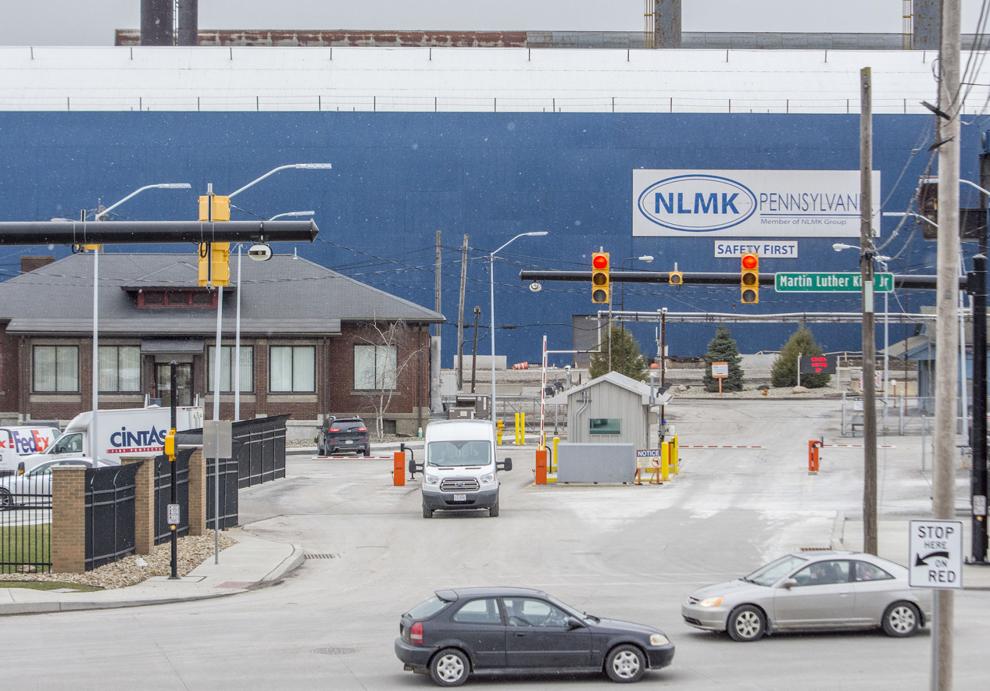 FARRELL – Bob Miller, president of NLMK Pennsylvania, spent Thursday in Washington, D.C., trying to head off President Donald Trump's proposal to sock steel imports with a 25 percent tariffs.
It didn't work.
Even while Miller was trying to save his company, the president signed an order imposing the tariff on steel and a 10 percent levy on imported aluminum. Miller said the move will jeopardize 750 jobs at NLMK's steel mill and its Sharon Coating operation.
"This issue now is more about people,'' Miller said. "The people working for us right now with good jobs and benefits are concerned about their families. We're talking about families, marriages and children. It's just not fair, and it's not right.''
NLMK employs about 600 at its Farrell steel plant and another 150 or so at its Sharon Coating operations in Sharon.
It's simple math on how tariffs will crush NLMK, Miller said.
He said Trump is initiating steel tariffs so companies will buy American-made steel slabs, but there's no way that can happen because few are to be had.
"U.S. steelmakers make the slabs for themselves and roll it themselves,'' he said. "Occasionally you can get small lots to buy but never in the quantity to we need to have a successful business.''
Sharon Coating is considered a downstream business, where a company takes an item from another business and turns it into a product it can sell.
In the case of the Sharon Coating, it gets steel coils produced at the Farrell steelmaker. The Sharon company dips the steel in hot zinc, which prevents rusting.
"If we can't provide Sharon Coating with steel, they'll be in the same situation that the steel mill will be in,'' Miller said.
Other economics are involved, he noted.
The Farrell steelmaker buys steel slabs from Russia. Creating these slabs are usually done in one of two ways: by a blast furnace or electric furnace.
Using a blast furnace in steel production is somewhat like baking from scratch. A mill creates steel by using raw materials including iron ore, limestone and coke. The minerals are heated by the blast furnace to create molten-hot steel. At that point the steel is rolled into a rectangular rough, thick slab.
In the case of an electric furnace, scrap steel is plopped into an enormous cauldron and melted using massive amounts of electricity. In some cases raw materials are added if needed. Again, the process is completed by rolling the steel into a thick slab.
NLMK takes the Russian slabs and rolls them into finished coils to the desired thickness and length. These coils are then sold to a variety of customers for end products like automobile parts, pipe and wind turbines.
Sharon Steel, which was the original steelmaker at the site, used both a blast furnace and electric furnace to make steel. The steelmaker declared bankruptcy and the mill was closed for a couple years.
Miller pointed out that Sharon Steel's demise was due to a business model that couldn't churn out a profit.
"Their blast furnace and electric furnace was a high cost,'' he said.
Talk by the administration of allowing certain steel imports into the U.S. won't help NLMK, Miller said.
"We can't buy the amount of slabs we need out of Canada and Mexico,'' he said.
Further, most those slabs have already been bought and are destined for other locations. he added.
About 15 percent of steel production in the U.S. uses the same business model as NLMK, Miller said.
"We're not the only ones who will get hurt by tariffs,'' he said.
There is one card in play that Miller believes will convince the administration to change course. The U.S. Commerce Department conducted a study on American steelmaking capacity and how it intertwined with national security interests.
"The commerce department found there were national security concerns with this,'' Miller said of the tariffs.
In addition to national security concerns, Miller is hopeful the administration will see that the tariffs will hurt jobs.
"I believe they want to do the right thing,'' he said. "I don't think they want us to lose jobs.''
For more info:
https://www.commerce.gov/page/section-232-investigation-effect-imports-steel-us-national-security